It's time once again for California Wine Month! If you haven't taken a chance this year to get out into Wine Country and enjoy Monterey County's bounty, September is the perfect moment.
As one of the largest wine growing and producing regions in the state, the beginning of harvest season is not taken lightly. Several local wineries and tasting rooms will be marking California Wine Month with special tastings, tours, dinners and more. To assist, we've highlighted a list of activities and events around the county to help you wet your palate and officially kick-off the fall season.
Carmel Valley
Get fully immersed in Monterey County's grape growing scene in Carmel Valley. The scenic drive down Carmel Valley Road quickly transports you into lush rolling hills covered with bountiful vineyards and plenty of tasting rooms to quench your thirst. This region has its own appellation which encompasses more than 19,000 acres, with 300 acres of wine grapes under cultivation. Click here for a list of boutique tasting rooms in Carmel Valley.
Salinas Valley
Salinas Valley is another recognized appellation; here you will find a plethora of wineries connected by the River Road Wine Trail, which runs south from Salinas. In keeping with the old-fashioned character of the area, traditional white, hand-lettered arrow signs along the road will point you in the direction to your next watering hole. Be sure to add Hahn Estates, Wrath Wines and Odonata Winery to your list for savory sips and impeccable views of the Salinas Valley wine country.
Monterey
For a more "urban" approach to wine tasting visit vino havens like Bargetto Winery, A Taste of Monterey and Sovino Wine Bar which are all near bustling Cannery Row or Old Fisherman's Wharf. At A Taste of Monterey you can sample wines from just about every winery within the county. Did we mention this place also comes with a side of epic ocean views and tasty bites?
Carmel-by-the-Sea
Not one, not two but over a dozen wine tasting rooms line the streets of charming Carmel-by-the-Sea! Downtown Carmel has become a bona fide wine tasting Mecca, with enough tasting rooms to keep visitors busy for an entire weekend. Be sure to pick up a Carmel Wine-Walk-by-the-Sea Passport which gives you access to 10 of them for just $100.
Marina
Experience a unique, fun and friendly tasting experience at Marina's Urban Wine Row. New to Monterey's wine tasting scene, the Urban Wine Row allows wine enthusiasts to access boutique wineries within Marina's business district. 
Food & Wine Events
Click here to view upcoming food and wine events in the area including the Big Sur Food & Wine Festival.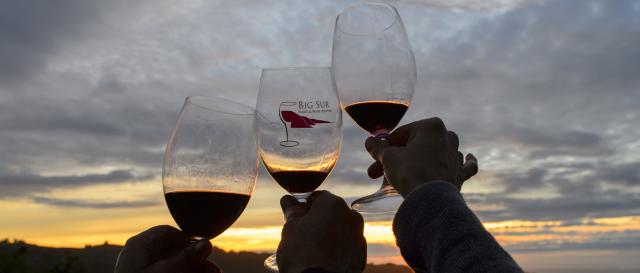 Wine Tours
There's no better way to experience the vast array of Monterey's wine country than with a guided tour. Ag Venture Tours gets you into the vineyards AND into the tasting room. Guide Evan Oakes offers an array of agriculture based tours both in Carmel Valley and Salinas Valley. You can also book your own customized and intimate wine experience with Monterey Guided Wine Tours, take a journey through Carmel Valley with the Wine Trolley or get personally escorted around by Behind the Scenes Wine Tours or Vino Wine Tours.