HBO's drama series to star Reese Witherspoon, Nicole Kidman, Shailene Woodley, Laura Dern, Zoë Kravitz and Meryl Streep…and Monterey Peninsula locations!
We cannot tell a big little lie:  the Monterey County Film Commission is holding an event celebrating HBO's drama series "Big Little Lies, Season 2" which debuts world-wide on Sunday, June 9, 2019.  The local fundraising reception for the nonprofit film commission starts at 4:30 p.m. with a special screening of the first episode of "Big Little Lies, Season 2" at 6 p.m. at the Monterey Conference Center, 1 Portola Plaza in downtown Monterey.
Reception tickets are $78 through May 31 and $85 after June 1 and can be purchased at www.FilmMonterey.org.  A portion of the proceeds will benefit the film commission's film student scholarship program.
The event will include little bites and "big little libations" (wine tasting) from local sponsor restaurants and vintners. There will be a red carpet and step-and-repeat for selfie-posing, bidding on silent auction items, and mingling with local background extras, local businesses, and industry professionals who were involved with the production during its 34 film days at numerous Monterey Peninsula locations.  
Attendees will be thrilled to watch the highly anticipated episode as the exclusive screening shows off local location "stars" and extras hired by the production. They'll be projected bigger-than-life on the big screen, along with "The Monterey Five" and Meryl Streep.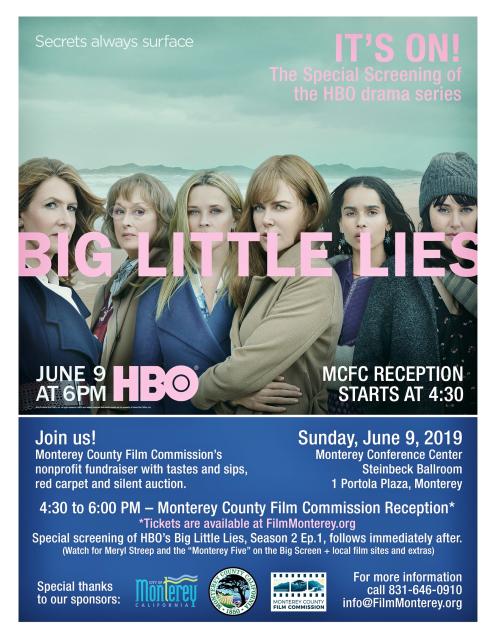 The fundraiser reception will be a community celebration of the efforts of the Monterey County Film Commission to bring film productions to the county, for their economic impact. The local spend by Big Little Lies, Season 2 was $3.7 million.