Did you know the "Salad Bowl of the World" is situated right here in Monterey County? The Salinas Valley is responsible for a large percentage of the world's leafy greens, including spinach, with its ideal climate and fertile soil.
There's a reason why Popeye ate his fair share of this superfood. Spinach is a nutrition powerhouse and is an excellent source of vitamin K, vitamin A, magnesium, folate, manganese, iron, calcium, vitamin C among other things.
Get your body on track with some of these delicious (and healthy) recipes from local spinach producer Tanimura & Antle. Pick up some at these freshly grown greens at The Wharf Marketplace or at one of Monterey County's many local Farmers' Markets.
Classic Spinach Salad
Ingredients:
1 bunch spinach
1/4 cup sweet Italian red onion, sliced
2 hard boiled eggs, chopped
4 slices cooked bacon, chopped
Favorite bottled dressing
Directions:
Toss spinach and ingredients with just enough dressing to coat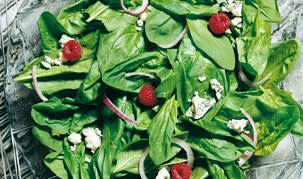 Ingredients:
8 cups coarsely chopped spinach, rinsed
1/3 cup finely diced bell pepper
4 sweet yellow onions
1 Tbsp olive oil
2 Tbsp butter
2 tsp minced garlic
3 oz cream cheese, softened
1 Tbsp water
1 cup shredded white Cheddar cheese
Directions:
Heat oven to 425°F.
Cut top one quarter off each onion. Cut out centers, leaving 1/2-inch thick shell; reserve tops and centers. Brush onions with oil; place cut side down in baking pan. Bake in 425°F oven 10 minutes.
Turn onions right side up; continue baking until just tender, 10 to 15 minutes longer.
Chop enough reserved onion tops and centers to make 1 cup. (Reserve remaining onion for other use.)
Heat butter in large skillet over medium-high heat. Sauté chopped onion until tender, 4 to 5 minutes. Add bell pepper and garlic; sauté 1 minute. Reduce heat to medium.
Add cream cheese and water; stir until blended. Add Cheddar cheese; stir until melted. Stir in spinach; cook just until wilted. Remove from heat; season with pepper.
Spoon filling into baked onions.