The holidays are approaching, and with that, the never-ending question of which wines to serve with our Thanksgiving feast. Most menus are set well in advance, with tradition and family favorites taking priority, and wine typically becomes an afterthought to the celebration. With so many different flavors, and variety of dishes, the task can be overwhelming, but a few helpful hints can help lead you down the right path on wine selection.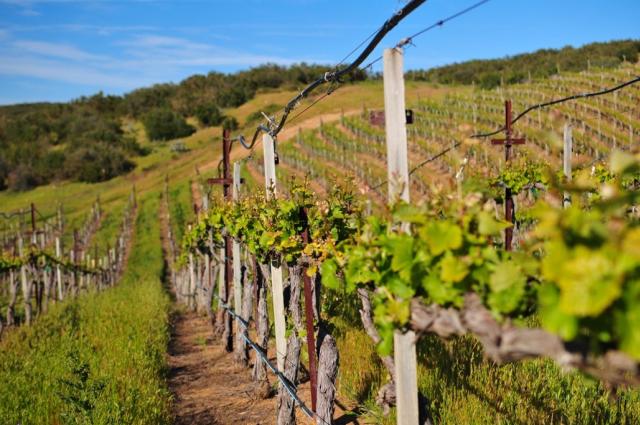 Luckily, here in Monterey County, we have the option to serve local wine, with a wonderful selection of locally-grown varietals, producers and knowledgeable wine shops. The key is to stay with food-friendly wines that have the ability to stand up to the multitude of flavors and diversity of the Thanksgiving feast. A wine with a nicely balanced acidity, that is light to medium bodied with moderate alcohol levels, will help accentuate and complement the flavors on the palate.
This Thanksgiving, the Cima Collina gang will be packing up a few bottles of 2010 Cima Collina Tondre Grapefield Dry Riesling from Santa Lucia Highlands ($17/bottle), and the newly released 2011 Cima Collina Chalone Vineyard Pinot Noir ($37/bottle). The Dry Riesling is best served slightly chilled and boasts just the right amount of acidity to balance well with the unique spices of many fall dishes. Stainless steel fermented dry and aged for ten months, it is an ideal light-bodied option for the table.
Of the few different Pinot Noir's from Cima Collina, the Chalone Vineyard offers a great value and a bit of local history to share with guests. Produced from "old" Pinot Noir clones originally planted back in 1989 by Dick Graff, these grapes represent the few vines originally planted in California – and snuck in via suitcases from France- by pioneers of the industry. With a nice texture and complexity, this medium bodied wine is the perfect pair to the Dry Riesling.

If you are unable to swing by the Cima Collina tasting room in Carmel Valley Village before the holidays, make sure to ask your local wine shop which Monterey County wines to serve with your holiday meal. With hundreds of acres of grapes growing along the Salinas Valley and Carmel Valley, there are many other local options to explore for food-friendly finds.
Most importantly, enjoy the meal with family and friends! Have a wonderful Thanksgiving.