Sanctuary Cruises Whale Watching has been operating on the Monterey Bay since 1998. We care deeply about the health of the Monterey Bay National Marine Sanctuary and we demonstrate that with the way we operate our business.
Here are just a few things we do to protect the environment and our Marine Sanctuary:
We use biodiesel to fuel our boat, The Sanctuary. Biodiesel is produced in the U.S. and is made of recycled cooking oil, soybean oil and animal fats. It is less toxic than table salt. Instead of smelling like stinky diesel fuel, our boat sometimes smells like french fries! It costs more and takes more maintenance, but we are proud to be doing the right thing. We are the only boat in the Monterey Bay that runs on biodiesel.
Owner, Dorris Welch served on the Monterey Bay National Marine Sanctuary Advisory Council for 10 years. This was ages before she owned Sanctuary Cruises. Dorris has been committed to ocean conservation and education since high school, when she led the first recycling center in Santa Clara County and ran the first Earth Day festival. Dorris was also the Education Director of UCSC Long Marine Lab in the 1990's.
We are committed to education. We must educate the youth of today in marine conservation in order to inspire tomorrow's ocean stewards. We offer discount rates for field trips and summer camps. We have a mission to get low income kids aboard our boat at low cost.
We have marine biologists aboard every trip. Our naturalists are a wealth of information and enthusiasm about the Monterey Bay and its inhabitants. The more our passengers know about the ecosystem, the more they will want to preserve it and support it.
Our crew fishes litter, especially balloons, out of the bay whenever we see it. Simple actions such as this can save an animal's life. Picking up litter also shows our customers what it means to be an ocean steward and hopefully will inspire them to do the same on our beaches.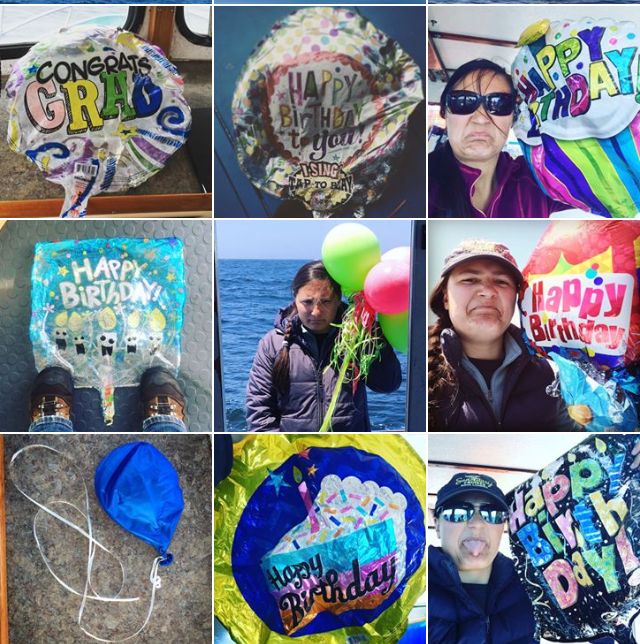 Sanctuary Cruises Naturalist Vicky Stein pulls balloons out of the bay in order to protect wildlife from ingesting them or getting trapped
Our crew calls in injured animals to the appropriate organizations, such as Marine Mammal Center and the Whale Entanglement Team. We are first responders and stay with entangled whales until rescue boats arrive.
We give animals their space. Whenever we approach a whale, we stop before we get within 100 yards. When possible, we turn the motor off, and bob in the water, letting the whales themselves determine how close they want to come to us and how much interaction they desire. Oftentimes they are curious about us and approach us.
We love the Monterey Bay and do all we can to preserve its incredible biodiversity and beauty. Come out to visit the whales with us soon!