All Weekend
Bikes, bikes and more bikes take over Monterey County this weekend for the 25th Annual Sea Otter Classic. This four-day "Celebration of Cycling" event is the world's largest cycling festival with everything from recreational biking, competitive events, a festival, and an expo all culminating at Mazda Raceway Laguna Seca. Thursday-Sunday. 1021 Monterey Salinas Hwy , Salinas. Various ticket prices.
Take a look at some of the incredible steeds in town for the Monterey Springfest Horse Show. The Monterey County Fair & Event Center will be swarming with all sorts of horse breeds including American Saddlebred horses, Hackney Ponies, Plantation Walking Horses and Open Gaited Horses performing in English, Western and driving disciplines. This free event is sure to be thrill for little ones! Thursday-Saturday from 10am-4pm. 2004 Fairgrounds Road, Monterey. Free event.
Its spring which means its wildflower season in Monterey County! Gaze at over 600 colorful wildflower varieties at the Pacific Grove Museum of Natural History. The popular Wildflower Show also hosts a plethora of workshops and discussions. Friday-Sunday from 10am-5pm. 165 Forest Avenue, Pacific Grove. Free with paid museum admission.
Get a good dose of laughter at Planet Gemini this weekend as headliner Steve Trevino brings his stand-up comedy act to Monterey. Stay afterwards for karaoke and dancing. Friday and Saturday at 9:15pm. 2110 Fremont Street, Monterey. $10-$15.
The Monterey Symphony plays not one, not two, but three performances of "Majestic Realm" throughout the weekend. The show features Max Bragado-Darman and violist Roberto Díaz with works from Johann Strauss, William Walton and Serge Prokofiev. Friday at 7:30pm at Sherwood Hall in Salinas and Saturday at 8pm and Sunday at 3pm at the Sunset Center in Carmel-by-the-Sea. 
Kids and adults of all ages will be mesmerized by the Disney tale of Mulan come to life at the Golden Bough Theatre. The enchanting and heartwarming performance includes favorite tunes like "Reflection," "Honor to Us All" and "I'll Make a Man Out of You." Friday and Saturday at 7:30pm and Saturday at Sunday 2pm. Monte Verde between 8th and 9th, Carmel-by-the-Sea. $8-$20.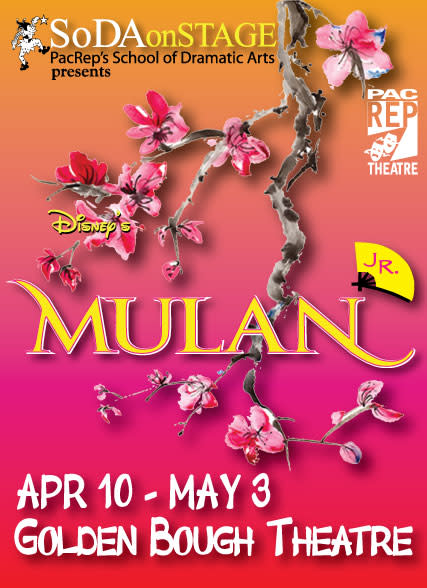 Saturday
Hitch up with guides from the Monterey Peninsula Regional Parks District this morning and explore the fabulous flowers and ferns along Garzas Creek. The 3.3 mile hike is expected to last 2 hours. Don't forget to wear good hiking shoes and to bring water and snacks. 9am. East Garzas Trail, Carmel. Free event.
Catch an exclusive screening of "It's a Wild Life" film by Kennan and Karen Ward this evening at the Henry Miller Library. The feature film showcases facets of the Big Sur's remote wilderness with rare footage of endangered condors, a one-eyed bobcat and more. 7:30pm-10:30pm. 48603 Highway One, Big Sur. $10-$20 donation recommended.
Sunday
Enjoy traditional Irish music this afternoon at the St. Mary's by-the-Sea Episcopal Church from Story Road. Doors open at 2:30pm, show begins at 3pm. 146 12th Street, Pacific Grove. $20 in advance, $25 at the door and $8 for children.
Weren't able to catch the screening of "It's a Wild Life" last night? Good news, the Henry Miller Library is showing it again tonight! 7:30pm-10:30pm. 48603 Highway One, Big Sur. $10-$20 donation recommended.