All Weekend
Enjoy a winter wonderland right by the bay! Custom House Plaza in downtown Monterey has transformed into an ice skater's paradise for Ice Skating by the Bay. Open Monday-Saturday from 11am-10pm and Sunday from 12pm-8pm. 4 Custom House Plaza, Monterey. $10-$12.
Step into the Nativity story as 200 re-enactors, along with live animals and musical groups, recreate the story of the birth of Jesus Christ during Streets of Bethlehem. Volunteers from the First Baptist Church of Salinas recreate the entire town of Bethlehem to provide visitors with a truly immersive experience. Wednesday through Saturday from 6pm-8:30pm. 1130 San Vincente Avenue, Salinas. Free event.
Catch a glimpse of Monterey's unique adobes dressed up in holiday splendor for Christmas in the Adobes. Stroll through the streets of historic downtown Monterey and visit 19th century adobes with light refreshments, live music, games, history and overall festive fun! Be sure to stop by the Wharf Holiday Tent on Old Fisherman's Wharf for cookies and cocoa and to pick up a VIP card! Friday and Saturday from 5pm-9pm. Various locations in Monterey. $25 for adults and $2 for youth ages 6-17.
Love The Full Monty? Then you are going to love the movie turned musical performance at the Golden Bough Theatre in Carmel-by-the-Sea this weekend! Don't miss this infectious story of six unemployed steelworkers who hatch a desperate plan to get their lives back which requires them to triumph over their fears, their nerves and their clothes! Friday and Saturday at 7:30pm and Sunday at 2pm. Monte Verde Street between 8th and 9th Avenues, Carmel-by-the-Sea. $10-$39.
Get into the holiday spirit with Smuin's Christmas Ballet at the Sunset Center tonight. There's something for every musical taste bud with songs by Elvis, Mozart, The Chieftains, Eartha Kitt and more. Friday at 8pm and Saturday at 2pm. San Carlos Street at Ninth Avenue, Carmel-by-the-Sea. $56-$73.
Long haired comic Nick Guerra stops by Planet Gemini Friday and Saturday nights for two nights of hilarious stand-up. Stay afterwards for karaoke and dancing. Friday and Saturday at 8pm. 2110 Fremont Street, Monterey. $10-$15.
Friday
Carmel-by-the-Sea decks its halls and lights their holiday tree this afternoon. The festivities kick off at 3pm at the Sunset Center with complimentary wine, cookies and coffee. The tree lighting ceremony begins at 4:30pm in Devendorf Park with plenty of entertainment, refreshments and a visit from Santa Claus! 3pm-5pm. Ocean Avenue and Junipero, Carmel-by-the-Sea. Free event.
'Tis the season to shop and there's no better place to get a heads start on your spending than the Carmel Plaza! Today they host a Holiday Open House after Carmel's Tree Lighting Ceremony with complimentary warm beverages, small bites, live holiday music and a visit from Santa. 5pm-7pm. Ocean Avenue and Mission Street, Carmel-by-the-Sea. Free event.
It's the first Friday of the month which means it's time for the First Fridays Art Walk in Salinas! Several Oldtown Salinas storefronts become alive after 5 with family friendly music, art, dance, poetry, book signings, food, wine tastings, and much more! 5pm-8pm. 100 Main Street, Salinas. Free event.
TGIF! Wave Street Studios near Cannery Row is celebrating their favorite day of the week tonight! Their weekly TGIF event invites you to mix, mingle, and unwind with live music, dancing and small bites. 7pm-11pm. 774 Wave Street, Monterey. $25.
Funk and soul band Con Brio stops by Fernwood Tavern in Big Sur tonight. 10pm. 47200 Highway One, Big Sur. Free event.
Saturday
Caledonia Park in downtown Pacific Grove is the place to be today for all sorts of family activities during the 21st Annual Stillwell's Fun in the Park! The annual event features Santa's arrival on a shiny PG fire truck, Frosty the Snowman, Snow Queen, hayrides, petting zoo and lots of entertainment. 10am-4pm. Central Avenue and Jewell Avenue, Pacific Grove. Free event.
Bring the kiddos out to the Hofsas House in Carmel-by-the-Sea for a Gingerbread Making Workshop. Each child will receive a gingerbread making kit, hot cider and a cookie while adults can enjoy wine and cheese. All proceeds benefit the Carmel Library Foundation. 10:30am and 1:30pm. 4th and San Carlos, Carmel-by-the-Sea. $20 for kids and $15 for adults.
Make your very own holiday wreath out of grape vines today at the Joullian Vineyards 16th Annual Wine & Wreaths Holiday Open House. There will also be wine tastings, a BBQ lunch, Gizdich pies, cellar tours and live music. 11am-4pm. 20300 Cachagua Road, Carmel Valley. $45.
Visit with Santa and his real-life reindeers in front of the Golden State Theatre this afternoon! 12pm-4pm. 417 Alvarado Street, Monterey. Free event.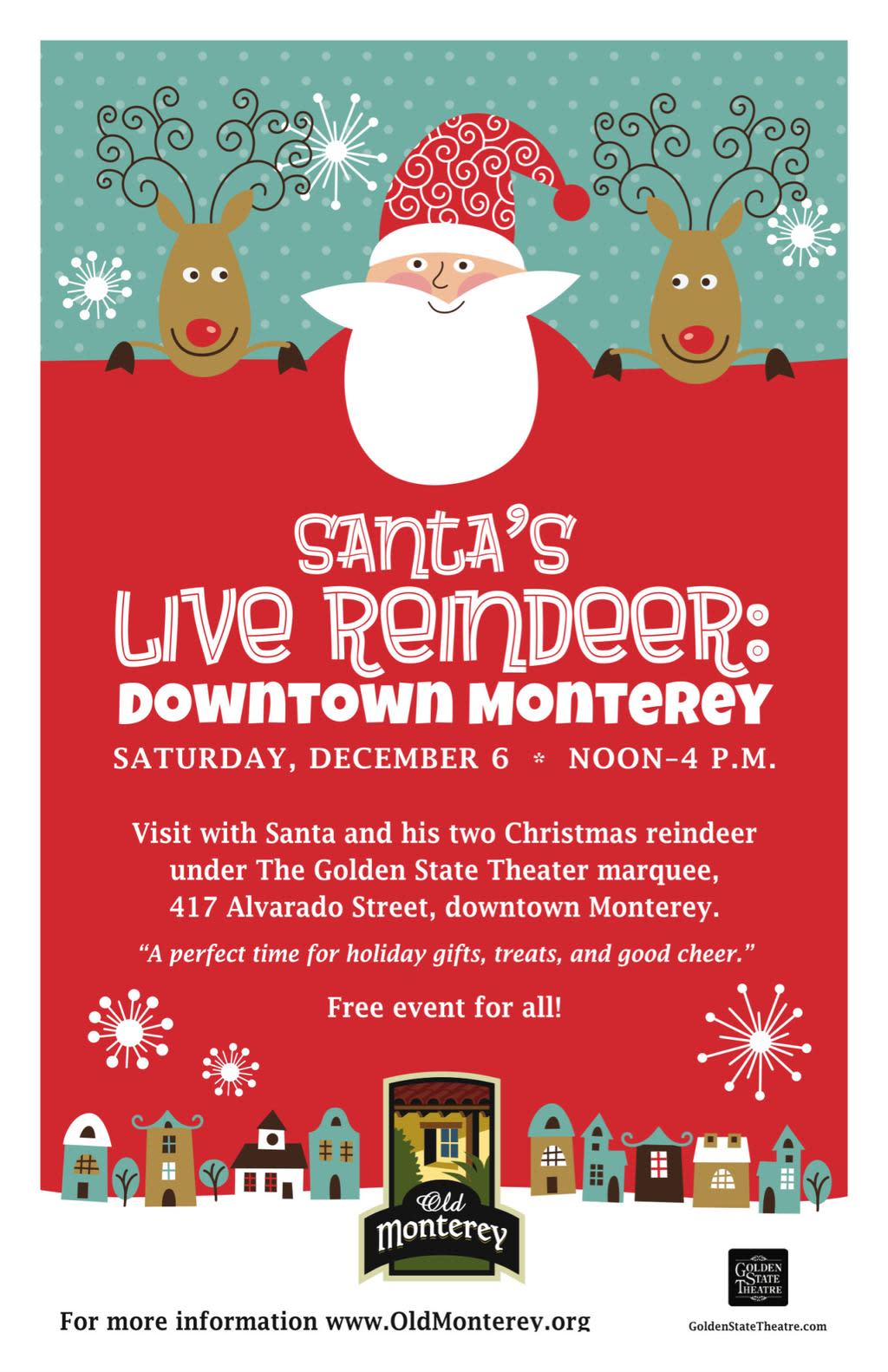 The Circle Theatre in Carmel-by-the-Sea presents John Farmanesh-Bocca's "Oh Wonderful Life" performed by the Not Man Apart Physical Theatre Ensemble. The spin on classic film "It's a Wonderful Life" delivers a witty and moving story that is sure to capture your heart and captivate your spirit. 2pm. Casanova Street between 8th and 9th Avenues, Carmel-by-the-Sea. $7.50-$35.
Things get funky at the Fernwood Tavern tonight when instrumental band Kuckaw! takes the stage. 10pm. 47200 Highway One, Big Sur. Free event.
Sunday
The charming inns of Carmel-by-the-Sea get decked out today for the Inns of Distinction. Several inns and B&Bs open their doors for holiday cheer, delicious food and savory wines. 2pm-5pm. Various locations in Carmel-by-the-Sea. $30 in advance and $35 at the door.
Post up along Monterey's coastline as decorated sailboats and ship pass along the shore for the Brighten the Harbor Boat Parade. 5:30pm-8pm. Old Fisherman's Wharf, Monterey. Free event.
Visit our "Top Holiday Events in Monterey" page for even more holiday happenings in Monterey County.