All Weekend
Celebrate the return of gray whales to the Monterey Bay during Whalefest Monterey! Old Fisherman's Wharf and Custom House Plaza in historic downtown Monterey throw quite the migration party for these much loved creatures. The 2-day festival features an array of family activities like face painting, live music, educational exhibits and more. Saturday-Sunday from 10am-5pm. Old Fisherman's Wharf, Monterey. Free event. 
Friday
Kick back, relax and enjoy live jazz music at Folktale Winery on Carmel Valley Road. This afternoon the Charged Particles stop by for acoustic and electric jazz. 4:30pm-7:30pm. 8940 Carmel Valley Rd, Carmel. Free event.
Tonight The Lab in Carmel presents a rare performance of John Cage's "Sonatas and Interludes" performed by pianist Jeffrey Trevino. 7pm-9pm. 3728 The Barnyard, Suite G-23, Carmel. $25.
Get your groove on at Move Studios during their monthly Salsa & Bachata Social night. 8:30pm-11pm. 600 E Franklin St, Monterey. $10.
Saturday
Get ready, get set, and go for the first-ever Half Marathon at Pebble Beach! The Half Marathon, 10k, and 5k run throughout Pebble Beach with scenic views of 17-Mile Drive before finishing with a post-race champagne brunch at The Inn at Spanish Bay. 7am. 2700 17 Mile Drive, Pebble Beach. $199.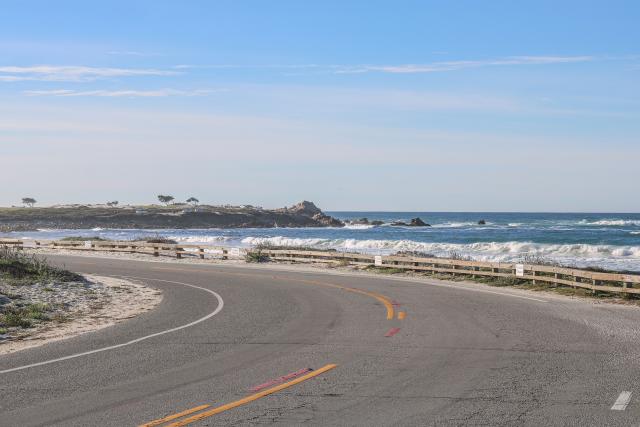 Need to feel refreshed? Join a Guided Meditation & Qigong by the Ocean at Carmel River State Beach. 8:30am-9:30am. 26591 Carmelo St, Carmel. $10. 
Get the kids out of the house and into the Pacific Grove Museum of Natural History. This Science Saturday event focuses on "Amazing Migrations" and peeks into the fantastic world of wildlife migration with family friendly activities. 10am-3pm. 165 Forest Ave, Pacific Grove. Free event.
Jazz vocalist Julie Capili stops by Folktale Winery for a relaxing afternoon near the vines. 4:30pm-7:30pm. 8940 Carmel Valley Rd, Carmel. Free event.
Get a good laugh during Pink Flamingo's first Comedy One-Ten Contest. Daring amateur comedians will get 5 minutes on stage before the audience ultimately votes and chooses a winner. 7:30pm. 2115 North Fremont Ave #C, Monterey. $15.
Sunday 
Historic Mission San Antonio de Padua in southern Monterey County hosts its annual Cutting of the Roses and Brunch this morning. Enjoy a delicious brunch and take home a treasure from the Mission's beautiful Padres' Garden. 10am-1pm. 1 Mission Creek Road, Jolon. Free event, $10 per meals.
Wind down your weekend at Folktale Winery and listen to Americana and bluegrass jams from Moshe Vilozny and Dan Robbins. 4:30pm-7:30pm. 8940 Carmel Valley Rd, Carmel. Free event.