All Weekend
Get ready and get set for the FIM Superbike World Championship at Mazda Raceway Laguna Seca. Monterey's hillsides will be humming with the sounds of motorbikes as nearly 30 riders of a dozen different nationalities on eight competitive manufacturer brands compete all weekend long. Friday-Sunday. 3-day passes are $95, 1-day passes are also available.
Find your perfect treasure at St. Mary's Antiques & Collectibles Diamond Jubilee this weekend. Several antiques and vintage collectibles will be available from a select group of West Coast dealers offering: fine silver, vintage clothing, art, glassware, books, jewelry, toys, porcelain, furniture and more. Friday- Saturday from 10am-5pm and Sunday from 11am-4pm. 146 12th St and Central Avenue, Pacific Grove. $5 entry fee.
The Monterey Bay Aquarium stays up past its bedtime for the summertime series, Evenings by the Bay. Enjoy the aquarium's extended hours and listen to live music, enjoy sustainable food and sample wines from local wineries. Friday and Saturday from 6pm-8pm. 886 Cannery Row, Monterey. Free with admission.
Friday
Love a good story? Head over to the Pink Flamingo's Story Time Smack Down where story-tellers try to capture your attention in just 5 minutes! 7:30pm. 2115 North Fremont Ave #C, Monterey. $10.
Saturday
Feel rejuvenated after a session of Yoga in the Vines at Folktale Winery this morning. Instructor Kate Balog guides guests through a 90 minute yoga session in the Rose Vineyard followed by a complimentary glass of Folktale wine. 10am-11:30am. 8940 Carmel Valley Rd, Carmel. $20.
Get your fix of delicious brews today during the Monterey Beer Festival. Sample over 80 different beers from dozens of breweries at the Monterey County Fair & Event Center accompanied by live music and food vendors. 12:30pm-5pm. 2004 Fairgrounds Road, Monterey. $45 in advance, $50 at the door.
Join thousands of motorcycle enthusiasts from around the world during Race Night on the Row. Cannery Row is the hub of activity tonight as spectators from the FIM Superbike World Championship congregate to show off their bikes and party into the night. 5pm-11pm. Cannery Row, Monterey. Free event.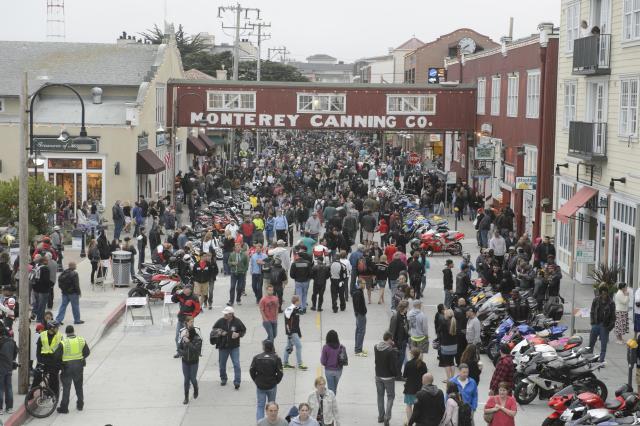 Sunday
Seaside has got the blues all summer long! The popular Sunday Blues in the Park series starts this weekend with live music from Red Beans and Rice and Barbara Morrison at Laguna Grande Park. 1pm-4:30pm. 1249 Canyon Del Rey Blvd, Seaside. Free event.
Pair that glass of vino with live music from Sean Ryan at Twisted Roots in Carmel Valley this afternoon. 4pm-6pm. 12 Del Fino Place, Carmel Valley. $15.