All Weekend
Monterey rolls back the clock this weekend as the Monterey International Pop Festival comes back to town after its life changing event that occurred exactly 50 years ago. The Monterey County Fair & Event Center will be full of retro and modern day artists throughout the three-day music festival. Headliners include Norah Jones, Jack Johnson, Gary Clark Jr., and many more! 2004 Fairgrounds Road, Monterey. $105 for one day passes and $295 for three day passes. Click here for a list of other Summer of Love related events in Monterey County.

Catch a performance of Peter & the Starcatcher at the Golden Bough Theatre in Carmel-by-the-Sea. This entertaining prequel to Peter Pan is a fun family fun event in Neverland! Friday and Saturday at 7:30pm and Sunday at 2pm. Monte Verde between 8th and 9th, Carmel-by-the-Sea. $8-$38.
Friday
Grab a glass of vino and enjoy live jazz from the Jim Payne Unit at Folktale Winery this afternoon. 4:30pm-7:30pm. 8940 Carmel Valley Road, Carmel. Free event.
The American Tin Cannery in Pacific Grove hosts its Third Friday Artwalk with a Summer of Love spin. Peruse through local art and enjoy fun activities and live music. 6pm-8pm. 125 Ocean View Boulevard, Pacific Grove. Free event.
Bring your appetite to Cima Collina's Summer Solstice Dinner this evening. Chef Fabrice of Roux Restaurant will be preparing a stellar meal with a paella-style Cassoulet Toulousain as the main entrée. The 4-course meal will be perfectly paired with Cima Collina wine; of course! 7pm. 19 E Carmel Valley Rd, Carmel Valley. $90.
Calling all comedians! The Pink Flamingo is having its monthly Open Mic Night for comedians working on their skills and audience members looking for a good laugh. 7:30pm-9pm. 2115 North Fremont Avenue #C, Monterey. $10 for audience.
Saturday
Feel rejuvenated after a session of Yoga in the Vines at Folktale Winery this morning. Instructor Kate Balog guides guests through a 90 minute yoga session in the Rose Vineyard followed by a complimentary glass of Folktale wine. 10am-11:30am. 8940 Carmel Valley Rd, Carmel. $20.
The Peninsula Pride Celebration and Parade is coming to Seaside! The parade will kick off at 11am from Monterey County Social Services on Broadway Ave. and continue down Fremont Blvd. towards Hilby Ave. Following the parade, a celebration will take place at 12pm at the Oldemeyer Center with live entertainment, refreshments and more. 11am. Broadway Avenue, Seaside. Free event.
The Carmel Valley Art and Wine Celebration is basically a block party with the best wine and finest art in the area. Sip award-winning Carmel Valley wines as you explore exhibitions showing the work of over 50 artists. In addition to fine arts such as paintings and photography, many jewelry designers, crafters, and artisans will have their beautiful products for sale. 11am-5pm. Del Fino Place, Carmel Valley. $30 for general tasting tickets in advance.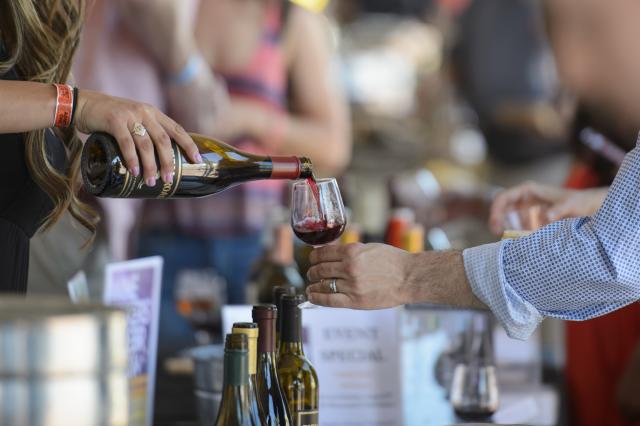 Head to The Barnyard Shopping Village in Carmel for a special book signing of "Big Sur Revealed" which contains over 100 stunning images Big Sur's coastline. 5pm-7pm. 3652 The Barnyard, Suite G-23, Carmel. Free event.
Join the Dali17 at the Museum of Monterey during their first Summer Speaker Series featuring Alexander Demetrius who will speak about the various symbolisms found in Dali's artwork.  5pm-6pm. 5 Custom House Plaza, Monterey. $16.
Sunday
Happy Father's Day! Click here for a full list of Father's Day events and brunches happening throughout Monterey County.
Run in the Name of Love this morning during the 5K and 2K races through Carmel-by-the-Sea. The race begins at the historic Sunset Center and follows a coastal path alongside sandy white beaches and the dramatic Pacific Ocean, with a finish celebration overlooking Carmel Beach. Dogs are welcome to participate in the 2K walk/run. 8:20am. San Carlos Street and Ninth Avenue, Carmel-by-the-Sea. $35-$40.
Champion fiddler Mari Black stops by the St. Mary's by-the-Sea Episcopal Church for a delightful afternoon. 3pm-5pm. 146 12th St, Pacific Grove. $20 in advance and $22 at the door.
Head over to Folktale Winery this afternoon for live music from Austin Metreyeon who will bring a mix of alternative rock, soul and folk. 4:30pm-7:30pm. 8940 Carmel Valley Rd, Carmel. Free event.