All Weekend
In need of some new body art? The 4th Annual "Ink by the Bay" Tattoo Convention takes over the Monterey County & Event Center with dozens of local and international artists tattooing on site. The three-day ink fest will also host exciting tattoo contests and a convertible car show. Friday from 3pm-10pm, Saturday from 11am-10pm and Sunday from 11am-7pm. 2004 Fairground Road, Monterey. $20 for a one-day pass and $30 for a three-day pass.
Friday
Kick your weekend off on the right foot and embark on a dunes and coast trail hike through Asilomar State Beach. A grounds staff person will lead guests on an invigorating hike through the Natural Dunes Preserve and the Asilomar State Beach Coast Trail with fun tidbits along the way. The guided hike meets at 5pm near the fire pit at Asilomar Conference Grounds. 800 Asilomar Avenue, Pacific Grove. Free event.
Catch a free concert at the Del Monte Center this afternoon during their Summer Tribute Concert Series. Tonight they host Fleetwood Mask. Can you guess which band they cover for? 6pm-8pm. 1410 Del Monte Center, Monterey. Free event.
The inaugural Juried Live & Silent Art Auction Gala takes place at the Sunset Center tonight. Some of the best artists from the Central Coast will have their work on display and up for auction. The evening will also include hearty appetizers, fine wines, live music and a silent auction. 6pm-9pm. San Carlos St at Ninth Avenue, Carmel-by-the-Sea. $95.
What better way to start your weekend then with a stunning sunset at Asilomar Conference Grounds. Every Friday throughout this summer the iconic property opens its doors for Sunset on the Deck. Phoebe's Cafe and deck will feature live entertainment, weekly grill specials, craft beers, regional wines, and cocktails. Tonight's featured act is Bryan Diamond. 6:30pm. 800 Asilomar Avenue, Pacific Grove. Free event.
Saturday
Rise and shine for an early morning with guides from the Monterey Peninsula Regional Parks District. Today they take hikers on a stroll through the lower trails of Palo Corona for a special birding hike. Be sure to bring water and snacks for the 5.5 mile hike. 8am. 26700 Rancho San Carlos Road, Carmel. Free event.
Enjoy the Carmel Valley sunshine, good wine and stunning art pieces at the Carmel Valley Art & Wine Celebration today. This "block party" hosts over a variety of local wineries, various art exhibits, great food and live music from Franklin Street Voices and Mojo Banditos. 11am-5pm. Carmel Valley Village, Carmel Valley. Wine tasting tickets are $30 in advance.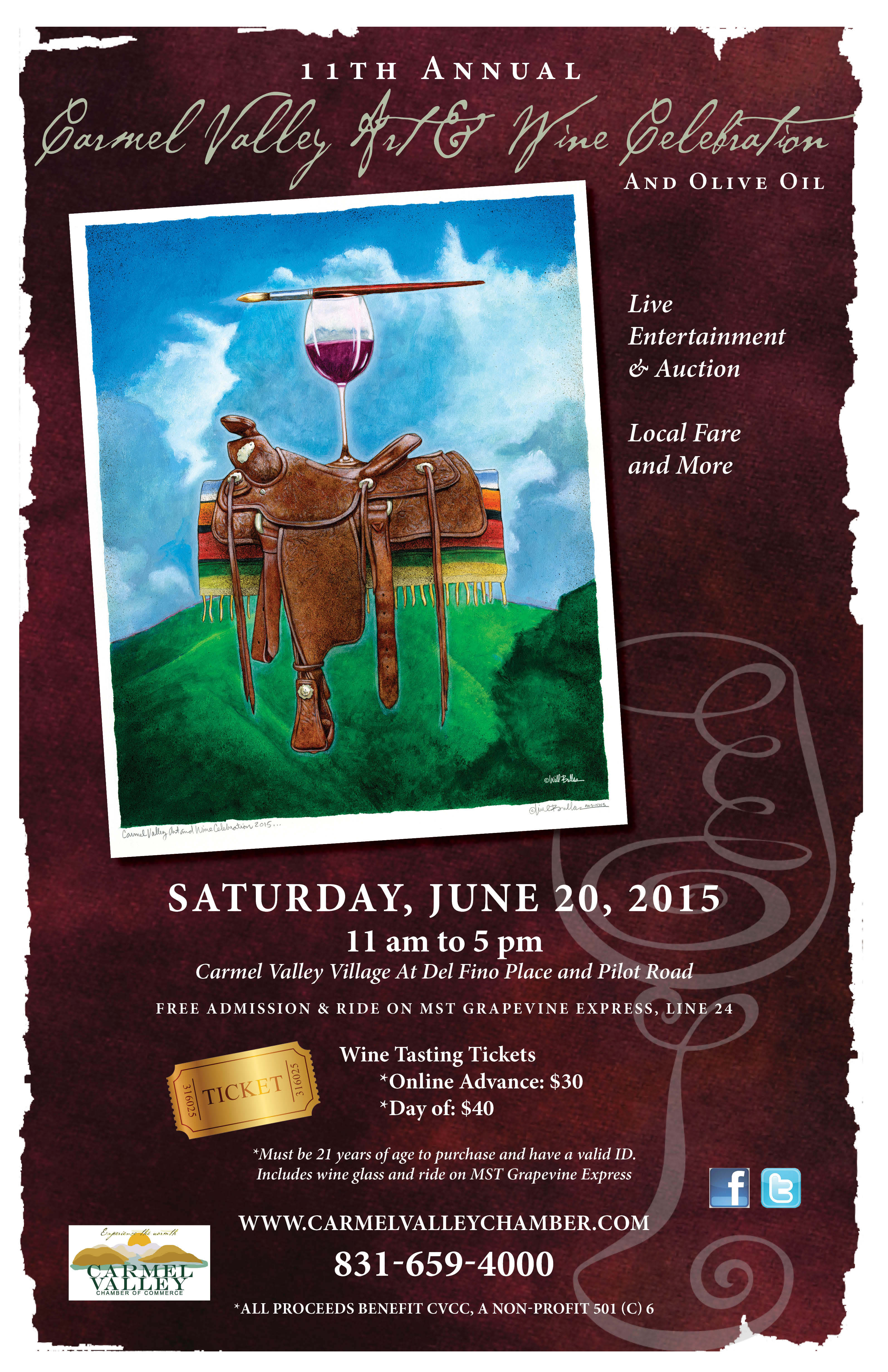 Get your kids into the fields today for the first Bug Walk of the season. Organic farmers from Earthbound Farms teach curious tots about the benefits of insects with hands on activities. 11am-12pm. 7250 Carmel Valley Road, Carmel. $5 for children, free for adults.
Get a rare glimpse into some of Carmel's most historic homes built by architects such as Frank Lloyd Wright, Julia Morgan and M.J. Murphy during the House and Garden Tour this afternoon. 1pm-5pm. Lincoln & 6th Avenues, Carmel-by-the-Sea. $35.
Learn how the Panama-Pacific International Exposition (PPIE) PPIE influenced Monterey's fishing industries during a lecture with local historian Tim Thomas at the Pacific Grove Museum of Natural History. 3pm-4:30pm. 165 Forest Avenue, Pacific Grove. $5.
Local Santa Cruz jam band Our Satori stops by Fernwood Tavern tonight for an incredible show under the redwoods. 10pm. 47200 Highway 1, Big Sur. Free Event.
Sunday
Happy Father's Day to all of the great male role models out there! Score some points with Dad this Father's Day and head to Monterey County. Perhaps some golf, a picnic on the beach or a Father's Day brunch? Click here to see a full list of brunches and other events in honor of Dad.
Run in the Name of Love this morning in stunning Carmel-by-the-Sea. The 5K race kicks off at the Sunset Center and winds through scenic pathways with amazing views before finishing at iconic Carmel Beach. Four-legged friends are also invited in on the fun! 8:30am. San Carlos St at Ninth Avenue, Carmel-by-the-Sea. $40 for adults and $25 for youth (under 15).
The Henry Miller Library welcomes author and Emmy-winner Jeffrey Lewis for a special talk during their "Under the Persimmon Tree" series. Jeffrey will discuss his work as a television writer and producer on Hill Street Blues and his latest book, The Meritocracy Quartet.4pm-6pm. 48603 Highway One, Big Sur. $10 suggested donation.