All Weekend 
The hills above the WeatherTech Raceway Laguna Seca will be roaring with energy as the FIM Superbike World Championship returns this weekend. This is your only chance to see a Superbike World Championship in the United States with various races and international participants. Friday-Sunday. Single day tickets range from $35-$70. Click here to see all ticketing options. 
Bring the family out to a performance of The Curious Incident of the Dog in the Night-Time at Golden Bough Theater in Carmel-by-the-Sea. This Tony Award winning play takes you inside the mind of 15-year-old Christopher Boone as he sets out to solve the mysterious death of a neighbor's dog. Thursday through Saturday at 7:30pm and Sunday at 2pm. Monte Verde between 8th and 9th, Carmel-by-the-Sea. $8-$38.
Friday
Congrats, you've made it to the end of the work week! Unwind with a cocktail and live music at Phoebe's Café at the Asilomar Conference Grounds. Tonight's performer is classic rock and country performer Casey Frazier. 6:30pm-9pm. 800 Asilomar Avenue, Pacific Grove. Free event. 
Transport yourself to the French countryside during Dinner in the Kitchen at Stone Creek Kitchen. This evening guests will dine on a pre-fixe menu paired with exquisite French wines, of course! 7pm. 465 Canyon Del Rey Blvd., Monterey. $135.
Saturday
Browse through charming storybook homes and gardens during the 25th Annual Carmel House and Garden Tour. This year the tour visits six homes and gardens including the Frank Lloyd Wright House, Storybook Cottage, Mariposa, Penny Lane, Hydrangea Hill and Casa Bilancia. 1pm-5pm. Various locations in Carmel-by-the-Sea. $35 in advance and $40 at the door. 
After a day of racing at the FIM Superbike World Championship head to Cannery Row for Race Night on the Row. Here over 3,000 motorcycle enthusiasts from around the world come show off their bikes in a festive block party type of atmosphere.4pm-10pm. Cannery Row, Monterey. Free event.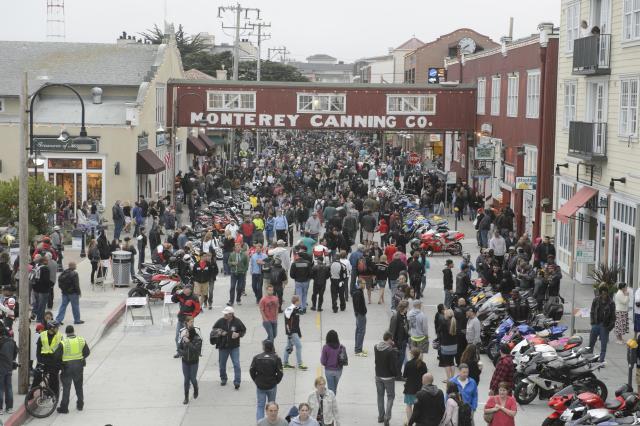 Kick back, relax and enjoy live music at Folktale Winery on Carmel Valley Road. This afternoon singer and violinist Razzvio stops by. 4:30pm-7:30pm. 8940 Carmel Valley Rd, Carmel. Free event. 
Get ready to laugh at the Pink Flamingo Theatre this evening during their Comedy Showcase featuring Dr. Scott and special guests. 7:30pm. 2115 North Fremont Ave #C, Monterey. $20. 
Sunday
See what the Monterey Bay Meditation Studio in Pacific Grove has to offer during their Community Open Studio event today. 10am-4pm. 529 Central Avenue, Pacific Grove. Free event.
Head for the hills and bring your family and friends out to scenic Salinas Valley for Hahn's Summer Music Series. Pick a spot on their sunny patio and simply soak in the live music, wine, view and good company. This week Sean Ryan stops by for an afternoon of contemporary jams. 12pm-4pm. 37700 Foothill Road, Soledad. Free event. 
Wrap up the weekend with live music at Folktale Winery from Talmon Owens and James Murray. 4:30pm-7:30pm. 8940 Carmel Valley Rd, Carmel. Free event. 
Enjoy an authentic Grateful Dead concert experience at the Sunset Center. This evening the Dark Horse Orchestra performs a set list similar to that of the Grateful Dead's. 7pm. San Carlos St at Ninth Ave, Carmel-by-the-Sea. $33-$54.