All Weekend
Get your fill of the hottest fitness gear around at the two-day Health & Fitness Expo preceding the Big Sur Half Marathon on Monterey Bay. Dozens of vendors feature the latest in running and athletic apparel, gear, nutrition items and more at the Monterey Conference Center. Participants in the half marathon can also pick up their bibs just in time for the big race. Friday from 12pm-6pm and Saturday from 9am-6pm. 1 Portola Plaza, Monterey. Free event.
Catch a performance of Moll Flanders this weekend at the charming Circle Theatre in Carmel-by-the-Sea. This frolicsome adaptation by Jennifer Le Blanc brings to life this bawdy, daring, ribald - and true - morality tale, showing an independent woman of spirit making her way through a man's world. Please note this production is rated "R" and not suitable for children. Thursday, Friday and Saturday at 7:30pm and Sunday at 2pm. Casanova between 8th and 9th, Carmel by the Sea. $8-$36.
Friday
Blues and rock sensation Johnny Lang is at the Golden State Theatre tonight with epic jams from his recent album "Lie to Me." 8pm. 417 Alvarado Street, Monterey. $37-$65.
What's better than a little bit of reggae and cold beer to kick off your weekend? Cannery Row Brewing Company has just what you need with live music from Pistachio and over 70 beers on tap. 9:30pm-11pm. 95 Prescott Avenue, Monterey. Free event.
Saturday
Lovers Point Park is the place to be this morning as the Pacific Grove Lighthouse 5K and 3K races take off. Courses hug the rocky shores of Pacific Grove and best of all they're kid-friendly! 8am. 630 Ocean View Blvd, Pacific Grove. 5K: $30 for adults, $20 for youth. 3K: $5 for youth, $20 for adults.
Things get colorful today as the Color Vibe 5K race takes off through Marina. Grab your friends and family and run (or walk) along the 5K course with epic beats and tons of color stations to keep you pumped. You'll come as a blank canvas and leave a colorful mural! 9am-11:30am. 327 Reindollar Avenue, Marina. $26-$30.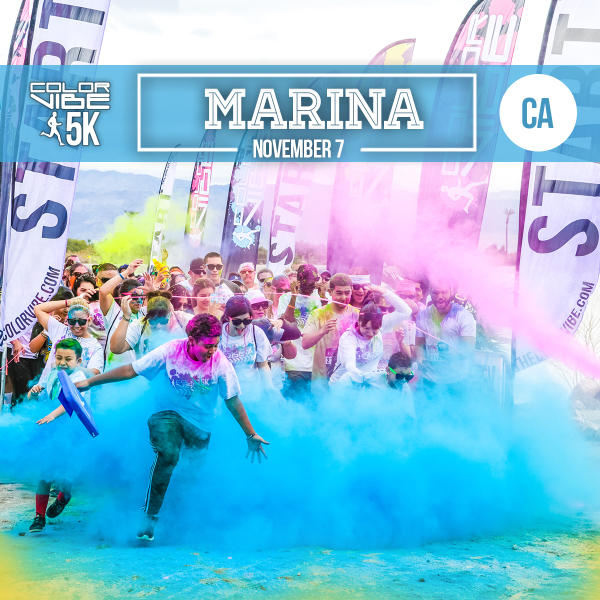 Honor those who have bravely served our country at the 6th Annual Veterans Day Celebration in Marina today. This free family event at the Marina Equestrian Center features all sorts of activities including a bike ride through Fort Ord, live music and various historical exhibits. 9:30am-11:30am. Corner of California Ave and 9th, Marina. Free event.
Prepare to be amazed at the Sunset Center this afternoon during the Stunt Dog Experience. Chris Perondi "Stunt Dog Guy" and his famous stunt dogs dazzle with amazing tricks, big air stunts, comedy antics, dancing dogs, and athletic feats. 3pm-5pm. San Carlos St at Ninth Ave, Carmel by the Sea. $35 for adults and $25 for children.
Enjoy a splendid evening in the garden at the Mission San Antonio. Here you will stroll through quaint corridors surrounding the beautiful Padre's garden, enjoy local wines and dine on a selection of gourmet food delights. There will also be a silent auction and live music. 4pm-8pm. End of Mission Road, Jolon. $50 in advance and $60 at the door.
Taste the Flavors of Pacific Grove this afternoon at The Inn at Spanish Bay. Chefs from various restaurants in "America's Last Hometown" showcase gourmet dishes alongside wonderful wines, a silent auction and live music from The Money Band.5:30pm-8:30pm. 2700 17 Mile Drive, Pebble Beach. $50.
Head over to the Golden State Theatre for a showing of Warren Miller's Chasing Shadows. Take a glimpse into the world of the U.S. freestyle team and see the dynamics of snowsports that live on the fringe, like monoskiing, powsurfing and speed riding. 7:30pm-9pm. 417 Alvarado Street, Monterey. $19.
The Post Street Rhythm Peddlers stop by the Fernwood Tavern tonight for a blast from the past with jams from the 1920s. 10pm. 47200 Highway 1, Big Sur. Free Event.
Sunday
Get ready and get set for the most scenic 13.1 race in existence! The Big Sur Half Marathon on Monterey Bay kicks off bright and early in historic downtown Monterey, and then travels to Cannery Row, the shores of Monterey Bay, downtown Pacific Grove, and back along the coast to the grand finish at Custom House Plaza. Spectators can watch from anywhere along the course. 7am. Monterey and Pacific Grove. Free for spectators.
St. Mary's by-the-Sea Episcopal Church in Pacific Grove welcomes Winifred Horan with Johnny Connolly and Cary Novotny this afternoon. This Irish trio is sure to be a crowd-pleaser with an exciting and powerful mix of traditional Irish music melodies with modern and compelling harmonic and rhythmic settings. 3pm. 146 12th Street, Pacific Grove. $20 Adults, $8 kids 12 and under.