All Weekend
Contemporary art and independent film collide for five days in Carmel-by-the-Sea during the Carmel International Film Festival. The festival features art in almost every medium including music, fine art and, of course, film. Events will be scattered throughout Carmel-by-the-Sea with the Sunset Cultural Center as the hub for the event. Click here for the full event schedule. Wednesday-Sunday. Various venues throughout the Monterey Peninsula. Various ticket prices.
Catch a performance of The Winter's Tale at the Golden Bough Theatre in Carmel-by-the-Sea. This delightful Shakespeare play is filled with music and theatrics while celebrating redemption, reconciliation, and the mending of broken hearts. Thursday-Saturday at 7:30pm and Sunday at 2:00pm. Monte Verde between 8th and 9th, Carmel-by-the-Sea. $7.50-$35.
Comedian Darryl Littleton is at Planet Gemini for two hilarious nights of stand-up! Stay afterwards for karaoke and dancing. Friday and Saturday at 8pm. 2110 Fremont Street, Monterey. $10-$15.
Friday
Tots visiting MY Museum will stop, drop and roll during Fire Safety Friday today. Firefighters from the Monterey Fire Department stop by for special activities and show off their shiny red fire truck. 3:30pm-4:30pm. 425 Washington Street, Monterey. Free with museum admission.
Saturday
Are you ready for the Zombie Apocalypse? The Pebble Beach Zombie Run and Emergency Preparedness Fair hopes to get you in shape for the takeover! The 5K Zombie Crawl and 2K Survivor Stroll routes weave through picturesque Pebble Beach with an emergency preparedness expo to follow. 9am-12pm. 4005 Sunridge Road, Pebble Beach. $25.
Celebrate Harvest at Paraiso Vineyards today! Enjoy a late afternoon of scrumptious fall fare, sweet treats, great music and exclusive Monterey County wines in the beautiful Santa Lucia Highlands. Special activities include grape stomping, hayrides through the vineyards and a behind-the-scenes harvesting demonstration. 3pm-6pm. 38060 Paraiso Springs Road, Salinas. $65.
Toast to Baum & Blume's Oktoberfest Dinner and Concert tonight in Carmel Valley Village. Enjoy a gourmet 4-course German-style dinner and a live performance from Bruce Guynn and BigRain. 6pm-7:30pm. 4 El Caminito Road, Carmel Valley. $40.
David Holodiloff is on his trusty mandolin tonight at the Fernwood Tavern tonight. 10pm. 47200 Highway One, Big Sur. Free event.
Sunday
Scope out the friendly (and creative) competition at Carmel Beach today during the Great Sand Castle Contest. 8am-2pm. Free event. Scenic Road and 10th Avenue, Carmel-by-the-Sea.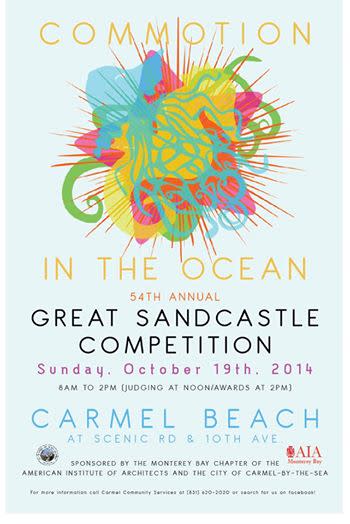 The Monterey Bay Antiques & Vintage Market sets up shop this morning at the Monterey Peninsula College. Find all sorts of unique treasures including home decor, indoor & outdoor furniture, cloths, clothing, antique and vintage jewelry antique rugs, and much more. 8am-3pm. 980 Fremont St Parking Lot A, Monterey. Free event.
Enjoy the colors of fall while on a hike with guides from the Monterey Peninsula Regional Parks District. Today they explore Garland Ranch and its season changing fauna. The 3.5 mile hike is expected to last 3-4 hours. Don't forget to bring water, lunch and snacks and to wear comfortable hiking shoes with good traction. 10am. 700 West Carmel Valley Road, Carmel Valley. Free event.
The Monterey Bay Aquarium celebrates Fiesta Del Mar today with all sorts of fun activities centered around ocean conservation. The day will include live music, cultural dance, bilingual feeding shows, crafts for kids and more! 10am-6pm. 886 Cannery Row, Monterey. Included with Aquarium admission; children 12 and under admitted free.

Head to southern Monterey County for Greenfield's Harvest Festival. The day is filled with music, art, food, crafts and artisans selling their wares. There's even a 5K run and parade to kick off the festivities! Bring your kids along and let them explore their creativity, learn about different cultures. 11am-5pm. El Camino Real, Greenfield. Free event.