All Weekend
Get a Taste of Carmel this weekend with various events showcasing Carmel-by-the-Sea's thriving food and wine scene. The festivities kick off on Thursday with a Mission 007: Shaken Not Stirred theme party held at the iconic Carmel Mission. The evening invites guests to revel in local food and wine, bid on silent auction items and enjoy live music from the Money Band. Other events throughout the weekend include a 17 Mile Drive bike tour & wine walk, wine dinners and more! Various venues and ticket prices. Click here for a list of events.
The Golden Bough Theatre in Carmel-by-the-Sea brings to life the award-winning musical comedy Oliver! all weekend long. Warning, it may be hard to restrain yourself from singing along to favorites like "Consider Yourself", "Food Glorious Food", "Got to Pick a Pocket" and "Where Is Love."  Friday at 7:30pm, Saturday at 2pm and 7:30pm and Sunday at 2pm. Monte Verde between 8th and 9th, Carmel-by-the-Sea. $8-$42.
Ready, set, go! The Monterey Beach SportsFest kicks off on Saturday for a two-day festival highlighting the ocean lifestyle on Monterey's Del Monte Beach. Participants and spectators will be inspired to care for the ocean with educational and conservation resources available at the two-day "Healthy People, Healthy Oceans" Expo. Sporting events include open-water swims, beach volleyball, ocean water polo, and a Splash and Dash. Saturday-Sunday. Del Monte Beach, Monterey. Free for spectators.
Celebrate Monterey's rich cultural and historical importance this weekend during Monterey HistoryFest! Events include tours of Doc Ricketts' Lab, a California Constitutional Convention reenactment and a Civil War encampment complete with cannon firings! Saturday-Sunday. Various venues. Free event.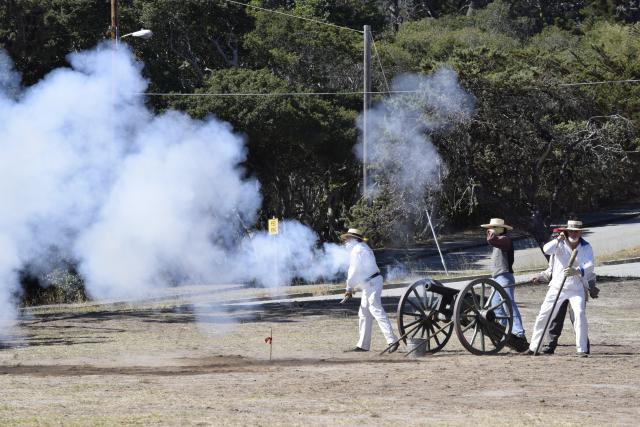 This weekend the Monterey Bay Aquarium urges you to "Make it Sustainable." This two-day Cooking for Solutions event features celebrity book signings, cooking demonstrations and sustainable food tastings from land and sea. On Saturday there will also be a ticketed late night party with Alton Brown for $90. 886 Cannery Row, Monterey. Free with paid aquarium admission.
The Monterey County Fair & Event Center turns into a mini-Munich this weekend with Oktoberfest Monterey Bay. Don't miss out on mouth-watering German foods and beers, fun filled activities like the Dachshund races and Ms. Oktoberfest contests and live music. Saturday from 12pm-10pm and Sunday from 12pm-6pm. 2004 Fairgrounds Road, Monterey. $20 on Saturday and $15 on Sunday.
Friday
Head over to the Monterey Museum of Art today for the opening of their annual "Miniatures" exhibit. The Monterey Museum of Art's holiday fundraiser exhibition features over 300 mini-artworks and are all up for grabs! Lucky art enthusiasts can get their hands on these one-of-a-kind Miniatures for just $5, or $25 for Big Ticket pieces. Tickets will be chosen at random and winners will be announced on the museum's website January 22, 2016. Click here for an exclusive sneak peek into the exhibit. 11am-5pm. 559 Pacific Street, Monterey. Free event.
Jacks Restaurant at the Portola Hotel & Spa hosts its quarterly (and much anticipated) wine dinner tonight. Miner Family Wines teams up with Chef Jason Giles for a perfectly paired 5-course meal featuring crispy southern fried quail and a hazelnut chocolate caramel delight. 5pm. Two Portola Plaza, Monterey. $85 with wine and $65 without wine.
Prepare yourself for a truly magical culinary experience at the Hunt & Catch: A Local Winemaker's Dinner tonight at Carmel's hottest new event venue Seventh & Dolores. Cantinetta Luca's Chef Jason Baletrieri's mouth-watering cuisine and Caraccioli's award-winning wines combine for a delightful showcase of Monterey's finest ingredients from land and sea. 6pm. SW Corner of 7th Avenue and Dolores Street, Carmel-by-the-Sea. $135.
Kick off your weekend at Cannery Row Brewing Company with live reggae music from the White Glove Service and a few brews. 9pm-11pm. 95 Prescott Avenue, Monterey. Free event.
Saturday
October has arrived which means Pacific Grove's favorite butterfly migrates back to town! School children and the community band together to welcome back these black and orange beauties during the Monarch Butterfly Parade. Don't miss the Butterfly Bazaar immediately after the parade at the Robert Down Elementary School. 10:30am. Lighthouse Avenue, Pacific Grove. Free event.
The first Saturday of the month means it's time for the monthly art walk at the American Tin Cannery! The event will feature a plethora of artworks from local artists, food and live music. 12pm-5pm. 125 Ocean View Blvd., Pacific Grove. Free event.
The Pacific Grove Museum of Natural History welcomes back the Monarch Butterfly with a special Butterfly Ball tonight. The evening will begin with wine tastings and a silent auction, followed by live music, strolling dinner, and a no-host bar. A live auction, dancing, and dessert officially wraps up the evening. 6pm-10pm. 165 Forest Avenue, Pacific Grove. $115.
Split Screens heads to the Fernwood Tavern in Big Sur tonight. 10pm. 47200 Highway 1, Big Sur. Free Event.
Sunday
Shout "ole" today at the 51st Annual Carmel Mission Fiesta today! Enjoy savory BBQ and Mexican foods, delectable libations, and scrumptious desserts, while listening to fabulous live music from The Money Band and shopping the handmade works of many fine artisans and crafters. Kids will also enjoy their own festival area filled with games, prizes, food and fun. 11am-5pm. Corner of Rio Road & Lasuen Drive, Carmel-by-the-Sea. Free event.
Happy Birthday to the City of Monterey! Old Fisherman's Wharf throws a 170th Birthday Bash today complete with a variety of "fish-themed" cakes for purchase at Wharf restaurants including Abalonetti Bar and Grill, Big Fish Grill, Crab Louie's Bistro, Liberty Fish, Old Fisherman's Grotto and Paluca Trattoria. Carousel Candies will also be selling a variety of flavored chocolate fish and a treasure chest filled with chocolate coins. 11am-5pm. 1 Old Fisherman's Wharf, Monterey. Free event.