All Weekend
Celebrate the Halloween weekend in Monterey County! Click here to view the full list of spooky Halloween events in Monterey County.
Start your weekend on the right foot with a free walking tour at Asilomar State Beach. The easy guided hike will showcase Asilomar's unique history and the natural Forest and Dune Preserve. Friday-Sunday at 10am. 800 Asilomar Ave, Pacific Grove. Free admission.
Don't miss your opportunity to see Shakespeare's "King Lear" at the Circle Theater in Carmel-by-the-Sea this weekend. Thursday-Saturday at 7:30pm and Sunday at 2pm. Casanova Street between 8th and 9th Avenues, Carmel-by-the-Sea. $36 for adults and $16 for children.
Friday
Are you ready for the party of century? Dali17 at the Museum of Monterey celebrates the 75th anniversary of "A Surrealistic Night in an Enchanted Forest," a costumed fundraiser originally hosted by Salvador Dali at the Del Monte Hotel. This year's event hopes to recreate this surreal party with a special Gala dinner party and unique After Party. 5:30pm-11:30pm. 5 Custom House Plaza, Monterey. $250 for Gala and $100 for After Party.
Unwind after the busy work week with a glass of wine, live music and an incredible views during "Sunset on the Deck" at Asilomar Conference Grounds in Pacific Grove. Tonight's featured musician is Fred McCarty. 6:30pm. 800 Asilomar Avenue, Pacific Grove. Free admission.
Guitarist Richard Thompson and gospel group The Blind Boys of Alabama grace the Sunset Center's stage tonight for an incredible double header concert. 8pm. San Carlos St at Ninth Avenue, Carmel-by-the-Sea. $49-$69.
Saturday
Run for your life at the Pebble Beach Zombie Run holding both a 5K Zombie Crawl and a 2K Survivor Stroll. After you complete your run, grab a post-race snack and peruse the Emergency Preparedness booths, where you might learn something that could help you survive the next zombie apocalypse. 9am-12pm. 4005 Sunridge Road, Pebble Beach. $25.
Businesses in downtown Pacific Grove get decked out for the 5th Annual Downtown PG Trick-or-Treating Extravaganza. Just look for the Halloween ribbons and pumpkins outside participating downtown businesses and enjoy live music, entertainment and lots of treats throughout the day! 10am-3pm. Lighthouse Avenue, Pacific Grove. Free event.
Celebrate Carmel-by-the-Sea's 100th birthday party with the one and only Clint Eastwood! The world-acclaimed actor and director acts as the Grand Marshal for the Centennial Celebration Parade which also features costumed residents, dancers, musicians, vintage cars and premier floats being built by the same company that constructs floats for Pasadena's Tournament of Roses Parade. 10:30am. Ocean Avenue, Carmel-by-the-Sea. Free event.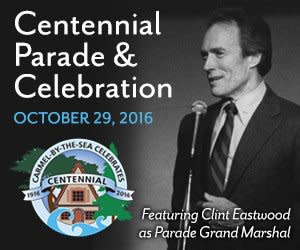 Things get creepy at the Pacific Grove Museum of Natural History today. Science Saturday will be full of all sorts of bats, spiders and snakes sure to give you the heebie-jeebies. Daring tots can make a spider web, trick-or-treat around the museum and enjoy crafts. 11am-3pm. 165 Forest Avenue, Pacific Grove. Free event.
Lighthouse District shops, restaurants, and boutiques welcome little goblins with special treats on Halloween. Dress up and come on down to Lighthouse Avenue for an afternoon full of fun and trick-or-treating. 2pm-5pm. Lighthouse Avenue between Reeside and David, Monterey. Free event.
Prepare to get spooked during the Halloween Tour of the Point Sur Lighthouse in Big Sur. This notoriously haunted icon has even been featured on Ghost Hunters! The sunset tour will also include a buffet dinner and desserts. 5:15pm. Highway One, Big Sur. $85.
Head to Fernwood Tavern in Big Sur tonight for live music performed by McHugh & Devine. 10pm. 47200 Highway 1, Big Sur. Free event.
Sunday
Enjoy what's left of the weekend at Big Sur's Fernwood Tavern with live music performed by The Lulls with DJ Sunburnt Reynolds. 10pm. 47200 Highway 1, Big Sur. Free event.