All Weekend
PacRep presents the hilarious romantic comedy The Servant of Two Masters at the Golden Bough Theatre in Carmel-by-the-Sea. This comedy about a hungry servant who hatches a scheme to double his wages (and meals!) by serving two masters at once is a must see! Friday and Saturday at 7:30pm, Sunday at 2pm. Monte Verde between 8th and 9th, Carmel-by-the-Sea. $7.50-$35.
Get into the spooky spirit with a performance of Dracula at the Monterey Peninsula College Theatre running October 30-November 9. William McNulty's daring new adaptation of the classic tale offers a darker and sexier view of Dracula's reign of terror. Thursday-Saturday at 7:30pm and Sunday at 2pm. 980 Fremont, Monterey. $20 in advance, $25 adult, $22 senior at the door.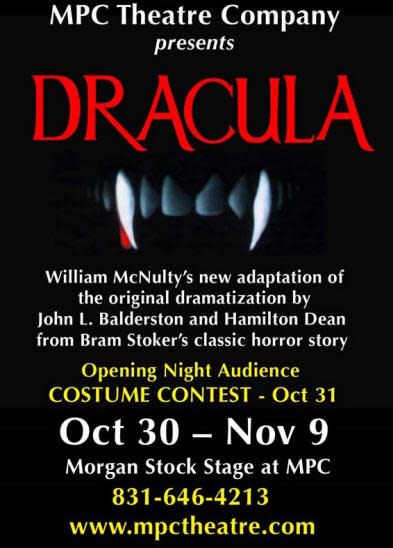 Learn about one of the most mysterious and misunderstood creatures of the sea at the Monterey Bay Aquarium this weekend. Shark Days features shark and bat ray feedings, stories from aquarium staff about sharks, behind-the-scenes tours, and several other programs and activities. Saturday-Sunday, 10am-5pm. 886 Cannery Row, Monterey. Free with paid admission. 
Get your palm read, attend a spiritual lecture or browse the unique items from various vendors at the Rota Psychic Fair at the Monterey County Fair & Events Center this weekend. Saturday-Sunday, 10am-6pm. 2004 Fairgrounds Road, Monterey. $10.
Friday
Happy Halloween!
Get your trick or treat on at Carmel Plaza! Participating stores with a large pumpkin in the front window offer up goodies for those in costume. 2pm-4pm. Ocean Ave and Mission St., Carmel-by-the-Sea. Free event.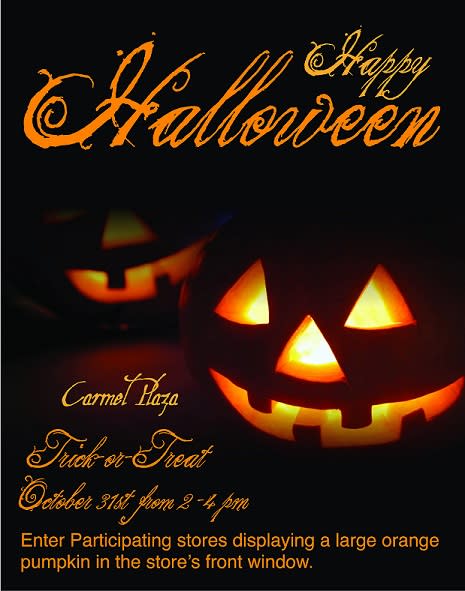 It's pure Pumpkin Pandemonium at the Del Monte Shopping Center this afternoon! This popular family-friendly event offers the ultimate trick-or-treating experience with over 28,000 pieces of candy already ordered! There will also be a special pumpkin patch with free pumpkins while supplies last. 2:30pm-4:30pm. 1410 Del Monte Ctr., Monterey. Free event.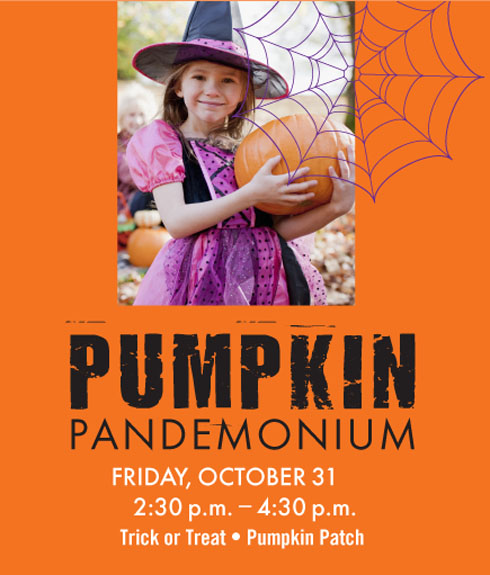 Nepenthe's much anticipated Halloween Bal Masque features live music from Paige Too and Britt Govea. Tickets include all you can eat Ambrosia and veggie burgers. Be sure to come in costume for a chance to win amazing prizes! 6pm-12am. 48510 Highway 1, Big Sur. $36 for adults and $8 for children 12 and under.
Walk the catwalk and don your best Halloween costume at the Halloween Catwalk Costume & Dance Party at Wave Street Studios. You can't go wrong with their sprung dance floor, fine wines, craft beers and costume contest! 7pm-12am. 774 Wave St., Monterey. $25.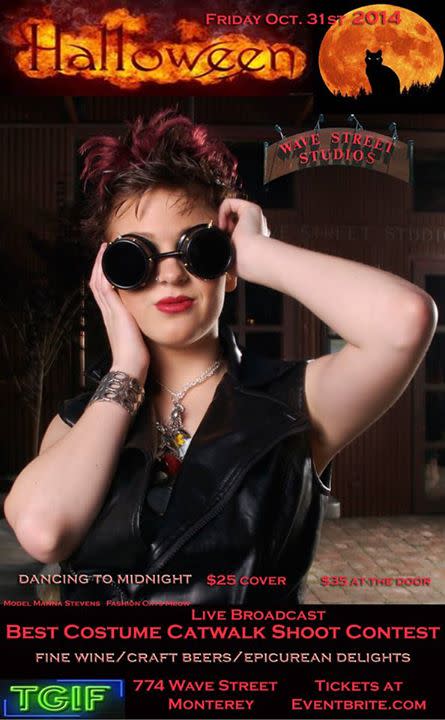 There's no better way to spend your Halloween then at a performance of The Rocky Horror Show at the Paper Wing Theatre. Grab your squirt gun, rice, and fishnets and come sing along with all of your favorite songs! 8pm and midnight. 320 Hoffman, Monterey. $23.
Are you ready to get scared this Halloween? Come to the "Haunted Mirror Maze" at the Monterey Mirror Maze on Cannery Row! October 30-November 1 from 8pm to 10pm. 751 Cannery Row, Monterey. $15.
Fernwood Tavern in Big Sur throws an epic Halloween Costume Party with live music from Sky Country. 10pm. 47200 Highway 1, Big Sur. Free event.
No Halloween costume, no problem! Just dress in black for Cibo Ristorante's Back in Black Halloween Party. This place will be popping with all sorts of fist pumping jams and entertainment. 10pm-1am. 301 Alvarado Street, Monterey. $5.
Saturday
Visitors and locals are invited to Ciclovía Salinas where 1.6-miles of streets are open for biking, walking, rolling in a wheelchair, running, skateboarding, rollerblading, and the like. All people-powered, no motor vehicles! Do you bike or walk with children or unsteady elders not at an age to be sharing streets with cars? Ciclovía Salinas allows these and others, all ages and abilities, to feel right at home on the streets of Salinas. 10am-2pm. Alisal Street, between Salinas Street in Oldtown (downtown) vicinity and Sanborn Road in East Salinas. Free event.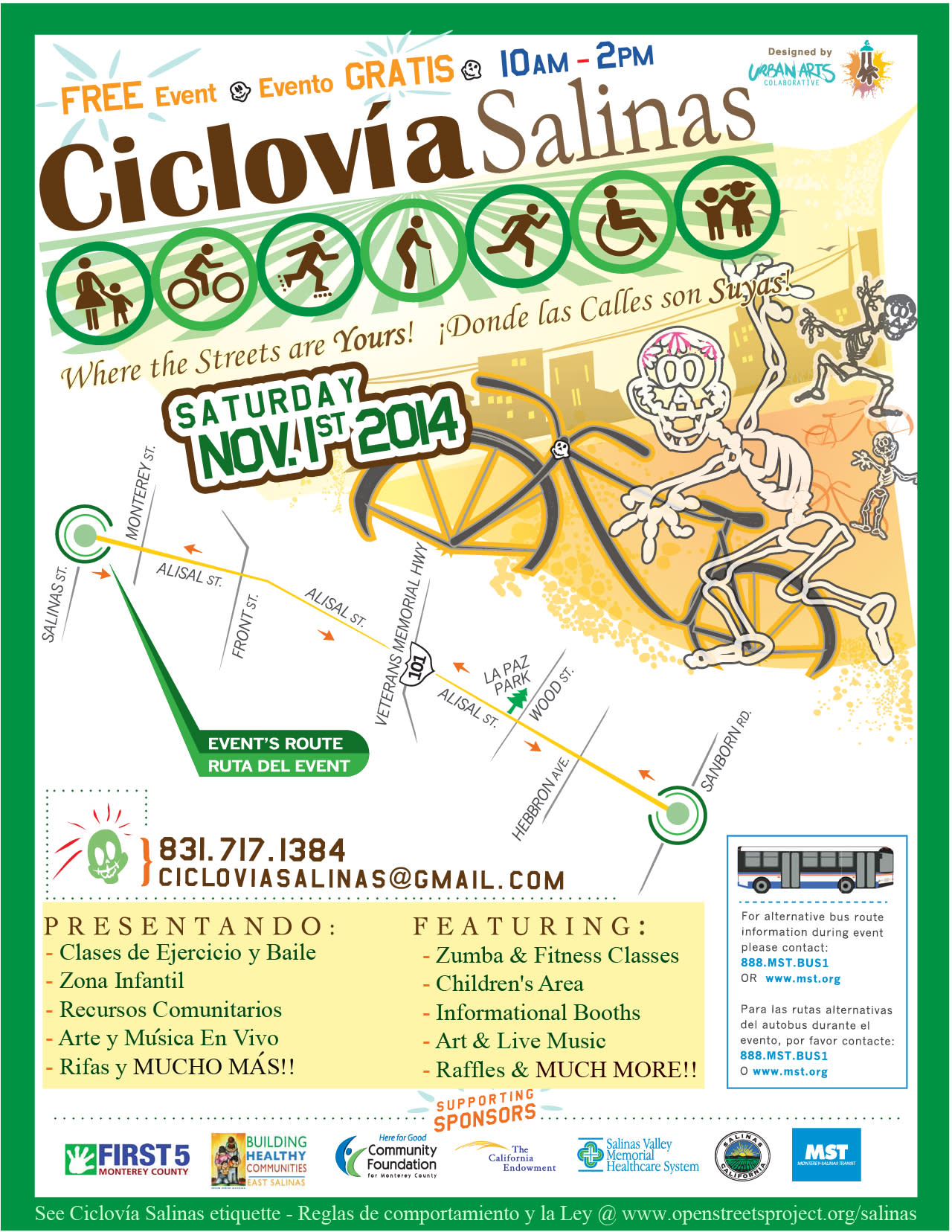 Spend an Evening in the Garden at one of Monterey County's lesser known missions. Mission San Antonito de Padua in southern Monterey County hosts their annual party with live music, wine tastings featuring some of the central coast's premium wineries, sumptuous hors d'oeuvres, a silent auction and more. 4pm-7pm. End of Mission Road, Jolon. $50 in advance and $60 at door.
Bummed Halloween is over? You can always celebrate the Day of the Dead! The Monterey Museum of Art-La Mirada is doing just that tonight with dancing, a taco bar, cocktails and a DJ. Must be 21+ to attend. 7pm-10pm. 720 Via Mirada, Monterey. $15.
Swing your partner round and round at the Party in the Village Barn Dance at Hidden Valley Music Seminars. This hoedown is complete with live country music, a no-host bar, silent auction, raffles and more! 7pm-11pm. 88 West Carmel Valley Road, Carmel Valley. $25.

According to Jay Leno, Planet Gemini's act tonight is the "funniest policeman" alive. Michael Mancini is sure to have the audience rolling in the aisles. Stay afterwards for karaoke and dancing. 8pm. 2110 Fremont Street, Monterey. $15.
The Swiss theatre and mime group Mummenschanz stops by the Sunset Center this evening for a playful family show full of pantomime, props, and physical theater. 8pm. San Carlos Street at Ninth Avenue, Carmel-by-the-Sea. $39-$59.
Xylouris White is at the Fernwood Tavern in Big Sur tonight. 10pm. 47200 Highway One, Big Sur. Free event.
Sunday
Catch a glimpse of a rare North American performance by one of Europe's premier chamber music ensembles. The Hagen Quartet takes the stage at the Sunset Center for a delightful afternoon of European chamber music. 3pm. San Carlos Street at Ninth Avenue, Carmel-by-the-Sea. $40-$55.