All Weekend
Tap into your inner Frank Sinatra this weekend and head to Festa Italia in downtown Monterey. Custom House Plaza transforms into a slice of Sicily with all sorts of Italian pizzazz including a plethora of Italian bites, wines, bocce, live music and dancing. Friday from 3pm-10pm, Saturday from 11am-10pm and Sunday from 11am-6pm. 4 Custom House Plaza, Monterey. Free event.
Ready, set, go! Elite and amateur triathletes flock to Lovers Point this weekend for the Triathlon at Pacific Grove which includes an Olympic distance triathlon, a sprint distance triathlon, and a 5K and 10K Fun Run. Visitors can cheer on participants and scope out the latest fitness gear at the Sports Expo. Friday-Sunday. Lovers Point Park, Pacific Grove.
There's plenty of vroom vroom going on at Mazda Raceway Laguna Seca! The Pirelli World Challenge features more than 80 cars from more than 15 manufacturers including Acura, Aston Martin, Audi, Cadillac, Chevrolet, Ferrari, Fiat, Ford, Honda, Kia, Mazda, Mercedes-Benz, Mini, Lamborghini, Nissan, McLaren and Porsche that are battling wheel-to-wheel. Friday-Sunday. 1021 Monterey Salinas Highway, Monterey. Various ticket prices ranging from $45-$90.
Friday
The Monterey Museum of Art La Mirada hosts "Beside the Golden Door: A Tribute to America in Words and Music" tonight in honor of 9/11. The musical performance features soloists Reg Huston, Susanne Mentzer, Leberta Lorál, and Thomas Truhitte, accompanied by Pauline Troia on piano. 7pm-8:30pm. 720 Via Mirada, Monterey. $35 for non-members.
Saturday
Get a sneak peek into some of Monterey's hidden gardens during "Art in the Gardens." Several local plein-air artists will set up shop in some of Monterey's most quaint and historic gardens where you can stop by and watch them work. Maps with featured gardens can be picked up at the Sensory Garden on Olivier Street in Monterey. 11am-4pm. Olivier & Scott Streets, Monterey. Free event.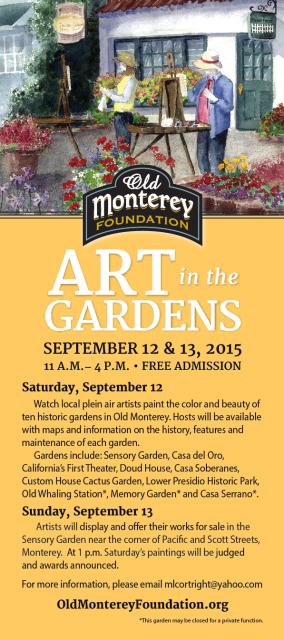 Head to Fernwood Tavern in Big Sur tonight for live music from indie pop rockers The French Cassettes. 10pm. 47200 Highway 1, Big Sur. Free Event.
Sunday
Catch guitarist David Grier at St. Mary's by-the-Sea Episcopal Church in Pacific Grove this afternoon. You do not want to miss this incredible performance with songs from his new album "Fly on the Wall." 3pm-5pm. 146 12 Street, Pacific Grove. $20 for adults and $8 for children 8 and under.
Summer's not quite over at the Portola Hotel & Spa! Grab your swimsuit and head to their pool for a family style pool party complete with a live music featuring Fredo from 101.7 The Beach. 2 Portola Plaza, Monterey. 3pm-6pm. Free event.