All Weekend
Be a spectator at a world-class golf tournament at Pebble Beach for free! The First Tee Open allows junior golfers the chance to play with champions like Ben Crenshaw, Isao Aoki, Tom Kite, Sandy Lyle, Tom Watson and Fuzzy Zoeller on legendary Pebble Beach golf courses. Practice rounds occur September 23-25 and tournament rounds occur September 26-28. 1700 17 Mile Dr., Pebble Beach. Free event.
It's a bird, it's a plane, it's the California International Airshow! Watch jaw-dropping aeronautical acrobatics from the United States Air Force Thunderbirds, Metal Mulisha, the Liberty Jump Team, Clay Lacy Lear Jet Aerobatics, and more at the Salinas Municipal Airport. There will also be military demos, military fly-bys and military/civilian aircraft displays. Saturday and Sunday at 11am. 30 Mortenson Ave., Salinas. $15 in advance and $20 at the gate.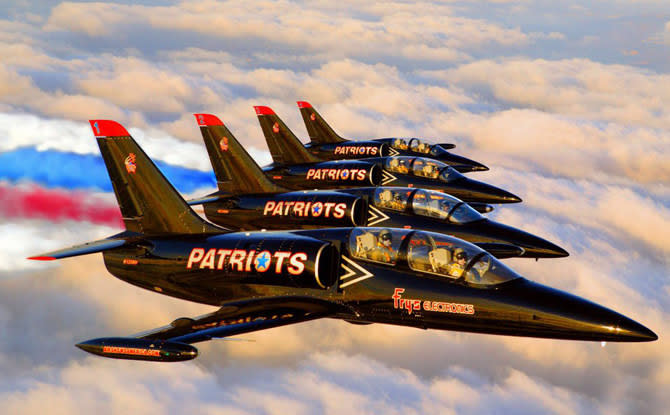 Everyone's favorite ogre and his fairytale misfits are at the Golden Bough in Carmel-by-the-Sea this weekend.
Shrek the Musical
is sure to be a hilarious hit with the whole family. Friday at 7:30pm, Saturday at 2pm and 7:30pm and Sunday at 2pm. Monte Verde St. and 8th Ave., Carmel-by-the-Sea.
$7.50-$36
.
Peek into the galleries and workshops of local artists during the Monterey County Artists Studio Tour this weekend. Art lovers can see completed works and works in progress. Get a map of participating locations here. Saturday and Sunday from 11am-5pm. Various locations. Free event.
Friday
The Monterey Museum of Art on Pacific Street continues their Lecture Series. Today Claudine Chalmers, Ph.D. presents, Barbizon-by-the-Pacific: How Jules Tavernier, Jules Simoneau and Robert Louis Stevenson turned Monterey into a vibrant Barbizon-inspired art colony. 6pm. 559 Pacific Street, Monterey. Free event.
Carmel Plaza is rocking out for the Summer Live Music Series! Tonight's entertainment features live music from The Money Band with food and wine served from The Forge, Manzoni Cellars and Carmel Road for $15. 5pm-7pm. Ocean Ave. and Mission St., Carmel-by-the-Sea. Free event.
You won't be blue tonight when country superstar LeAnn Rimes takes the stage at the Sunset Center! Don't miss this incredible and intimate performance from the two-time Grammy winner where she will belt out hits like "How Do I Live" and "Can't Fight the Moonlight." 8pm. San Carlos St. at Ninth Ave., Carmel-by-the-Sea. $75-$89.
Saturday
Rise and shine for a hike through the lower trails of Kahn Ranch with guides from the Monterey Peninsula Regional Parks District. Today they venture out to the southeastern end of Garland Park for beautiful views of shady creeks and sunny hillsides. The 2-3 mile hike is expected to last 2 hours. Don't forget to bring water, lunch and snacks and to wear comfortable hiking shoes with good traction. 9:30am, Kahn Ranch Parking Lot, Carmel Ranch. Free event.
Step into the Elkhorn Slough Reserve today for their Open House and Native Plant Fair. Today they host several free walks, talks and a plant fair. Kids will also have plenty of time to use up their energy with hands on projects and crafts. 9:30am-2pm. 1700 Elkhorn Slough Rd., Moss Landing. Free event.
Learn about Monterey Bay's favorite fuzzy mascot today at the Pacific Grove Museum of Natural History. Today's Science Saturday features sea otters where kids of all ages can learn about the playful little guys and their importance to the bay. 11am-3pm. 165 Forest Ave., Pacific Grove. Free event.
Cheers for beers! Don't miss the 4th Annual Monterey Beer Garden at Custom House Plaza near Old Fisherman's Wharf today. Local leader in craft beer Peter B's Brewpub leads the charge along with several other local breweries. Admission includes a BBQ lunch, unlimited beer tastings and live music! 12pm-4pm. 20 Custom House Plaza, Monterey. $40 in advance and $50 at the door.
Tonight the Sunset Center in Carmel-by-the-Sea hosts a special screening of "Icarus at the Edge of Time" with live music from Philip Glass. 7pm. San Carlos St. at Ninth Ave., Carmel-by-the-Sea. $45-$65.
Marty O'Reilly & the Old Soul Orchestra stop by the Fernwood Tavern tonight. This three-man orchestra is sure to put on a great show with their unique blues tunes. 10pm. 47200 Highway One, Big Sur. Free event.
Sunday
Shout "ole" at the Carmel Mission today! The 50th Annual Carmel Mission Fiesta kicks off at 11am for a day full of food, merriment and family fun. 11am-5pm. 3080 Rio Road, Carmel. Free event.
Radio host Ira Glass is at the Sunset Center this afternoon for "Three Acts, Two Dancers and One Radio Host." As the title indicates, the show is in three acts. Act one is about the job of being a performer, Act two: falling in love and what it means to stay in love. Act three: losing what you love. 6pm. San Carlos St. at Ninth Ave., Carmel-by-the-Sea. $45-$85.