All Weekend
Over 75 celebrity chefs and 250 wineries assemble at Pebble Beach this weekend to bring you the culinary experience of a lifetime! Pebble Beach Food & Wine hosts several lunches, dinners, wine tastings and cooking demonstrations from the best of the best in the business with the most beautiful scenery in the world as is backdrop. Thursday-Sunday. Pebble Beach. Various ticket prices.
The largest cycling festival in the world comes to Monterey for four days straight starting on Thursday, April 10th. The Sea Otter Classic is an action-packed cycling extravaganza featuring amateur and pro-cycling events as well as family activities for all ages. The Sea Otter Classic also plays host to one of the largest consumer bike expos in the world. Thursday-Sunday. Laguna Seca Recreation Area, Monterey. Various ticket prices.
Get ready for Claude Stuart at Planet Gemini this weekend. This stand-up comedian has been on "The Tonight Show" and "Last Comic Standing "so you know he is good. Stay afterwards for karaoke and dancing. Friday and Saturday at 8pm. 2110 Fremont Street, Monterey. $10.
Friday
The Victorian storefronts in Pacific Grove are open late tonight for the Wine, Art & Music Walk. Several restaurants, art galleries and shops offer up art exhibits, live music and complimentary refreshments. Free Art Walk maps are available at the Chamber of Commerce building located at 584 Central Avenue in Pacific Grove. 6pm-9pm. Pacific Grove. Free event.
Interact with the talented improvisers of Broadway's Next H!T Musical at the Sunset Center this evening. The audience suggests songs that the theatre group then has to compile into an entertaining and hysterical musical. 8pm. San Carlos Street and Ninth Avenue, Carmel-by-the-Sea. $29-$49.

Saturday
Did you know that today is Earth Day is April 22nd? Help the city of Marina prepare for the eco-friendly holiday by beautifying the Locke-Paddon Park. Volunteers receive a free lunch and their will be plenty of entertainment including live music and various booths with games, crafts and giveaways. 9am-1pm. Del Monte Avenue and Reservation Road, Marina. Free event.
The day is finally here! Tentacles: The Astounding Lives of Octopuses, Squid and Cuttlefishes officially opens at the Monterey Bay Aquarium today at 10am. 10am, 886 Cannery Row, Monterey.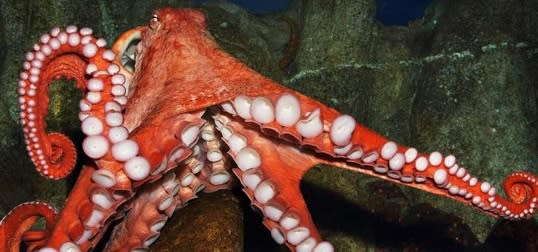 Get ready for Easter at the Del Monte Shopping Center today! Families are invited to "hop on over" for photos with the Easter Bunny, an Easter egg scavenger hunt for children, face painting and more! Don't forget to stock up on goodies for Easter baskets! 10am-3pm, 1410 Del Monte Center, Monterey. Free event.
Get your kids out of the house and to the tidepools today with folks from Camp Sea Lab. Today they will explore the vibrant habitat at Point Pinos in Pacific Grove with tidepool exploration, games and arts and crafts. 12:30pm, Point Pinos, Pacific Grove. $5 per person. Call 831-582-3681 for reservations.
Poetry, song, art and photography collide tonight at the Salinas Sports Complex during Noche Bohemia. The entire family will be amazed by the diversity of these talented performers. 6pm, 940 North Main Street, Salinas. Free event.
The Henry Miller Library in Big Sur hosts author Christian McEwen this evening for a discussion on how to reconnect with your creative spirit in a chaotic world. 7pm, 48603 Highway One, Big Sur. Free event.
Head on over to the Fernwood Tavern in Big Sur for a live performance from The Demos. The easy going group is known for their surf, rockabilly, and funky punk tunes. 9pm, 47200 Highway One, Big Sur. $15.
Sunday
Pianist Louis Lortie dazzles the crowd with his amazing talents at the Sunset Center this afternoon. Today's program features The Complete Etudes Op. 10 & Op. 25 by Frederik Chopin. 3pm. San Carlos Street and Ninth Avenue, Carmel-by-the-Sea. $40-$55.
Hidden Valley Music Seminars in Carmel Valley comes alive tonight with a Chamber Players Benefits Concert. Musical highlights include Piazzolla Four for Tango, Gershwin's Lullaby for Strings, Brahms' Quartet No. 3 in B flat, Opus 67 and more! 6pm. 88 West Carmel Valley Road, Carmel Valley. $20.