All Weekend
Click here for a complete list of Easter events and brunches in Monterey County! It's your last chance to catch a performance of "Big Baby" playing at the Paper Wing Theatre this weekend. This wacky comedy has some interesting characters including a Catholic mother, a middle-aged son and a dominatrix. Friday and Saturday at 8pm. 320 Hoffman Avenue, Monterey. $20.
Friday
Wish it was still acceptable to participate in Easter egg hunts? Peter B's Brewpub has you covered with an Adult Easter Egg Hunt! Enter for your chance to win all sorts of goodies including t-shirts, gift cards and concert tickets. Don't miss out on the awesome food and drink specials! 4:30pm-6:30pm, 2 Portola Plaza, Monterey. Free event for those 21+. Get folksy at the Fernwood Tavern in Big Sur tonight. The talented youngins that make up the North Pacific String Band play bluegrass and folk music. 9pm, 47200 Highway One Big Sur. Free event. Grammy award-winning vocalist Steve Tyrell teams up with pianist and vocalist Diane Schuur for an elegant evening at the Sunset Center. This jazzy duo are sure to put you in the mood for romance with love songs like "The Way You Look Tonight" and "On the Sunny Side of the Street." Several of Steve's songs may be familiar from motion pictures like Father of the Bride and Toy Story. 8pm, San Carlos Street and Ninth Avenue, Carmel-by-the-Sea. $59-$79.
Saturday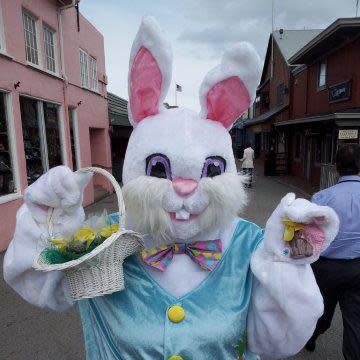 Hop on over to Old Fisherman's Wharf today for an Easter Bunny Scavenger Hunt for the whole family! Several of the shops and restaurants along the wharf will hold clues and answers to scavenger hunt questions. If you answer all of the questions right you could win a free chocolate Easter bunny! 10am-4pm, Old Fisherman's Wharf, Monterey. Free event. Tiny tots will get a kick out of learning about some of the buzziest creatures around at the Pacific Grove Museum of Natural History. Today's Science Saturday focuses on bees, wasps, honey and hives. Kids will have the chance to try honey straight from the hive, create a beeswax candle and play games about pollination.11am-3pm, 165 Forest Avenue, Pacific Grove. Free event. Kids get creative at the Museum of Monterey today while they take on clay and paper whale sculptures. Tots ages 7-12 are invited to learn about the visual arts and maritime traditions in a fun and crafty atmosphere! 12pm-1:30pm, 5 Custom House Plaza, Monterey. $15. Celebrate the arrival of spring in the Salinas Valley today at Paraiso in Bloom. Paraiso Vineyards in Soledad hosts a wine tasting, a farmers' market and flower market and a grown-up Easter egg hunt. 12pm-4pm, 38060 Paraiso Springs Road, Soledad. $10. Head on over MY Museum in downtown Monterey for a chance to the meet the Easter Bunny! He will be taking pictures with the little ones and making springtime crafts. 12:30pm-1:30pm, 425 Washington Street, Monterey. Free with museum admission. The Easter Bunny has been spotted at the Del Monte Center in Monterey! Bring the kids on over for an Easter Parade at 12:30pm and a chance to meet the furry fellow from 1pm-3pm. 12:30pm-3pm, 1410 Del Monte Center, Monterey. Free event. Our Satori stops by the Fernwood Tavern tonight for a night full of original rock/ pop tunes. This Santa Cruz jam band is sure to deliver a chillin' time. 9pm, 47200 Highway One Big Sur. Free event.
Sunday
Happy Easter! Enjoy your spring holiday in Monterey County at one of these fantastic Easter Brunches.