All Weekend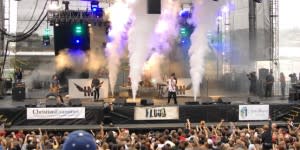 One of the largest Christian festivals on the West Coast makes its 14th comeback this weekend. Spirit West Coast is 3-day Christian music event held at the Mazda Raceway Laguna Seca. Over 50 artists will perform, presenting a wide variety of music styles from 7 performance stages. Marquee artists at this year's event include the Newsboys, Skillet, Toby Mac, Fireflight and Tenth Avenue North. Other activities include Bible and life application teachings by well-known and gifted speakers, children's activities, camping, shopping and food booths, all in a county fair atmosphere. Thursday-Saturday, Highway 68, Monterey. One day tickets at the gate are $62, click here for other ticket options. The National Steinbeck Center honors the great 20th-century writer John Steinbeck during the Steinbeck Festival this weekend. The theme for the 31st annual festival is "Friends and Foes" and will feature film and theatrical presentations, speeches and discussions, children's art workshops and tours of the local area. Thursday-Sunday. 1 Main Street, Salinas. Various ticket prices. Watch Toro Park in Monterey County transform into Scotland this weekend at the Monterey Scottish Games & Celtic Festival! The 44th annual two-day event will please the crowd with music from pipe bands, Highland dancing and athletic events from the emerald lands of Scotland and Ireland. Saturday-Sunday, Monterey-Salinas Highway 68, Salinas. Tickets are $15 for a one-day pass and $20 for a two-day pass. The Monterey County Fairgrounds presents Down the Rabbit Hole 3, a multi-day music & dance festival. This art and dance festival will feature electronic music mixed with Native American culture. This year's event will feature artists including Darude, Kristina Sky, 4 Strings, and John Beaver. Attendees will also have the ability to camp in permitted sections. Saturday-Sunday, 2004 Fairgrounds Road, Monterey. Various ticket prices. It's Fiesta time in Carmel Valley! The 22nd Carmel Valley Fiesta will include all sorts of activities including a dog show, parade, car show, games, animal show, craft and food booths, a pancake breakfast and more! There will be plenty of live entertainment from local favorites including the Cachagua Playboys and Cheeky Spanks. Saturday-Sunday, 73 W. Carmel Valley Road, Carmel Valley. Free admission.
Friday
Unfortunately summer is coming to an end; fortunately MY Museum is getting kids ready for school. At Back to School Bonanza children will have the opportunity to decorate backpack tags and check out new school supplies. 3pm-5pm. 425 Washington Street, Monterey. Free with museum admission. Mosey on over to the Carmel Plaza for Concerts in Carmel. The summer concert series will feature live music paired with local wineries and restaurants every Friday evening throughout August and September. Tonight starts the series off with a bang with a performance from Grammy nominated smooth jazz group The Dennis Murphy Band. Food and beverage will be provided by Scheid, Peter B's Brew Pub and Bistro Beaujolais. 5pm-7pm, Ocean Avenue & Mission Street, Carmel. Free admission, $15 for food and beverage ticket. The Monterey Plaza Hotel and Spa goes country tonight during Concerts by the Bay. Solo guitarist and vocalist Fred McCarty will perform a mix of country and bluegrass. Fred has performed with the best including Loretta Lynn, Willie Nelson, Trisha Yearwood and Charlie Daniels. 5pm-9pm, 400 Cannery Row, Monterey. Doug Means Project plays a blend of reggae, rock, funk and hip-hop tonight at Jose's Underground Lounge. The group strives for real and authentic lyrics that reflects the ups and down of life. 9pm, 638 Wave Street, Monterey. Bullwacker's will be poppin' tonight when 5 Deep takes the stage. The group will play rock n' roll tunes out on the patio. 8:30pm, 653 Cannery Row, Monterey. No cover. The BBC Trio, aka Kenny Blackwell, Wally Barnick and Jim Christie, will perform tonight at Big Sur's Fernwood Tavern. You will not want to miss the trio tackle a diverse genre of blues, rock, punk and surf. 9pm, 47200 Highway One, Big Sur. No cover.
Saturday
Spend this morning in the great outdoors and join the Monterey Peninsula Regional Park District for a hike in the redwoods. The entire hike is approximately 5.5 miles and will last 3-4 hours. There will be a lunch stop with spectacular views of the Palo Colorado Canyon and the Pacific Ocean. Be sure to bring comfortable shoes, lunch, snacks and water. 10am, Mill Creek Trailhead, Carmel. Mix shopping and live music together and you get Music at the Mall. The Del Monte Center will host Bollinger Station this evening. This 5-piece band can jam just about anything including country, classic rock and swing. The band will set the perfect tone for you to do a little window shpoping. 5pm-7pm, 1410 Del Monte Center, Monterey. Free admission. As the Monterey Jazz Festival gets closer "Evenings by the Bay" at the Monterey Bay Aquarium get hotter! Tonight will feature jazz saxophonist Stu Reynolds. 6pm-8pm, 886 Cannery Row, Monterey. Free with aquarium admission. Bullwacker's hosts alternative rock group Blind Pass tonight. The three-man group will play covers from alternative, rock, classic rock and even throw in some hip-hop. 8:30pm, 653 Cannery Row, Monterey. No cover.
Sunday
Hang out this summer at the Big Sur River Inn where live music and relaxation collide! Enjoy tunes from Jill Knight this afternoon. The folk rock and indie artist was once the opening act for India Arie. 1pm-5pm, Highway One at Pheneger Creek, Big Sur. No cover. The Monterey Bay Aquarium teams up with the Monterey Jazz Festival for another spectacular "Evenings by the Bay". Tonight's performance is from Bill Spencer who will entertain with his skills on the piano. 6pm-8pm, 886 Cannery Row, Monterey. Free with aquarium admission.