All Weekend
Who knew that you could ice skate so close to the Monterey Bay? Ice Skating by the Bay has set up shop in Custom House Plaza near Old Fisherman's Wharf for a coastal winter wonderland. Open Monday-Saturday from 11am-10pm and Sunday from 12pm-8pm. 4 Custom House Plaza, Monterey. $10-$12.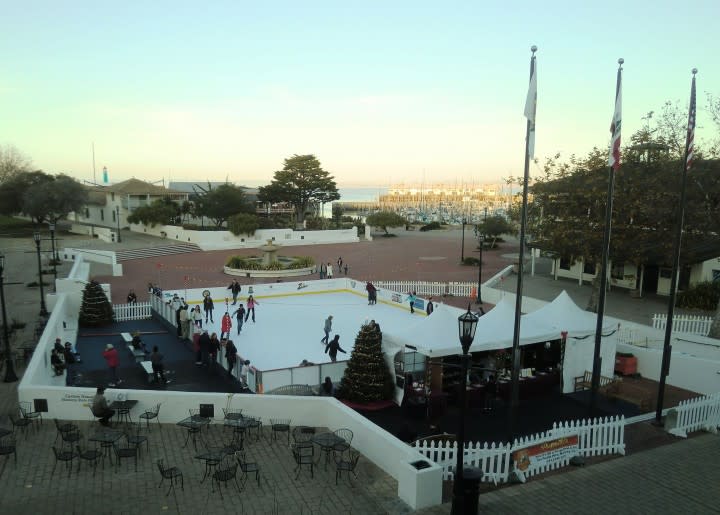 Step back in time at Christmas in the Adobes this weekend. Over 20 of Monterey's unique adobes and structures are dressed up in holiday splendor with candlelight and volunteers in era costumes. Friday-Saturday from 5pm-9pm. Downtown Monterey. $25 for adults and $2 for children.
Take a stroll through the Streets of Bethlehem in Salinas this weekend. The nativity story comes alive at the First Baptist Church of Salinas as 200 volunteers and several live animals recreate the birth of Jesus Christ. Wednesday-Saturday from 6pm-8:30pm. 800 South Main Street, Salinas. Free event.
The Sunset Center is whirling with holiday music and ballet this weekend as the Smuin Ballet takes over for their festive XXMAS showcase. The first half of the show will feature the ballet's much-loved standard performance, while the second half will let loose, with rollicking, playful numbers. Friday at 8pm and Saturday at 2pm. San Carlos Street at Ninth Avenue, Carmel-by-the-Sea. $55-$70.
Planet Gemini is the place to be this weekend for live comedy! Dennis Gaxiola from the Latino Kings of Comedy Tour puts on a hilarious, yet clean, show. Friday and Saturday at 8pm, 2110 Fremont Street, Monterey. $10.
Friday
Carmel-by-the-Sea decks its halls this evening for their annual tree lighting ceremony. Devendorf Park hosts the party featuring choirs from local school, a theatrical reading of "'Twas the Night Before Christmas," appearances by city dignitaries, and hot chocolate and treats. At 5:45pm the Mayor of Carmel flips the switch to light the grand tree. Afterwards head across the street to Carmel Plaza where their Open House will keep the holiday party alive with refreshments and live entertainment. 3:30pm, Ocean Avenue and Junipero, Carmel-by-the-Sea. Free event.
Monterey also holds its tree lighting ceremony this evening at historic Colton Hall. The Holiday Celebration will include carols, candles, cookies, cider and good cheer. 5pm-6pm, 570 Pacific Street, Monterey. Free event.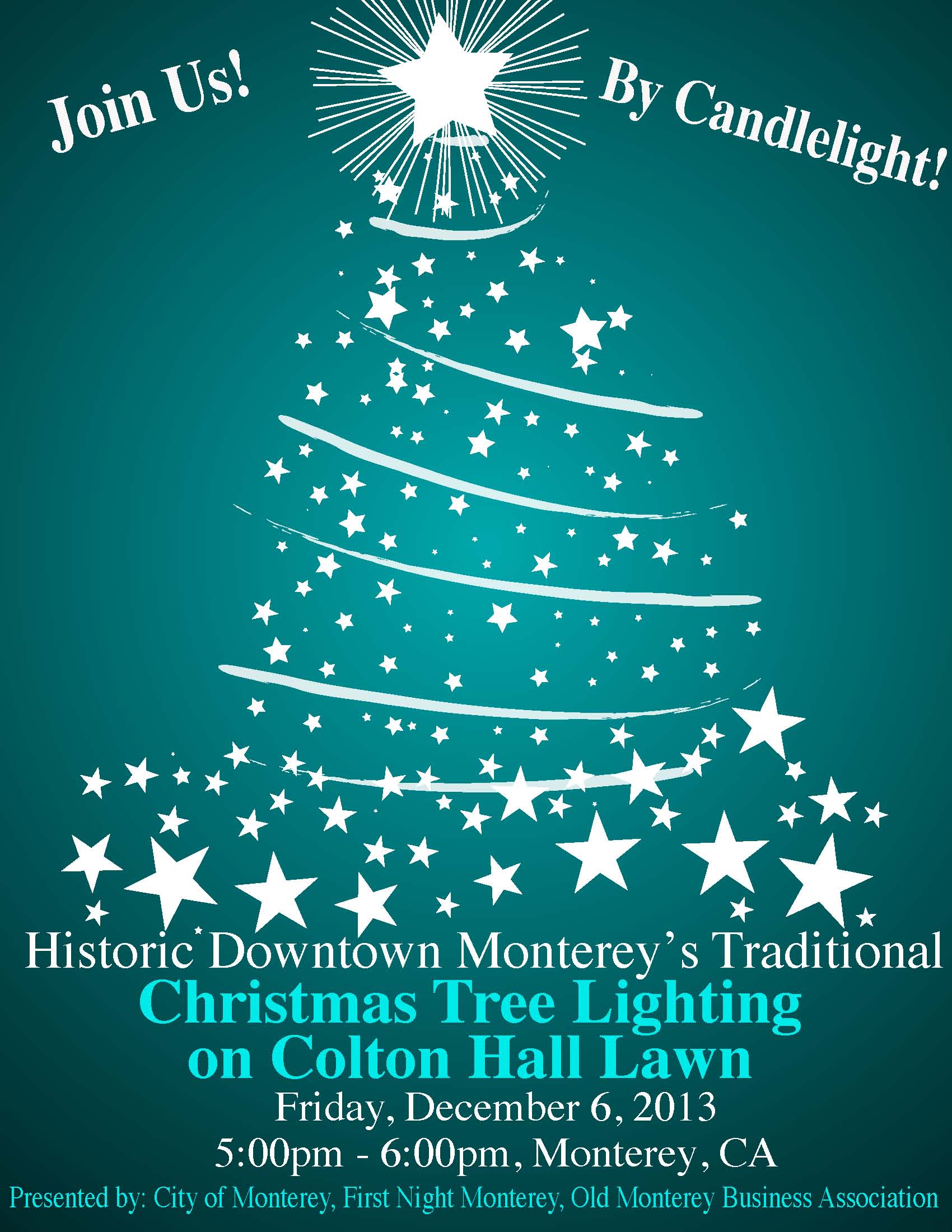 Oldtown Salinas becomes "alive after five" this evening during First Fridays Art Walk. Several shops, galleries and restaurants open their doors for festive family fun including art exhibits, refreshments and live entertainment. 5pm-8pm, 100-300 blocks of Main Street, Salinas. Free event.
Saturday
Let the kiddos burn off some energy at Stillwell's Fun in the Park. Caledonia Park in Pacific Grove becomes a winter wonderland with hayrides, a petting zoo and appearances from Santa, Frosty the Snowman and the Snow Queen. 10am-4pm, Central Avenue and Jewell Avenue, Pacific Grove. Free event.
Shark enthusiasts 8 and older are invited to learn all about these dangerous and much-loved animals at Camp Sea Lab's Sharks Secrets Revealed. Kids will learn all about sharks with hands on games, activities, crafts and a dissection. Don't forget to bring lunch, snacks and to wear warm clothes! 10am-2pm, 1700 Elkhorn Road, Watsonville. $10.
Get a jumpstart on your Christmas list at the Del Monte Center today. Their special Holiday Open House features live holiday music, free hot coffee, cookies and a visit from Santa! 10am-3pm, 1410 Del Monte Center, Monterey. Free event.
Make your own holiday wreath today at Earthbound Farms. The pros will show you how to twist organic grapevines into a lovely wreath and decorate it with natural foraged greenery for a wonderful holiday decoration. Be sure to bring your gardening gloves! 11am-2pm, 7250 Carmel Valley Road, Carmel. $20.
Looking for a quick hike? Head out to the Frog Pond Preserve with the Monterey Peninsula Regional Parks District this afternoon for a one mile twilight hike to check out the unique habitat home to owls, bobcats and frogs. Don't forget to dress warm and to bring a flashlight. 4pm, Frog Pond Preserve, Del Rey Oaks. Free event.
Fernwood Tavern is the place to be tonight as Kaki King stops by for a live performance. Her amazing talents on the guitar never seize to amaze! 10pm, 47200 Highway One, Big Sur. $22 in advance and $25 at the door.
Sunday
Quaint and charming inns and B&B's throughout Carmel-by-the-Sea get dressed up today for the Inns of Distinction Tour. Featured properties include Carmel Garden Inn, Vendage, Carriage House, Cypress Inn, La Playa Carmel, Tradewinds, Coachman's Inn and L'Auberge Carmel. Each stop will also include wine and refreshments. 2pm-5pm, Carmel-by-the-Sea. $30 in advance and $35 at the door.
Executive Chef Tim Wood leads local culinary students in a friendly cooking competition at Carmel Valley Ranch. Guests will enjoy the fruits of their labor while benefiting Aspiranet and its partners in Monterey County. 2pm-5:30pm. 1 Old Ranch Road, Carmel Valley. $50.
Check out some amazing sunrise photos at the 7-day Sunrise Challenge Reception. More than 50 participants from all over the world rose with the sun, took a photo of the sunrise, and repeated for 7 days and now their handiwork is on display. The reception will also include wine and snacks. 5pm-9pm, 585 Cannery Row, Suite 304, Monterey. $5. RSVP here.
Monterey Bay is a little brighter his evening when sailboats and vessels show off their stuff during the Lighted Boat Parade. Entries begin at the Coast Guard Pier in Monterey and leisurely stroll along the coast to Lovers Point in Pacific Grove. 5:30pm, Monterey Bay. Free event. 

For a complete list of upcoming holiday events click here.