All Weekend
Get your ice skating on at the rink set up at Custom House Plaza. Ice Skating by the Bay is the place to be this holiday season with great prices and fabulous views! Monday-Saturday from 11am-10pm and Sunday from 12pm-8pm. 4 Custom House Plaza, Monterey. $12 for adults and $10 for children. Skate rentals are $3. Head to Salinas and step into the Nativity Story this weekend. Streets of Bethlehem recreates the birth of Jesus Christ. Over 200 actors and live animals act out the town of Bethlehem during this truly immersive event. Wednesday-Saturday from 6pm-8:30pm.800 South Main Street, Salinas. Free event. Do some Christmas shopping while listening to some live tunes at the Del Monte Center. The shopping center hosts several musical acts throughout the weekend including Dennis Murphy, the Bornia Boys, Mamma Sue and more. Kids can also get their face painted or tell Santa what they want for Christmas. Friday- Sunday. 1410 Del Monte Center, Monterey. Free event.
Over 20 historic adobes and sites in downtown Monterey light up this weekend for Christmas in the Adobes. Guests can stroll from each venue while enjoying live entertainment and refreshments along the way. Friday and Saturday from 5pm-9pm. Monterey. $20 for adults and $2 for children.
Catch a performance of the Smuin Ballet at the Sunset Center this weekend. This special Christmas performance is sure to get you ready for the holiday season. Friday at 8pm and Saturday at 2pm. San Carlos Street and 9th Avenue, Carmel-by-the-Sea. $55-$65.
Friday
Stop by Z Folio Gallery on Cannery Row and meet photographer Michael Mendizza. You can also check out some of his beautiful photos of the California coast and various nature images. 4pm-8pm, 750 Cannery Row, Monterey. Free event. The city of Carmel-by-the-Sea lights up their tree this afternoon in Devendorf Park. Activities and live entertainment begin at 4:30pm and the tree will be lit by Mayor Jason Burnett at 5:30pm. Afterwards head over to the Carmel Plaza, across the street, for even more holiday cheer and refreshments from 5pm-7pm. 4:30pm-7pm. Ocean Avenue between Junipero and Mission, Carmel-by-the-Sea. Free event. Oldtown Salinas becomes "alive after five" during the First Fridays Art Walk. Several galleries, shops, restaurants and other venues open their doors for art displays, live entertainment, refreshments and lots of family fun! 5pm-8pm, Main Street, Oldtown Salinas. Free event.
Saturday
Get those elf ears and Santa hats ready for the 5K Jingle Bell Run in Pacific Grove this morning. Lovers Point will be ringing with Christmas cheer as walkers and runners take to scenic Ocean View Boulevard for a 5K race beginning at 8am. 7:30am-11am. Lovers Point Park, Pacific Grove. Check off that Christmas shopping list at the Del Monte Center! Today they host their Holiday Open House bringing in festive performances from the Nightingals, The Bornia Boys and Mama Sue. Don't miss out on the free coffee, cookies and the chance to win amazing prizes! 10am-3pm, 1410 Del Monte Center, Monterey. Free event.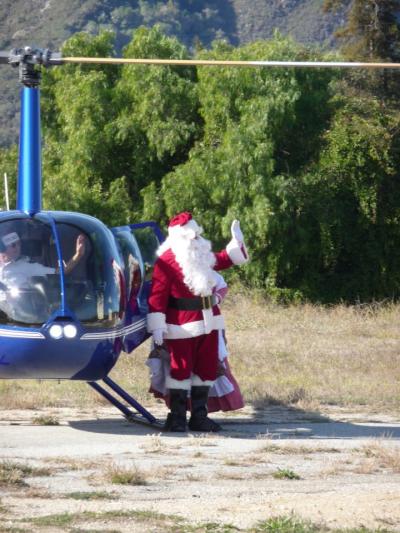 It's a bird, it's a plane, it's Santa! Mr. and Mrs. Claus arrive to Carmel Valley in style this morning via a helicopter. Once they touch ground they will be whisked away into a parade ending at the Carmel Valley Youth Center for photos and yuletide games. 10:30am-12pm. Carmel Valley Airfield. Free event. 'Tis the season for Christmas wreaths and holiday cookies! Earthbound Farms hosts a wreath making workshop using grapevines from Heller Estate. Guests can also pick up tips for holiday cooking where Chef Sarah shares her favorite gingerbread recipe. 11am-2pm, 7250 Carmel Valley Road, Carmel. $20 for the wreath making workshop. Experience the wineries and tasting rooms along the east side of Carmel Valley Road this afternoon. The East End Wine Row invites wine lovers to sip, savor and shop during the first annual Holiday Taste of Wine Row. Guests will enjoy tasty treats from local restaurants and wine tastings from several wineries including Holman Ranch Vineyards and Joyce Vineyards. 1pm-5pm, Carmel Valley Road, Carmel Valley. $50 in advance and $60 at the door. Enjoy a mixture of holiday Italian-American songs and stories this evening at the Monterey Conference Center. Award-winning radio host Fillipo Voltaggio hosts the event with performances from the Anthony Lane Band, Erasimo Aiello and David Marzetti. 7:30pm, 1 Portola Plaza, Monterey. $25-$30. For tickets call 831-375-1407. Head over to Big Sur tonight for a live concert at Fernwood Tavern. Tonight Nico Georis and Sky Country take the stage. 9pm, 47200 Highway One, Big Sur. Free event.
Sunday
Set out for a morning hike with the Monterey Peninsula Regional Parks District around Palo Corona Regional Park. Today hikers will climb Gregg's Hill for amazing views of the Peninsula. The 6 mile hike is expected to take 4 hours. Don't forget to wear good hiking shoes and to bring plenty of water, lunch and snacks. 9am, Palo Corona Barn, Carmel. Free event. The Monterey Museum of Art performs Yuletide Jewels this afternoon to get guests in the Christmas spirit. Several short stories will be performed including "The Big Wheel Truck Stop," "Holiday Song" and "Mrs. Coney: A Christmas Tale." 1:30pm, 559 Pacific Street, Monterey. $10. Looking for more holiday activities? Visit our list of the "Top Holiday Events in Monterey County."