All Weekend
Learn about one of the ocean's fiercest animals during Shark Days this Saturday and Sunday. The Monterey Bay Aquarium will host bat ray feedings, stories from the staff about sharks behind the scenes and special programs and activities in honor of this predator of the sea. Saturday and Sunday from 10am-5pm, 886 Cannery Row, Monterey. Free with aquarium admission. The Monterey County Fairgrounds hosts several of its feline friends during the East of Eden Cat Show. Come on over and say hello to some of the adorable kittens at this year's show. Saturday-Sunday from 10am-4pm, 2004 Fairground Road, Monterey. $5. The Monterey Symphony Orchestra takes a break this month and lets the piano do the playing. This month's show, Anticipation features pianist Josu de Soluan at the Sunset Center with performances on both Saturday and Sunday. The ambitious program includes works from Robert Schumann and Modest Mussorgsky. Saturday at 7pm and Sunday at 3pm. San Carlos and Ninth Avenue, Carmel-by-the-Sea. $31-$45.
Friday
Grab a glass of wine and relax to the tunes of Laura Meyer at Pierce Ranch Vineyards. Her acoustic set is a great way to "un-wine'd" after the busy work week. 8pm, 499 Wave Street, Monterey.
Saturday
Kick off this morning with a refreshing hike through the Tremendous Trees of Mill Creek. Guides with the Monterey Peninsula Regional Parks District take adventures seekers on a 5.5 mile hike through the coastal redwoods and epic views of the coastline. Don't forget to bring water, snacks and lunch. 10am, Mill Creek Trailhead, Big Sur. Free event. Kids feeling cooped up? Bring them to the Pacific Grove Museum of Natural History. Marvelous Mushrooms is the theme for this Science Saturday and tiny tots will create crafts and learn about decomposers all in the name of fungi! 11am-3pm, 165 Forest Avenue, Pacific Grove. Free event. Still looking for some activities for the young ones? Head to the Museum of Monterey where children ages 7-12 will learn all about marine life and visual arts as they create their own pen and pastel drawings. 12pm-2pm, 5 Custom House Plaza, Monterey. $15. Register here. Prepare to be pampered at tonight's dinner at Post Ranch Inn's restaurant Sierra Mar. The restaurant perched above the cliffs of Big Sur serves up an incredible eight-course Citrus, Chocolate and Spice dinner prepared by special guest chef Michael Laiskonis. 5pm, Highway One, Big Sur. $140 per person. Call (831) 667-2200 for reservations.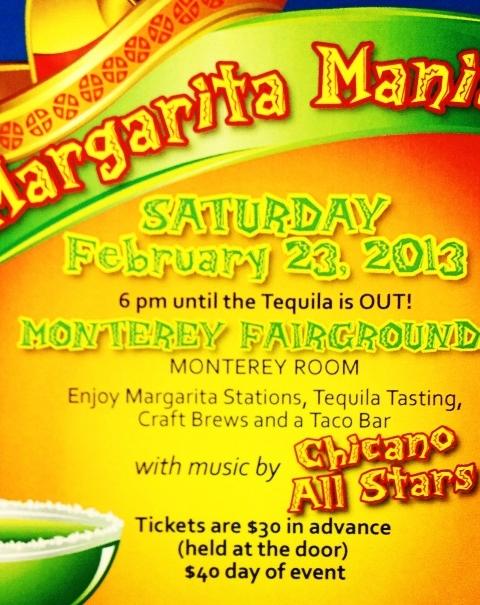 Shout "arriba" at this year's Margarita Mania at the Monterey County Fairgrounds! There will be several tequila stations, tequila tastings, craft brews, a taco bar and live music from the Chicano All Stars! 6pm, 2004 Fairgrounds Road, Monterey (Monterey Room). $30 in advance and $40 at the door. The funky threesome of On the Spot Trio perform at Fernwood Tavern tonight. These Santa Cruz will liven up the Big Sur venue with groovy songs from the soul. 10pm, 47200 Highway One, Big Sur. Free event.
Sunday
Happy 111th Birthday John Steinbeck! The National Steinbeck Center in Salinas wants you to help celebrate the Nobel Prize winning author with free admission to the museum! There will also be storytelling, face painting, dance performances and cake. 11am-4pm, 1 North Main Street, Salinas. Free event. Come listen to The Listening Place, Readers' Theatre at the Monterey Museum of Art- La Mirada this afternoon. Today they will showcase William Luce's "The Belle of Amherst." 1:30pm, 720 Via Mirada, Monterey. Free with museum admission. Watch Hollywood's biggest night un-fold at the Cannery Row Brewing Company. Watch the Academy Awards and all of the gorgeous gowns on one of their big screen TVs alongside other movie buffs. 4pm-10pm, 95 Prescott Avenue, Monterey. $10 for general admission.