All Weekend
Head over to the Golden Bough Theatre in Carmel-by-the-Sea and check out a performance of The 39 Steps. This entertaining spy adventure will have you sitting on the edge of your seat! Thursday-Saturday at 7:30pm and Sunday at 2pm, Casanova Street at Eighth Avenue, Carmel-by-the-Sea. $7-$35.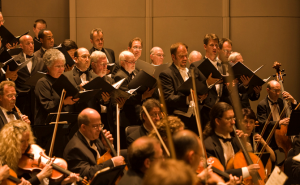 Carmel-by-the-Sea is abuzz with classical music for the next 15 days! The Carmel Bach Festival kicks off on Saturday and continues through July 28th with over 42 concerts scattered throughout unique venues in Monterey County. Everyday will hold something different including musical events, galas, lectures, open rehearsals, free community events and more. July 14-July 28, Carmel-by-the-Sea. Click here for ticket information. Head over to Custom House Plaza on Old Fisherman's Wharf for the Monterey Bay TheatreFest. Over 50 talented craft and art vendors will sell their hand-made treasures ranging from textiles, jewelry, glass, to paintings. Several delicious food vendors and entertaining live acts will also be deck. Saturday-Sunday, 9am-5pm, 5 Custom House Plaza, Monterey. Free event.
Saturday
Set out for a Bug Walk this morning at Earthbound Farms in sunny Carmel Valley. Tots will learn how certain bugs play a huge part in organic farming and will even have the chance to release ladybugs in to the gardens. 11am-12pm, 7250 Carmel Valley Road, Carmel. $5 per child. Just down Carmel Valley Road is Bernardus Lodge who celebrates their 1,000 lavender bushes today. The Lavender Harvest Celebration welcomes visitors to learn about this fragrant bush, to try an array of lavender oils and to enjoy a grand lavender inspired lunch prepared by Chef Cal Stamenov and Pastry Chef Ben Spungin. You will even get to take home a bundle of fresh cut Bernardus lavender! 11am-2pm, 415 W. Carmel Valley Road, Carmel Valley. $115. Call for reservations 831-658-3400. Get the Kids in Motion today at the Del Monte Center. This summer event is the perfect place to let the kids run around with fun activities like pony rides, games, story times, zumba, face painting and a petting zoo! 11am-3pm, 1410 Del Monte Center, Monterey. Free event. The Cachagua Community Park in Carmel Valley gets ready for the Cachagua Country Fair today. This old-fashioned hootenanny is complete with a horseshoe tournament, silent auction, face painting, games horse ride, live music, bounce houses and more. Beer and local wine will also be available to pair with the chicken and tri-tip BBQ. 11am-4pm, 37210 Nason Road, Carmel Valley. Free event. Things get heated in Oldtown Salinas today during the 1st ever Chili Cook-Off! The summertime family friendly event will be tons of fun with live music, kids' activities, a beer garden and plenty of chili tastings. 11am-5pm, 100 block of Main Street, Salinas. $10 general admission. The Circle Theatre in Carmel-by-the-Sea presents God of Carnage this afternoon. This comedy revolving around two adult couples discussing a playground fight between their young sons is a must see! 2pm, Monte Verde, Carmel-by-the-Sea. $12-$30. Experience the Monterey Bay Aquarium in a new light. Evenings by the Bay allows visitors to stroll through the exhibits tonight paired with live music and special programs. 6pm-8pm, 886 Cannery Row, Monterey. Free with aquarium admission. Lava Moon mixes things up with a bit of pop, rock and Hawaiian melodies at Big Sur's Fernwood Tavern tonight. 9pm, 47200 Highway One, Big Sur. Free event.
Sunday
Wind down the weekend at Peter B's Brewpub at the Portola Hotel & Spa. Bryan Diamond will be rockin' on the patio all afternoon. 3pm-7pm, 2 Portola Plaza, Monterey. Free event. Evenings by the Bay continues tonight at the Monterey Bay Aquarium. Don't miss this unique occasion where you can view your favorite exhibits after regular closing time. There's even live music! 6pm-8pm, 886 Cannery Row, Monterey. Free with aquarium admission.