All Weekend
Bootza Necak performs on Friday and Saturday at the Hyatt's Fireplace Lounge as part of "July Gets Jazzy." On Saturday the acoustic bassist will team up with local drummer David Morwood. 7pm, Old Golf Course Road, Monterey. Free admission.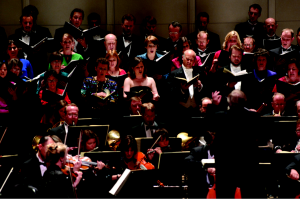 The 74th Carmel Bach Festival kicks off this Saturday in Carmel-by-the-Sea. The Carmel Bach Festival is a 15 day event that packs in 15 main concerts, 26 chamber concerts and 13 pre-concert talks. These events are hosted in various venues including the Sunset Center, Carmel Mission Basilica, Church in the Forest and All Saints Church. The focus is not only on Bach, but also on the many artists he influenced, such as Handel, Hayden, Mozart, Schubert, Beethoven, Brahms and more. July 16-30, Carmel-by-the-Sea. Various ticket prices. The Pacific Repertory Theatre presents Monterey Bay TheatreFest Arts & Crafts Faire in Monterey's Custom House Plaza. Bring the entire family and check out some of the finest artisans, crafters and food vendors. Saturday-Sunday, 9am-5pm, Custom House Plaza, Monterey. Free admission.
Friday
Saddle up for the California Rodeo Salinas (occurring next weekend) and check out the Cowboy Poetry Celebration at the Steinbeck Institute of Art & Culture. Music and poetry acts will include Belinda Gail, The Saddle Cats, Clem Albertoni, Diane Tribitt and Tony Argento. Attendees can also enjoy a BBQ dinner for $15 and sample wine for $10 before the event at 5pm. 6pm, 940 N. Main Street, Salinas. $30. Head over to the Monterey Plaza Hotel and Spa on Cannery Row for a special rock n' roll concert! Tonight's Concert by the Bay series continues with rock group RST. 5pm-9pm, 400 Cannery Row, Monterey. Step back in time and relive the '60s, '70s and '80s with classic rock covers from Pacific Grove locals Firefly. The 5-person band will get you movin' on the patio of Bullwacker's to the sounds of Van Morrison, James Brown, the Doobie Brothers and more! 8:30pm, 653 Cannery Row, Monterey. No cover. A total of four bands will jam tonight at Jose's Underground Lounge! Cousin Eddie, Tater Famine, Curt Baer and Rustwater will all show off their unique styles of acoustic, folk, rock and punk in one action packed concert. 9pm, 638 Wave Street, Monterey. Don't miss Rex Wheeler perform tonight at London Bridge Pub! Bring your friends and enjoy Rex's smooth electric acoustic tunes. 9pm, 256 Figueroa St., Wharf #2, Monterey. No cover.
Saturday
Del Monte Shopping Center is full of shopping and kids activities today at "Kids in Motion". Mom or Dad, bring the kids to this favorite summer event for face painting, a petting zoo, games, hula lessons, pony rides and more! 11am-3pm, 1410 Del Monte Center Monterey. Free admission. The California Rodeo Salinas continues to kick off the "Big Week" with the Colmo Parade this evening through Old Town Salinas. The night procession features over 30 entries including marching bands, animals and lighted floats. The Kiddie Kapers Parade will precede the main event at 6:30pm and will include decorated floats, costumed pets and youngsters dressed in western wear. 8pm, Main Street, Salinas. Free admission. Big Sur's Henry Miller Library hosts author Andy Couturier tonight for a special reading and book signing. His latest book, "A Different Kind of Luxury: Japanese Lessons in Simple Living and Inner Abundance" features the journey's of 11 men and women who transitioned from contemporary lifestyles to a more sustainable way of living in the mountains of Japan. 7:30pm, Highway One, Big Sur. Want to experience the Monterey Bay Aquarium afterhours? Check into "Evenings by the Bay" and enjoy the jazzy sounds of musician Pete Lips. 6pm-8pm, 886 Cannery Row, Monterey. Free with aquarium admission. Bullwacker's will host Salinas band City Limits on the patio tonight. This energetic group will cover a range of hits from genres including oldies, country, rock and Motown. 8:30pm, 653 Cannery Row, Monterey. No cover. The James Henry Hands on Fire Band will heat up the night at Fernwood Tavern. The high energy group plays a spectrum of genres including afro-beat, funk, roots, and reggae. 9pm, 47200 Highway One, Big Sur. No cover. One of Monterey's favorite duo bands, A Band of Ninjas, will head to Fisherman's Wharf tonight for a performance at London Bridge Pub. These guys can cover just about anything from the '60s to today's hits. Wharf #2 256 Figueroa Street, Monterey. Free admission.
Sunday
Gear up for the Monterey Jazz Festival and head to Big Sur River Inn! Enjoy the smooth tunes from jazz pianist Dick Whittington and the Monterey Jazz Festival Faculty All Stars. 1pm-5pm, Highway One at Pheneger Creek, Big Sur. No cover. The Monterey Bay Aquarium teams up with the Monterey Jazz Festival for another "Evenings by the Bay". Tonight's performance is from jazz keyboardist Bill Spencer. 6pm-8pm, 886 Cannery Row, Monterey. Free with aquarium admission.