All Weekend
The 74th Carmel Bach Festival continues this weekend in Carmel-by-the-Sea. Main concerts will include War and Peace: Landscapes of the Soul, Joy is in the Air: New Beginnings and Big Band Bach. Other performances include Tower Music, youth concerts and pre-concert talk. July 16-30, Carmel-by-the-Sea. Various ticket prices.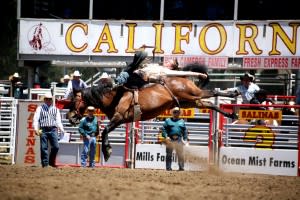 Saddle up, partner, and get ready for the 101st California Rodeo Salinas! The largest rodeo in California will be in full force this weekend at the Salinas Sports Complex. The Grand Entry and Rodeo begins at 6pm on Friday and 1:15pm on Saturday and Sunday. The main event includes bull riding, steer wrestling, team roping and saddle bronc riding. Don't miss the Rodeo Carnival which offers rides, games and delicious fair food. Children can play at the Kids Corral, which has bounce houses and a petting zoo. Grandstand seating starts at $13. 1034 N. Main Street, Salinas, CA.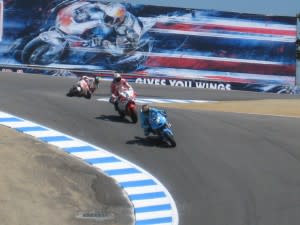 It's that most wonderful time of the year for motorcycle racing fans - time for the Red Bull US Grand Prix! Thousands of fans will flock to Mazda Raceway Laguna Seca this weekend for the premier motorcycling championship that unites the top riders and motorcycle manufacturers from around the world. Casey Stoner will try to defend his top spot against Jorge Lorenzo, Dani Pedrosa, Valentino Rossi and other riders. Sunday is the big event with the MotoGP World Championship Race at 2pm and the AMA Pro American Superbike at 3:45pm. Several other events surround MotoGP including concerts, Race Nights on the Row at Cannery Row and the XDL Championship at Fisherman's Wharf on Saturday and Sunday. Need some new motorcycle gear? The infield at the track has you covered! MotoGP fans can load up on all kinds of souvenirs, while motorcycle riders can find everything from clothing to accessories and much more. There are tons of mouthwatering food booths to choose from as well. Various ticket prices. 1021 Monterey-Salinas Highway, Monterey. ANIMEiCON kicks off its inaugural event this weekend at the Monterey County Fairgrounds. This Anime Convention includes several events including workshops, a parade, champion circle tournaments, panels, a masquerade, concerts and more! Special guests include voice actors Chris Carson, Jamie Marchi and Trina Nishimura. Tickets at the door are $25 on Friday, $30 on Saturday and $35 on Sunday. 2004 Fairgrounds Road, Monterey.
Friday
Need a date night idea? Head over to Monterey Plaza Hotel and Spa on Cannery Row for a jazz and swing concert! This "Concert by the Bay" will feature four piece band Wally's Cocktail Combo with Wally on vocals and bass, drums, sax and/or piano to back him up! 5pm-9pm, 400 Cannery Row, Monterey. The Wine, Art and Music Walk returns to the streets of America's Last Hometown! Pacific Grove businesses will serve up complimentary wine and refreshments during this walking tour of PG's finest art venues. Art Walk maps are available at the Chamber and participating businesses. 6pm-9pm, Pacific Grove. Free admission. More live music is to be had at the Fireplace Lounge at the Hyatt Regency Monterey. Tonight's act for "July Gets Jazzy" includes David Morwood and Bootza Necak. 7pm, 1 Old Golf Course Road, Monterey. Free admission. Reggae band Ancestree will perform tonight at Jose's Underground Lounge. The popular Santa Cruz locals will slow things down with original songs like "Free Yourself" and "Sacred Birth." 8pm, 638 Wave Street, Monterey. London Bridge Pub on Fisherman's Wharf will host Rex Wheeler tonight. Bring your friends and enjoy Rex's smooth electric acoustic tunes. 9pm, 256 Figueroa St., Wharf #2, Monterey. No cover.
Saturday
Pacific Grove begins to gear up for the much anticipated Feast of Lanterns (occurring next weekend) with a Family Fun Day at the Pacific Grove Museum of Natural History. The day will include plenty activities for the kids such as face painting, lantern crafts and Chalk Fest. Visitors will also have the opportunity to meet the princesses of the Feast of Lanterns Court. 11am-3pm, 165Forest Avenue, Pacific Grove. Free admission. MotoGP fans will congregate this evening on Monterey's Cannery Row. Over 5,000 motorcycle riders will display their prized sets of wheels at the 14th Annual Race Nights on the Row. 5pm-11pm, Cannery Row, Monterey. Free admission. "July Gets Jazz" tonight at Hyatt's Fireplace Lounge. Gary Meek will entertain with his saxophone by his side. 7pm, 1 Old Golf Course Road, Monterey. Free admission. One of the greatest things about summer in Monterey is "Evenings by the Bay" at the Monterey Bay Aquarium. Tonight's jazzy performance comes from clarinet and saxophonist Stu Reynolds. 6pm-8pm, 886 Cannery Row, Monterey. Free with aquarium admission. Singer-songwriter Casey Frazier will perform tonight at London Bridge Pub. Casey's music is filled with Americana and folk inspirations and powerful lyrics. 9pm, Wharf #2 256 Figueroa Street, Monterey. Free admission. Folk, rock and soul musician Langhorne Slim performs tonight at Fernwood Tavern. Sit back and enjoy original songs from his newest album Be Set Free. 9pm, 47200 Highway One, Big Sur. No cover.
Sunday
Cool off this summer by the river at the Big Sur River Inn! Kick your shoes off and enjoy live music from Along Came Betty. The energetic band is known for their hard-bop jazz. 1pm-5pm, Highway One at Pheneger Creek, Big Sur. No cover. The Monterey Bay Aquarium stays up past its bedtime for another "Evenings by the Bay". Tonight's performance is from jazz flutist Kenny Stahl. 6pm-8pm, 886 Cannery Row, Monterey. Free with aquarium admission.