All Weekend
Nature Valley's First Tee Open at Pebble Beach will kick off on Tuesday with practice rounds and end with a final round of golf on Sunday. The First Tee Open is a 54-hole golf event that features 78 Champions Tour players and 78 junior golfers ages 15-18. This competition aims to earn money for The First Tee charity which gives disadvantaged youth the opportunity to play golf. Rounds begin at 7:30pm daily. Pebble Beach. Free admission to the public.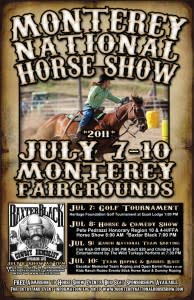 The Monterey National Horse Show takes place July 7-10 at the Monterey County Fairgrounds. On Thursday Quail Lodge in Carmel Valley will hold a Heritage Foundation Golf Tournament with lunch and dinner included. Friday through Sunday will be packed with free horse show events, jackpot roping, barrel racing and Ranch National Team Sorting. Don't miss a special performance from Baxter Black on July 8th, the crowning of the Miss Monterey National Horse Show and a home cooked BBQ dinner on Saturday evening. 8am-5pm, 2004 Fairgrounds Road, Monterey. Mazda Raceway Laguna Seca is the place to be this weekend for the Grand-Am Rolex Sports Car Series. This sports car series is one of the most competitive professional road racing championships in North America. The Daytona Prototype class has gained recognition with superstar drivers and has revolutionized sports car racing. Ladies, did I mention that Patrick Dempsey aka McDreamy, will be racing? Friday-Saturday, 8am-6pm, 1021 Monterey-Salinas Highway, Salinas. $25-$30.
Friday
The Monterey Plaza Hotel and Spa presents Concerts by the Bay. Tonight's concert will feature R&B and soul musician Lara Price. 5pm-9pm, 400 Cannery Row, Monterey. TheMusicianers will rock out tonight at Jose's Underground Lounge. The garage and psychedelic rock group will provide a stripped-down good time. 8pm, 638 Wave Street, Monterey. Mike Brandon, who goes by Big Black Eyes, performs tonight at Pierce Ranch Vineyards. Grab a glass of wine and enjoy his '60s rock sound! 8:30pm, 499 Wave Street, Monterey. Free admission to those 21 and older. A Band of Ninjas is back by popular demand at Bullwacker's. These guys can cover just about anything from classic rock to pop to blues! 8:30pm, 653 Cannery Row, Monterey. No cover. Rex Wheeler performs at London Bridge Pub tonight. Be sure to check out Rex's electric acoustic tunes. 9pm, 256 Figueroa St., Wharf #2, Monterey. No cover.
Saturday
What do you get when you mix the Monterey Bay Aquarium with the Monterey Jazz Festival? An awesome night of jazz music in a spectacular venue! Tonight's Evenings by the Bay event will feature jazz saxophonist Roger Eddy. 6pm-8pm, 886 Cannery Row, Monterey. Free with aquarium admission. Bullwacker's will host Matt Masih and the Messengers on the patio tonight. This 6-piece jam band is sure to bring down the house with reggae, funk and soul jams. 8:30pm, 653 Cannery Row, Monterey. No cover. Head to Big Sur's Fernwood Tavern and check out The Billy Martini Show. The Santa Cruz rock band plays original rock and covers from the '70s. 9pm, 47200 Highway One, Big Sur. No cover. Local female singer-songwriters Lisa and Linda of Trusting Lucy perform tonight at London Bridge Pub. The duo plays music in a style similar to Melissa Etheridge and the Indigo Girls. 9:30pm, 256 Figueroa St., Wharf #2, Monterey. No cover.
Sunday
Relax this Sunday afternoon at Big Sur River Inn. Roger Eddy and Friends will play classical and jazz music on the patio. 1pm-5pm, Highway One at Pheneger Creek, Big Sur. No cover. The Monterey Bay Aquarium teams up with the Monterey Jazz Festival for another Evenings by the Bay. Tonight's performance is from jazz flutist Kenny Stahl. 6pm-8pm, 886 Cannery Row, Monterey. Free with aquarium admission.