All Weekend
Be amazed by the fancy footwork of the Smuin Ballet during their performance of XXcentric at the Sunset Center this Friday and Saturday. Friday at 8pm and Saturday at 2pm. San Carlos Street at Ninth Avenue, Carmel-by-the-Sea. $55-$70.
Prep yourself for the ultimate in gluttony during the Monterey Wine Festival. Guests will savor bites of wonderful food and sips of world class wines Saturday and Sunday at Custom House Plaza. There will also be various cooking competitions including "The West Coast Chowder Competition" and "The Kings of Calamari." Saturday from 11am to 4pm and Sunday from 11am to 3pm. $55 for VIP tickets and $35 for general admission.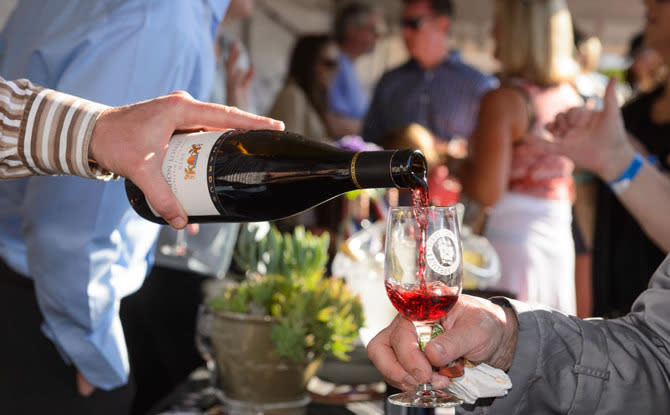 Head to Planet Gemini this Friday and/or Saturday nights for a hilarious night of stand-up comedy. You may recognize this weekend's guest Marquez the Great from shows on MTV and BET. Stay afterwards for karaoke and dancing. Friday and Saturday at 8pm. 2110 Fremont Street, Monterey. $10.
Friday
Get a glimpse of the amazing rowing vessels on display near Old Fisherman's Wharf and The Wharf Marketplace. Teams from the around the globe are prepping for the Great Pacific Race which leaves from Wharf #2 on Saturday and embarks on a 2,400 mile race ending in Honolulu. Monterey Bay Recreation Trail, Monterey. Free to spectators.
Saturday
Get ready and get set for the Spartan Race! The intense endurance race takes competitors on a 12 mile long obstacle course through the hills of Toro Park in Salinas for a thrilling adrenaline rush. 8am. Portola Drive, Salinas. $20 for spectators.
Happy 244th Birthday to the City of Monterey! La Merienda (or picnic in English) will have all sorts of celebratory festivities including a BBQ, mariachis, piñatas and much more in the Memory Garden at Custom House Plaza. This community event celebrates the founding of the City of Monterey in June 1770 when Father Junipero Serra and Captain Gaspar de Portola celebrated with a picnic overlooking the Monterey Bay. 11am-3pm. 20 Custom House Plaza. $55 for members and $75 for non-members.
UPDATE- Race date has been moved to Monday, June 9th due to high winds. Click here for more info.
Wish rowers well as they set out for the Great Pacific Race this morning. 15 rowing teams from around the world launch from Wharf #2 in Monterey and set forth on a 2,400 mile adventure to Honolulu, Hawaii. 9am, Wharf #2, Monterey. Free to spectators.
Marty O'Reilly and The Old Soul Orchestra stop by Fernwood Tavern tonight for a folksy performance under the redwoods. 10pm, 47200 Highway One, Big Sur. Free event.