All Weekend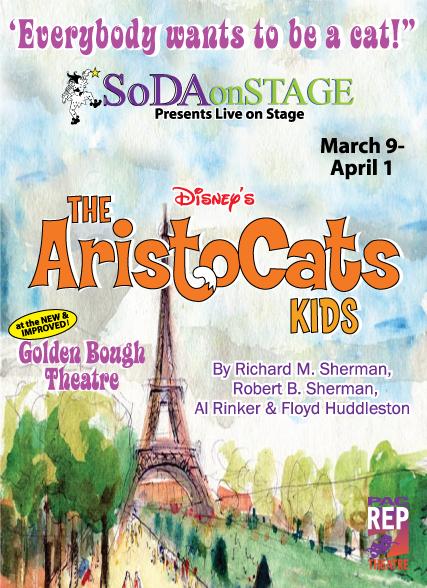 Don't miss the premiere weekend of Disney's AristoCats playing at the Golden Bough Theatre in Carmel-by-the-Sea! Local kids perform this adorable family musical about a bunch of stray alley cats. The performance includes classic songs like "The Aristocats," "Scales and Arpeggios" and "Ev'rybody Wants to Be a Cat." Friday at 7:30pm, Saturday at 2pm and 7:30pm and Sunday at 2pm. Casanova Street and 8th Avenue, Carmel-by-the-Sea. $7-$20.
Friday
Mosey on over to the Haute Enchilada Cafe in Moss Landing. Tonight the unique art gallery/café will be hosting a special artist event at Galeria Dos (across the street). The show is titled "Wash 'n Wear: A Strolling Fashion Show of Talent" and will include yummy refreshments. 4pm-7pm, 7981 Moss Landing Road, Moss Landing. Start gearing up for Saint Patrick's Day with some Irish melodies from Danu at the Sunset Center. The Irish ensemble will perform a mix of ancient and modern Irish songs using instruments like the fiddle, flute, button accordion, whistle and bouzouki. 8pm, San Carlos at Ninth Avenue. $30-$50. Local duo cover act A Band of Ninjas graces Bullwacker's tonight. Make a bee line for the patio and enjoy their awesome covers from genres including classic rock, pop and blues. 8:30pm, 653 Wave Street, Monterey. Free event. Local acoustic rock guitarist Rex Wheeler will be playing at the London Bridge Pub tonight. Grab a seat and enjoy! 9pm, 256 Figueroa St., Wharf #2, Monterey. Free event.
Saturday
Looking for a way to give back? Join the Monterey Peninsula Regional Parks District for a fun restoration project at Eolian Dunes Preserve in Sand City. During the Community ALIVE event helpful volunteers will plant native species at the dunes. 10am-1pm, Eolian Dunes Preserve, Sand City. Free event. Carmel-by-the-Sea stays up past its bedtime tonight during the Fire & Ice Party at the Sunset Center. Illusions of Grandeur will transform the venue into a Vegas vibin' hot spot! Mouth watering drink and appetizers will be complimented by plenty of dancing and amazing entertainment acts including fire dancers and fortune tellers! 7pm-11:30pm, San Carlos at Ninth Avenue. Tickets are $95 per person and include 2 beverage tickets, wine tasting and light hors d'oeuvres. VIP passes are also available for $195 and include the above plus a three-course wine maker's dinner. Misterioso and blues harpist Virtuoso Rey Rio will be jammin' out amazing blues tunes tonight at Bullwacker's on Cannery Row. 8:30pm, 653 Wave Street, Monterey. Free event. Just across the street from Bullwacker's you will find Jose's Underground Lounge. Stop by to check out two different acts, Mike PZ and the Associates and Hawk Jones. It is going to be a good time with experimental and roots music! 9pm, 638 Wave Street. Diggin' the blues and folk? Head over to London Bridge Pub and check out Microtonic Harmonic. These locals are all about having fun on their banjo, mandolin, guitar and bass. 9:30pm, 256 Figueroa St., Wharf #2, Monterey. Free event.
Sunday
Wake up for a rejuvenating hike this morning with guides from the Monterey Peninsula Regional Parks District. Today's hike will cover Laureles and Vasquez trails which will then lead to one of the highest points in Garland Park for amazing views. The 5 mile hike is expected to last 4 hours. Don't forget to bring a lunch, snacks, water and wear good hiking boots. 9am, River Trailhead Parking Lot at East Garzas Road, Carmel Valley.