All Weekend
Get your motor runnin' for the Tudor United Sports Car Championship coming to Mazda Raceway Laguna Seca! The entirely new racing series, created by the merger between the GRAND-AM Rolex Sports Car Series and the American Le Mans Series, and retains the same format of races within a race, providing plenty of on-track action. Friday-Sunday. 1021 Monterey-Salinas Highway, Monterey. $75 for 3-day passes.
Athletes unite at Lake San Antonio Friday through Sunday for the challenging Wildflower Triathlon. The three-day event hosts all sorts of sporting events like a mountain bike triathlon, Olympic triathlon and a sports expo. Friday-Sunday. 2610 San Antonio Rd, Bradley. Free for spectators.
Like Steinbeck? Then you are going to the love the Steinbeck Festival at the National Steinbeck Center! This year's festival, titled "Onward: A Celebration of the 75th Anniversary of The Grapes of Wrath," will explore John Steinbeck's roots in Monterey County including his inspirations from Salinas, Cannery Row and the Pastures of Heaven. Click here to view the entire schedule of events throughout the weekend. Friday-Sunday. One Main Street, Salinas. Various ticket prices.
Get a free tour of beautiful Asilomar State Park on Friday and Saturday mornings. The "Asilomar Ramble" provides all sorts of insights into Pacific Grove's coastal gem including its cultural history and tidbits on Asilomar Conference Grounds' architecture. Tours start at the Phoebe Social Hall at 9:30am. Call 831-646-6443 for reservations. Friday and Saturday from 9:30am-10:30am. 800 Asilomar Avenue, Pacific Grove. Free event.
Stand-up comedian Daniel Dugar is at Planet Gemini this Friday and Saturday for a hilarious act with special guest Cheryl "the soccer mom." Stay afterwards for karaoke and dancing. Friday and Saturday at 8pm. 2110 Fremont Street, Monterey. $10.
Catch a rare glimpse into the Moss Landing Marine Labs today during their Open House. You can scope out the research vessel, learn about some of Moss Landing's animal residents, and participate in educational talks. Saturday and Sunday from 9am-5pm. 8272 Moss Landing Road, Moss Landing. Free event.
Old Fisherman's Wharf celebrates its Japanese roots today during Japanese American Heritage Days. Activities include a historic photo exhibit of Japanese fishermen in Monterey, abalone cooking demonstration, origami demonstrations, ikebana and bonsai demonstrations, Gyotaku (Japanese fish printing), Taiko drums and other live musical performances. Saturday-Sunday. 1 Old Fisherman's Wharf, Monterey. Free event.
Friday
Oldtown Salinas comes "alive after five" for the First Fridays Art Walk. Several eateries, galleries and shops keep their doors open for refreshments, art exhibits, live entertainment and lots of family fun. 5pm-8pm. 100 Main Street, Salinas. Free event.
Kick off the weekend on a high note at a special Arroyo Seco Wine Dinner at Wills Fargo Restaurant in Carmel Valley. This kick off to the Winemakers' Celebration on May 3rd will host a 6-course meal perfectly paired with wines from the Arroyo Seco AVA. 6pm-10pm. 16 W. Carmel Valley Road, Carmel Valley. $125 per person.
Saturday
The Marina Equestrian Center holds Warhorse Day for a day full of history, family recreation and fun! Warhorse Day is a living-history celebration of the horse soldiers of Fort Ord and beyond, held at the original 1941 veterinary hospital for horses and mules now known as Marina Equestrian Center. The event features flash museum, army blacksmith, petting zoo, cavalry horse and mule demos, horse-drawn field artillery, and a guided bike excursion through the Fort Ord National Monument. 10am-2pm. California Avenue and 9th Street, Marina. Free event.
Food trucks descend upon the Monterey County Fair & Event Center for the Monterey Street Food Festival today. Enjoy all sorts of cuisines and live music from Jake Nielsen's Triple Threat. 12pm-5pm.2004 Fairgrounds Road, Monterey. Free admission.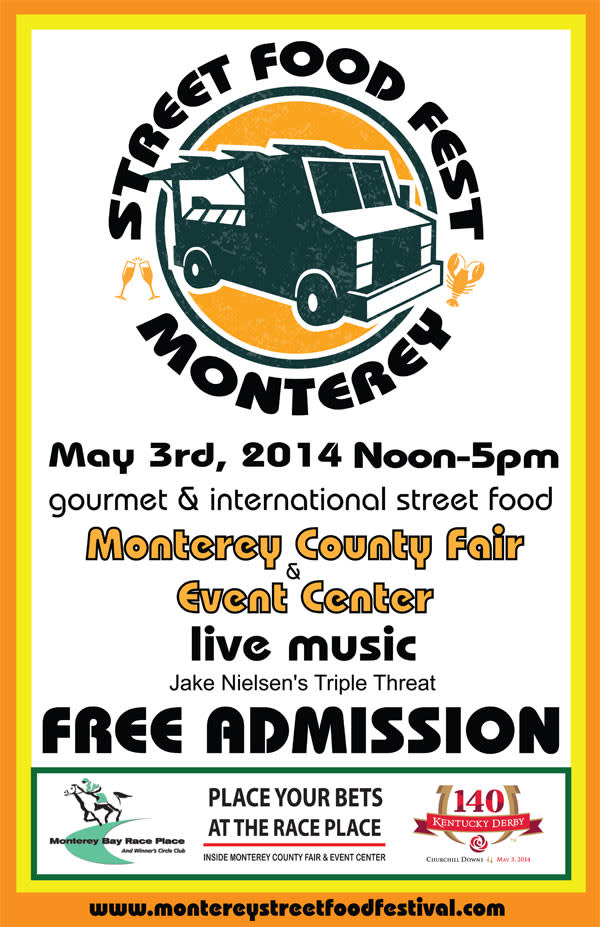 Raise a glass to the Winemakers' Celebration today in Carmel-by-the-Sea. Over 30 Monterey County wineries from 9 American Viticultural Areas (AVAs) will offer their wines for tasting where you can even rub elbows with the winemakers themselves. There will be plenty of food from local restaurants, winemaking demonstrations and live music. 2pm-5pm. Dolores Street, Carmel-by-the-Sea. $65 for general admission and $95 for VIP admission.
CB Brand performs at Fernwood Tavern tonight. 9pm, 47200 Highway One, Big Sur. Free event.
Sunday
Each year on the first Sunday in May, the Tor House Garden Party brings together admirers of the wild coast of Carmel, historic buildings and the poetry of Robinson Jeffers. Today you can enjoy an afternoon of perusing the granite home and Irish-inspired tower that Jeffers built as he crafted his remarkable dramatic poems. 2pm-5pm, 26304 Ocean View Avenue, Carmel-by-the-Sea. $15.
Cellist David Finckel and pianist Wu Han team up for an unforgettable concert this afternoon. The Sunset Center in Carmel-by-the-Sea will be beaming with works from the greats like Bach, Beethoven and Mendelssohn. 3pm. San Carlos Street at Ninth Avenue, Carmel-by-the-Sea. $40-$55.