All Weekend
Head to the Paper Wing Theatre in Monterey for a performance of "Mr. Bruce, Do You Swear?" Jody Gilmore stars as Lenny Bruce in this serio-comedy which is sure to have the audience rolling in their seats. Friday and Saturday at 8pm, 320 Hoffman Avenue, Monterey. $17-$20.
Friday
Tonight the Victorian storefronts in Pacific Grove stay open late for the Wine, Art and Music Walk. Several venues open their doors for complimentary snacks, wine, live music and art exhibits. Free maps are available at the Chamber of Commerce at 584 Central Avenue. 6pm-9pm, Downtown Pacific Grove. Free event. Soprano vocalist Clarissa Lyons performs at the Sunset Center tonight as part of Carmel Music Society's Competition Weekend. Performances include works by Schubert, Debussy, Sibelius, Britten, Bolcom and more. 8pm, San Carlos Street at Ninth Avenue. Carmel-by-the-Sea. Free event.
Saturday
Happy 243rd Birthday Monterey! Celebrate this huge milestone at La Merienda today at the Memory Gardens in Custom House Plaza. The Spanish style party includes a BBQ, piñatas, mariachi bands and dancing. 11am-3pm, 5 Custom House Plaza, Monterey. $75. Get your fix of international and comforts foods today at the Monterey Street Food Festival. The Monterey County Fairgrounds hosts multiple kitchens on four-wheels including India Gourmet, Happa SF, Voodoo Van and We Sushi! Pair your delicious meal(s) with live performances from the Monday Band and Jake Nielsen's Triple Threat. 12pm-6pm, 2004 Fairgrounds Road, Monterey. Free admission. Team spirit is in the air at the Water City Sports Center during today's Monterey Bay Derby Dames bout. Tonight the Rollers take on the Wreckers for an all out brawl on the track. 7pm, 2800 Second Avenue, Marina. $15 at the door and $13.25 in advance. Hey mon'! Come listen to live reggae music tonight at the Fernwood Tavern in Big Sur. The boys from Jonah and the Whalewatchers are sure to bring a jammin' good time. 9pm, 47200 Highway One, Big Sur. Free event.
Sunday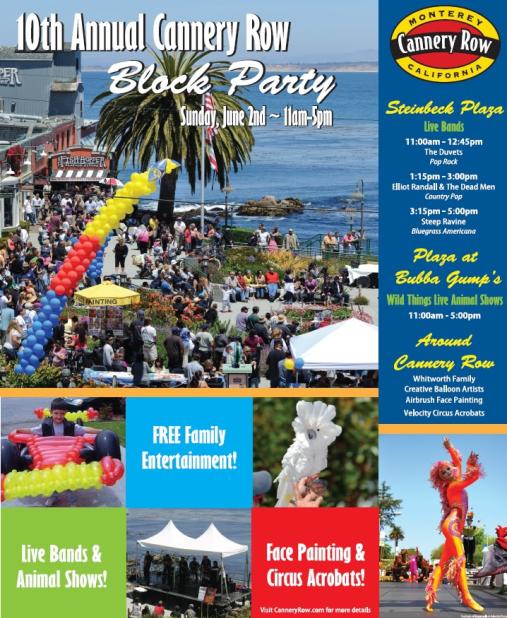 Cannery Row invites all of its friends and visitors over for a Block Party at Steinbeck Plaza on the row. The family fun event includes multiple concerts, an animal show, face painting, acrobats and more! 11am-5pm, Cannery Row, Monterey. Free event. Chillax at the Big Sur River Inn today as Andrea's Fault plays live music out on the patio. The three piece band plays a little something for everyone including jazz and rock n' roll. 1pm, 46840 Highway One, Big Sur. Free event.