All Weekend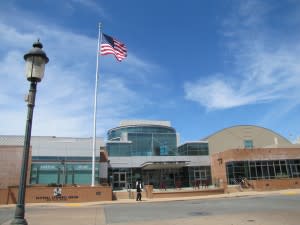 One of Monterey County's most loved characters is celebrated this weekend. The National Steinbeck Center's 32nd Steinbeck Festival, "A Voice," will look at Steinbeck and other writers, musicians and artists who give a voice to stories, hopes and dreams. The Steinbeck Festival kicks off on Thursday and continues until Sunday with talks, panels, music, tours and more! Thursday-Sunday, One Main Street, Salinas. Various ticket prices. Head to the Lake San Antonio this weekend and cheer on the participants of the AVIA Wildflower Triathlon. Crazy competitors compete in events like the long course triathlon, mountain bike triathlon and Olympic-distance triathlon. Visitors can also enjoy live music, great food, race clinics and shop for the latest gear at the AVIA Wildflower Triathlon Expo area. Friday-Sunday, Lake San Antonio Recreation Area. Big Sur's Fernwood Tavern is the place to be this weekend as Hipnic IV heats up. Over 20 bands are on the musical lineup including The Mother Hips, Brokedown in Bakersfield, Magic Trick and Skinny Singers. Friday-Sunday, 47200 Highway One, Big Sur. Various ticket and camping prices available. One of the most loved psychic fairs comes to town this weekend at the Monterey County Fairgrounds. The Rota Crystal and Psychic Fair will feature everything from lectures, readings to vendors selling books, gifts and crystals. 10am-6pm, Saturday and Sunday, 2004 Fairgrounds Road, Monterey. $9 entrance fee and $20 per reading.
Friday
Happy Friday! Join Oldtown Salinas this evening for First Fridays Art Walk. Several art galleries, shops and restaurants keep their doors open for a great night of music, dance, food and art! 5pm-8pm, Oldtown Salinas. Free event. Check out Bullwacker's tonight as Jean Wooster performs on the patio. He will be jammin' some of the sweetest classic rock hits! 8:30pm, 653 Cannery Row, Monterey. Free event. Kenny Chung and Friends perform at hip wine tasting room Pierce Ranch Vineyards. The self-proclaimed "strange" mix of Americana and Spanish sound is paired perfectly with a glass of Tempranillo. 8:30pm, 499 Wave Street, Monterey. Free event. Kick back at London Bridge Pub tonight and enjoy live music from acoustic rock guitarist Rex Wheeler. 9:30pm, 256 Figueroa St., Wharf #2, Monterey. Free event.
Saturday
Like photographing adorable animals? Join the Elkhorn Slough Safari for a Photo Tour. Photographers are invited to test their skills on the slough while snapping shots of sea otters, birds, seals and whatever else makes an appearance. 8:30am, Elkhorn Slough, Moss Landing. $48. Need a place to catch the Kentucky Derby? Check out the Monterey County Fairgrounds for "Derby Day Fun!" They will be airing the entire horse race with special appetizers and mint juleps just for the occasion. 9am-11am, 2004 Fairgrounds Road, Monterey. Head over to the Salinas Sports Complex today for a Cinco de Mayo Festival and TT Pro Races. The day will be complete with great food, music and fun! 11am, 1034 N. Main Street, Salinas. $24. The Carmel Art Association hosts an opening reception for "Four Views." This exhibit contains oil paintings of Monterey County landscapes from Mark Farina, Ron Grauer, Stan Robbins and Andy Williams. The exhibit will open until June 5th. 6pm-8 pm, Dolores and 5th, Carmel-by-the-Sea. Free event. Local favorite Firefly will be at Bullwacker's tonight. Kate kills it on the vocals and her awesome classic rock band backs her up as usual. 8:30pm, 653 Cannery Row, Monterey. Free event. Sean Ryan is at London Bridge Pub tonight to perform alternative and classic rock beats. 9:30pm, 256 Figueroa St., Wharf #2, Monterey. Free event.
Sunday
The Monterey Museum of Art La Mirada presents the Listening Place. Today readers present "Carnival of the Animals," a fun and witty story about animals featured in literature and poems. 1:30pm, 720 Via Mirada, Monterey. Free with museum admission. Head out on Elkhorn Slough for a Marine Mammals Babies & Behavior Tour. Elkhorn Slough Safari shows off some of their friends including harbor seal mothers and pups as well as other marine mammals. 1:15pm, Elkhorn Slough, Moss Landing. $42.
The Tor House Spring Garden Party is today at the Robinson Jeffers Tor House. The delightful afternoon will include refreshments, live music and, of course, Robinson Jeffers' poetry. 2pm-5pm, 26304 Ocean View Avenue, Carmel. $15.