All Weekend
Indulge in decadent food, flavorful wines and breathtaking views during the Big Sur Food & Wine Festival this weekend. Local restaurants and wineries team up to showcase their craft in a one-of-a-kind destination. Several events take place throughout the weekend including a Pinot Walkabout, various Hiking with Stemware events and winemaker dinners. Don't miss the Public Grand Tasting on Saturday at the Henry Miller Library where there will be 40 wineries, 12 chefs and a silent auction! Thursday- Saturday, Big Sur. Visit the official website for event prices. Terrence Farrell plays soothing classic music on his guitar at the C Restaurant + Bar at the InterContinental. Terrence showcases his talent on both Friday and Saturday nights. 5:30pm-9pm, 750 Cannery Row, Monterey. Free admission.
Friday
Oldtown Salinas becomes "alive after five" today for First Fridays Art Walk. This popular event plays host to live music, art openings, dance performances, light refreshments and more! 5pm-8pm, Main Street, Salinas. Free admission. See the Smokey Brights tonight at the Mucky Duck in downtown Monterey. This Americana group came all the way from Seattle, WA to put on a fabulous show with original songs like "Wild Flowers" and "Wine From a Jug"! 5pm, 479 Alvarado Street, Monterey. Free admission. The Monterey County Film Commission presents a special screening of "Becoming Bert Stern" tonight at the Museum of Monterey. This documentary on photographer Bert Stern dives into the bad boy's life story and his career in photography. Bert was lucky enough to photograph some of the most beautiful women in the world including Marilyn Monroe, Twiggy, Elizabeth Taylor and Bridget Bardot. 7:30pm. Museum of Monterey, 5 Custom House Plaza, Monterey. $10. Bullwacker's presents Touch'd Too Much on the patio tonight. This AC/DC cover band is sure to get the party started! 8:30pm, 653 Cannery Row, Monterey. No cover. London Bridge Pub on Fisherman's Wharf will host Rex Wheeler tonight. Bring your friends and enjoy Rex's smooth electric acoustic tunes. 9pm, 256 Figueroa St., Wharf #2, Monterey. No cover.
Saturday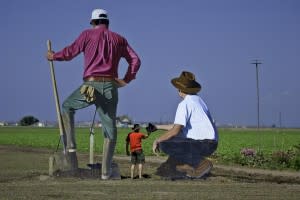 It's Apple Day down on The Farm! Bring the kiddos out for an education in apple varieties and enjoy samples of each! 11am, Spreckels exit off of Highway 68, Salinas. Free admission. The Mucky Duck heats up tonight when Jake Nielsen's Triple Threat takes to the stage! Jake is a force to be reckoned with; he was born with cerebral palsy and has gone on to become a blues guitar phenomenon. Tonight Jake will be paired up with Little Richard's drummer Derrick Martin. 5pm-9pm, 479 Alvarado Street, Monterey. Free admission. A Band of Ninjas is back by popular demand tonight at Bullwacker's on Cannery Row. Watch this duo band cover songs like "Ice Ice Baby," "Poker Face," "Fireflies" and more! 8:30pm, 653 Cannery Row, Monterey. No cover. North Pacific String Band and Birdhouse perform tonight at Big Sur's Fernwood Tavern. North Pacific String Band plays acoustic bluegrass while Birdhouse focuses on country and rock n' roll with jazzy lyrics. 9pm, 47200 Highway One, Big Sur. Free admission. John Michael performs acoustic rock tonight at London Bridge Pub. 9:30pm, 256 Figueroa St., Wharf #2, Monterey. No cover.
Sunday
Discover Kahn Ranch this morning with guides from the Monterey Peninsula Regional Parks District. The group will set out on a journey via the Hitchcock Loop which is home to fantastic views, wildlife and seasonal waterfalls. The 3.7 mile hike is expected to last 2-3 hours. Don't forget to bring water, snacks, lunch and good hiking shoes. 9am, Kahn Ranch, Carmel Valley. Bummed that Halloween is over and didn't get to put your kids' cute pirate outfit to use? MY Museum is calling all families for a Treasure Hunt to remember. The lost treasure is spread out through various locations in downtown Monterey and MY Museum needs your help! MY Museum will provide maps for the lost loot and will celebrate with an after party complete with grub, prizes and fun! 2pm, 425 Washington Street, $15 for non-members and $10 for MY Museum members. Visit the official website to pre-register. Head on over to the Carmel Plaza and enjoy music from local "Up and Comers". Today's performance will be from young harpist Liyanna Sadowsky. 2pm-4pm, Ocean Avenue and Mission Street (next to Carmel Coffee & Cocoa Bar), Carmel-by-the-Sea. Free admission. Join the Carmel Music Society and the Sunset Center for an afternoon concert from Frederica von Stade, mezzo-soprano. Frederica von Stade has been singing opera, recital and concert music for the past three decades and will retire at the end of this season. Tonight she will be accompanied by pianist Kristin Pankonin. 3pm, San Carlos Street at Ninth Avenue, Carmel-by-the-Sea. $40-$60. Over NFL Sunday? Head over to the Mucky Duck during Reggae Sunday with Tony Miles. Tony is a one-man reggae band that does not disappoint! 4pm-8pm, 479 Alvarado Street, Monterey. Free admission.