All Weekend
Art and film collide in Carmel-by-the-Sea this weekend for the Carmel Art & Film Festival. The five-day festival features art in almost every medium including music, fine art, photography and, of course, film. Don't miss a special screening of "North Canyon: Nazare Calling by Garrett McNamara" on Carmel Beach Saturday night! Wednesday- Sunday. Various venues and ticket prices.
Get three stories in one during a performance of Shakespeare's A Midsummer Night's Dream playing this weekend at the Outdoor Forest Theatre! The romantic comedy is surrounded around confused lovers and warring fairies. 7:30pm Thursday-Saturday and 2pm on Sunday. Mountain View and Santa Rita, Carmel-by-the-Sea. $7.50-$35.
Don't miss a two-for-one comedic performance at Planet Gemini this weekend. Roger Lizaola and Frank Quinones both take the stage for some hilarious stand-up acts. Stay for karaoke or the after party where local DJs mix up the latest hits. Friday and Saturday from 8pm-1:30am, 2110 Fremont Street, Monterey. $10.
Step back into Monterey's rich cultural history at the Monterey History Fest this weekend. This two-day event has a packed scheduled including tours of unique adobes, a van tour of the Upper Presidio, a treasure hunt at the Stevenson House, tours of Ed "Doc" Ricketts' Lab, Civil War encampments and much more. Saturday-Sunday. Various venues. Free event.
Old Fisherman's Wharf goes Italian this Columbus Day Weekend! During Everything Italian you can enjoy special "guests" from history including Isabella and her court, live entertainment, music and much more. Don't forget to experience a "voyage" on the seas with one of the Wharf's whale watching boats, sailboats, or deep sea fishing boats. Saturday and Sunday from 11am-5pm. 1 Old Fisherman's Wharf, Monterey. Free event.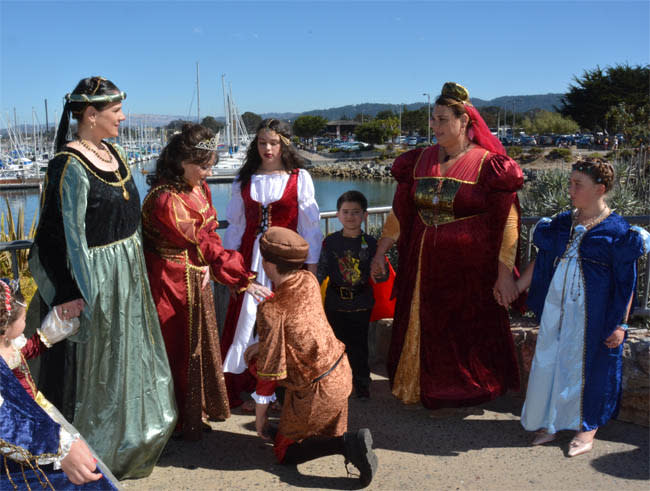 Friday
Enjoy the sunset on Asilomar's deck this evening. Don't miss out on the live music, drink specials and tasty appetizers! 7pm-9pm. 800 Asilomar Avenue, Pacific Grove.
Saturday
Shout "arriba!" this evening at the Museum of Monterey. The 5th Annual Monterey Tequila & Mexcal Expo hosts all sorts of tastings, entertainment, food y mas! 5pm-8pm, 5 Custom House Plaza, Monterey. $65 general, $85 VIP, $130 all access.
Vows stops by the Fernwood Tavern for a great night of live music. 9pm, 47200 Highway One, Big Sur. Free event.
Sunday
Rise and shine for spectacular views of the peninsula this morning! Guides from the Monterey Peninsular Regional Park District take hikers to Gregg's Hill via the new lower trails at Palo Corona. The 6 mile hike is expected to last 4 hours. Don't forget to wear comfortable hiking shoes and to bring water, lunch and snacks. 9am, Palo Corona Barn, Carmel. Free event.
The Monterey Museum of Art La Mirada hosts The Listening Place, Readers Theater this afternoon. Today they read from "Every Spreading Moonbeam" by Nina Solomita about a young Jewish girl who dreams of becoming an actress and studying with the great teacher Konstantin Stanislavski. 1:30pm, 720 Via Mirada, Monterey. $10.