All Weekend
Celebrate Big Sur's green gem this weekend at the Big Sur Jade Festival. The Pacific Valley School across from Sand Dollar Beach will be packed with lectures, demonstrations, food, art and live music. Performers include Jill Knight, The Versatones, Jimmy Chavez and many more. Friday from 12pm-6pm, Saturday from 10am-6pm and Sunday from 10am-5pm. Highway One, Big Sur. Free event.
Fall is upon us which means it's time for the Robinson Jeffers Fall Festival! Several events take place over the weekend honoring Carmel's local author and his famed poetry. The festival kicks off with a Sunset Celebration at the Robinson Jeffers Tor House. Several seminars take place on Saturday at the Hyatt Carmel Highlands and festivities will conclude on Sunday with a Poetry Walk at Carmel River Beach. Friday-Sunday. Carmel. $99 for Friday and Saturday events and $85 for Saturday's events.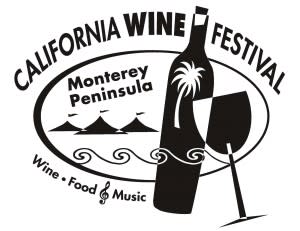 Reap the benefits of the grape harvest and sample some of the golden state's best wines at the California Wine Festival. Friday kicks things off with a Rare and Reserve Tasting at the Hyatt Regency Monterey. The Harvest Food and Wine portion of the event takes place on Saturday at the Custom House Plaza in historic Monterey. Here you will find an array of wineries and vineyards pouring the fruits of the labor alongside some tasty local cuisine. Friday from 6:30pm-9:30pm and Saturday from 1pm-4pm. Various ticket prices. The Monterey County Fairgrounds hosts the Rota Psychic Fair this weekend. This event has everything you could possibly need for the mind, body and spirit. Don't miss out on readings, lectures and a crystal display. Saturday and Sunday from 10am-6pm. 2004 Fairgrounds Road, Monterey. $9.
Friday
Oldtown Salinas becomes "alive after 5" for the First Fridays Art Walk. Several downtown venues will host art exhibits, entertainment, food and plenty of fun! 5pm-8pm, Main Street, Salinas. Free event.
Saturday
Stop by the Elkhorn Slough National Estuarine Research Reserve during their 2nd Annual Native Plant Faire. There will be family activities, prizes, great prices on plants and more. 9am-3pm, 1700 Elkhorn Road, Watsonville. Free event. "America's Last Hometown" holds a parade and bazaar this morning in honor of its colorful winged mascot. The 73rd Annual Butterfly Parade begins at the Robert H. Down School and includes various entries including children dressed as Monarch butterflies, marching bands and clowns. A Butterfly Bazaar will follow after the parade with carnival games, food, prizes and more . 10:30am-2pm, downtown Pacific Grove. Free event. Get your lime wedges out for some serious tequila tastings at the Monterey Tequila and Mezcal Expo! The Hyatt Regency Monterey is the center of this margarita madness where over 60 types of tequila and mezcal will be sampled alongside some tasty appetizers and live music. Salud! 1 Old Golf Course Road, 5pm-8pm. $65. Check out the fierce competition at today's Monterey Bay Derby Dames bout. The Beasts of Eden take on the Shasta Roller Derby Girls at the Water City Sports Center in a raging battle. 7:30pm, 2800 Second Avenue, Marina. $15. Songs Hotbox Harry Taught Us is stops by Pierce Ranch Vineyards for a special appearance and performance this evening. Their folksy style will be the perfect touch to your glass of Cabernet Sauvignon. 8:30pm-10:30pm, 499 Wave Street, Monterey. $5 for the 21+ crowd.
Sunday
Guides from the Monterey Peninsula Regional Parks District take hikers through the backside of the Mesa and Oakview Loop. Hikers will enjoy spectacular views of the Garzas canyon. The 5 mile hike is expected to last 3-4 hours. Don't forget to wear good hiking shoes and bring water and snacks. 9am, Garland Visitor Center, Carmel Valley. Free event. Tour some of Pacific Grove's iconic homes, churches and inns during the Historic Homes Tour. Docents will be on-site at each location for further historical information. Tickets and self-guided maps will be available at the Pacific Grove Chamber of Commerce. 10am-4pm, Pacific Grove. $20. Pair some brews with fabulous views of the Monterey Bay at the Monterey Hotel Plaza Hotel & Spa. Today they host Beer Fest featuring English Ales and Ale Works. Tri-tip, bratwurst and other BBQ items will be up for grabs as well. 12pm-4pm, 400 Cannery Row, Monterey. $4 for each pour.
The Carmel Music Society presents cellist Lynn Harrell and pianist Jon Kimura Parker at the Sunset Center. The duo will perform works from Mozart, Bach, Beethoven, Verdi and more. 3pm, San Carlos and Ninth, Carmel-by-the-Sea. $48-$60.