All Weekend
Celebrate Big Sur's brilliant green ornamental stone at the 20th annual Big Sur Jade Festival! This year's event will be packed with free lectures, demonstrations, food, crafts, live music from The Demos, Songs Hotbox Harry Taught Us and more! Friday-Sunday, Pacific Valley School, Highway One, Big Sur. Free admission.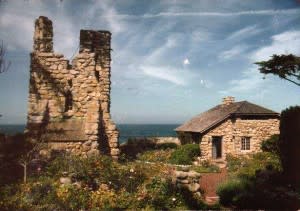 Celebrate poet Robinson Jeffers this weekend at the Robinson Jeffers Fall Festival. This unique festival begins on Friday with music and a poetry reading by Taelen Thomas at Jeffers' Tor House. On Saturday several lectures surrounding the poet will be held throughout Carmel. On Sunday, the festival ends with the Annual Jeffers Poetry Walk on Carmel River Beach. Friday-Sunday, 26304 Ocean View Ave, Carmel-by-the-Sea. Click here for event registration. Need a date night idea? What could be more romantic that catching a performance of Romeo & Juliet in charming Carmel-by-the-Sea? The Outdoor Theatre showcases William Shakespeare's masterpiece all weekend long. 7:30pm, Friday-Sunday, Santa Rita Avenue, Carmel-by-the-Sea. $35 for adults and $7 for children. Curious about Monterey's heritage? Then check out History Fest! The schedule includes special lectures, living history reenactments, storytelling and workshops designed to delight children, fascinate the history buff and intrigue the family genealogist. Civil War and CHAS (California Historical Artillery Society) encampments will be set up all weekend long at the Lower Presidio Historic Park. Visitors can also enjoy free admission to the Custom House, Pacific House, Colton Hall and the Presidio of Monterey Museum from 10am-4pm each day. Saturday-Sunday, Monterey. Free admission. Past band members from The Grateful Dead, Phil Lesh and Bob Weir, have teamed up with Jeff Chimenti, John Kadlecik, Joe Russo, Sunshine Becker, Jeff Pehrson to create rock band Furthur. Furthur performs covers from The Beatles, Van Morrison, The Clash, and Pink Floyd on Saturday and Sunday nights at the Monterey County Fairgrounds. Saturday and Sunday at 7pm, 2004 Fairgrounds Road, Monterey. $45.
Friday
Head over to Oldtown Salinas this afternoon for the First Fridays Art Walk. This popular event becomes "alive after five" with live music, art openings, dance performances, light refreshments and more! 5pm-8pm, Main Street, Salinas. Free admission. What could be better than hanging out with Frank Sinatra, Dean Martin and Sammy Davis Jr. on a Friday night? The Sunset Center in Carmel-by-the-Sea presents Sandy Hackett's the Rat Pack! The theatrical production will take you back in time when swing and swagger were king! 8pm, San Carlos Street at Ninth Avenue, Carmel-by-the-Sea. $49-$69 Catch a performance from The Demos at Big Sur's Fernwood Tavern. The power pop duo play original hits such as "Nervous" and "Veronica". 9pm, 47200 Highway One, Big Sur. No cover.
Saturday
Check out hundreds of miniature ships today at the Portola Hotel & Spa. The Society of Miniature Ship Collectors will display their tiny maritime treasures from around the world to the public. 10am-5pm, 2 Portola Plaza, Monterey. Free admission. Explore the amazing views of the Monterey Peninsula at Palo Corona's newest trail, Gregg's Hill trail. Hikers will meet up with the Monterey Peninsula Regional Parks District at the Palo Corona barn. The 5.5 mile hike will wind through pines and live oak trees leading up to a 360-degree view of the Peninsula. Don't miss this special opportunity as Gregg's Hill trail is only accessible on volunteer-led tours. Bring your hiking shoes, lunch, water and snacks. 1pm, Palo Corona barn, Carmel. Free admission. Contemporary photographer Jerry Uelsmann will be at the Sunset Center this afternoon for an exhibit of his photos and an interesting lecture entitled Process and Perception. Jerry is best known for his dream-like and surreal scenes. 2:30pm, San Carlos Street at Ninth Avenue, Carmel-by-the-Sea. $25-$30. Calling all photographers! Elkhorn Slough Safari is embarking on a special Photo Safari this afternoon to try out equipment and photographing skills out on the slough. Amateurs will have their chance to capture cute sea otters, lazy harbor seals, and a variety of shorebirds. 4pm, Elkhorn Slough, Moss Landing. $48. Dust off that ol' beer stein because it's time for Beer Fest at the Monterey Plaza Hotel & Spa. Great beer will be perfectly paired with a beautiful view of the Monterey Bay and live music from R&B musician John "Broadway" Tucker. 2pm-8pm, 400 Cannery Row, Monterey. Local favorites Songs Hotbox Harry Taught Us perform tonight at Fernwood Tavern. This country and Americana group will cover classics from Patsy Cline, Loretta Lynn, Elvis and Bob Dylan. 9pm, 47200 Highway One, Big Sur. No cover.
Sunday
Weren't able to make Munich's Oktoberfest? Don't worry Peter B's Brewpub has you covered! The 1st Annual Monterey Beer Garden will have plenty of beer tastings, BBQ food and live music from the Hit & Run band. You will even have the opportunity to talk to some of the beer brewers themselves. 12pm-4pm. 2 Portola Plaza, Monterey. $55. Join Colton Hall as they commemorate the 162nd anniversary of California's first Constitutional Convention. Professional actors will reenact momentous debates and the signing of the 1849 California Constitution that took place at Colton Hall in 1849. This is a great educational event for children! 2pm, Pacific Street, Monterey. Free admission. For reservations please call 831-646-5640. Award winning pianist Nobuyuki Tsujii will give a special performance this afternoon at the Sunset Center. The Japanese musician has been blind since birth and believes that "there are no barriers in the field of music." Tonight "Nobu" will take on Mozart, Franz Liszt and Modest Mussorgsky. 3pm, San Carlos Street at Ninth Avenue, Carmel-by-the-Sea. $30-$43.