All Weekend
httpv://youtu.be/44IBD1k5sAs Explore the "Hidden Treasures from Old Monterey" during the inaugural
Art in the Adobes
festival in downtown
Monterey
. Many of the events will be held in the adobes that make Monterey so unique and rich in history. The three-day cultural festival will be full of exhibitions, lectures, demonstrations and children's activities for the next generation of artists and historians. Friday-Sunday. $30-$75, click
here
for tickets. America's last hometown (aka
Pacific Grove
) will celebrate its heritage this weekend during
Chautauqua Days
. With roots dating back to 1874, this event is sure to be a crowd pleaser! Pacific Grove's culture, history and natural beauty will be the star of show with emphasis on key venues such as Chautauqua Hall, Pacific Grove Public Library and Museum of Natural History. Weekend events will include lectures, drawing classes, plays, art tours, a parade and a historic homes tour. Friday-Sunday, Pacific Grove. It's the perfect time of year to catch a performance at
Carmel-by-the-Sea
's Outdoor Theatre, and you're in luck because the romantic story of
Romeo & Juliet
will play throughout the weekend! William Shakespeare's masterpiece will keep spectators of all ages captivated in this story of passion, tragedy and utter romance. 7:30pm, Friday-Sunday, Santa Rita Avenue, Carmel-by-the-Sea. Various ticket prices. The
ROTA Psychic Fair
taps into the body, mind and spirit this weekend at the
Monterey County Fairgrounds
. California's best psychics and healers will be on hand for readings. The event will also include jewelry, art, books, crystals, gifts and lectures. Saturday-Sunday, 10am-6pm, 2004 Fairgrounds Road, Monterey. $9 entrance fee, $20 readings.
Friday
Celebrate the final day of September at the
Carmel Plaza
! The
Money Band
rounds out the
Concerts in Carmel
series playing great music from the '50s to present spanning genres like country, rock and funk. For those who purchase a food/beverage ticket, the event will be paired with wine tastings from
Ventana Vineyards
and food from
Bistro Beaujolais
. 5pm-7pm, Ocean Avenue & Mission Street, Carmel. Free admission, $15 for food and beverage ticket. Don't miss your last chance to catch Evenings by the Bay at the
Monterey Plaza Hotel & Spa
where
Broken English
breaks it down Caribbean style. Join this lively bunch for a cruise ship style party out on the deck. 5pm-9pm, 400 Cannery Row, Monterey. Free admission. The Fireplace Lounge at the
Hyatt Regency Monterey
heats up tonight with a performance from vibraphonist
Mark Sherman
. Don't miss his rare skill in playing the vibraphone (similar to a xylophone). 7pm-11pm, 1 Old Golf Course Road, Monterey. Free admission.
London Bridge Pub
on Fisherman's Wharf will host Rex Wheeler tonight. Bring your friends and enjoy Rex's smooth electric acoustic tunes. 9pm, 256 Figueroa St., Wharf #2, Monterey. No cover.
Saturday
What do you get when you mix great visual art with a fun and open atmosphere? You get
Art on the Wharf
! Art on the Wharf, part of Art in the Adobes, will exhibit murals, painting, pottery, photography and live performances. 10am-7pm, Old Fisherman's Wharf. Free admission.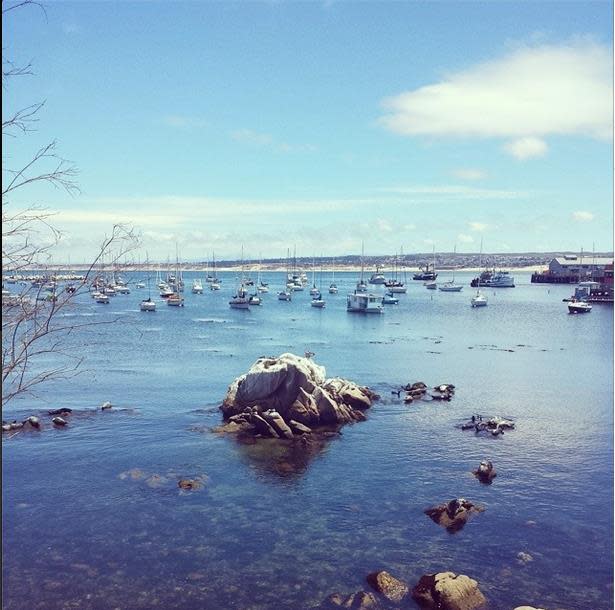 Pacific Grove celebrates its favorite winged creature today, the Monarch Butterfly. Children will don their cutest butterfly wings and
parade
down Lighthouse Avenue as part of Chautauqua Days. A Butterfly Bazaar will follow at the Robert Down Elementary School with a raffle, games, prizes and food. 10:30am-2pm, Pacific Grove. Free admission. Feeling a bit strapped for cash but the kids are nagging for something fun to do? The
Monterey Museum of Art
is holding a FREE art activity at Elkhins Park! Imaginative tots can create bird houses, treasure boxes, leaf rubbings and more. 11am-2pm, 559 Pacific Street, Monterey. Free admission. The
St. Petersburg String Quartet
performs tonight at the
Sunset Center
with Anton Nel on the piano. The Quartet will perform Johannes Brahms: Piano Quartet in G minor, Op. 25, Sulkan Tsintsadze: Five Miniatures on Jewish Folk Themes and Antonín Dvorák: Piano Quintet in A Major, Op. 81. 8pm, San Carlos Street at Ninth Avenue, Carmel-by-the-Sea. $41-$65 Head to
Big Sur
and check out the melodies of
CB Brand
and
Winfred E. Eye
at the
Fernwood Tavern
. CB Brand sticks with a country approach while Winfred E. Eye mixes it up with a dash of blues. 9pm, 47200 Highway One, Big Sur. No cover.
Sunday
What better way to examine
birds
than on the sea!
Elkhorn Slough Safari
will head out on a special birding excursion this morning to catch a glimpse of some of the feathery friends out on the slough. Guests will learn about the birds' southern migration and techniques on how to identify shorebirds. Keep your eyes open, you might also spot some sea otters and seals. 9am, Elkhorn Slough, Moss Landing. $42. Set out on a hiking excursion with the
Monterey Peninsula Regional Parks District
. Today's
hike
will take visitors along the back side of the Mesa on the Oakview Loop at
Garland Ranch
. The 5 mile hike is expected to last 3 hours with plenty of time to soak up the views. Don't forget to bring hiking shoes, water, snacks and lunch. 10am, Garland Ranch Visitors Center, Carmel Valley. Free admission. Pacific Grove's Chautauqua Days finishes strong today with the popular
Historic Homes Tour
. Several Victorian and historic homes, bed & breakfasts and churches will be toured. Docents will lead visitors along the way with interesting tidbits about each property. 10am-4pm, Pacific Grove. $20.