Ho Ho Ho! Don't miss Monterey's Old Fisherman's Wharf's "3rd Annual Christmas on the Wharf" festivities during the first three weekends of December  
"Tis the Season for Monterey's favorite holiday destination! Bring your family and friends to create wonderful memories at Monterey's Old Fisherman's Wharf during the holiday season!
Monterey Fisherman's Wharf Association is proud to sponsor and hold its 3rd Annual "Christmas on the Wharf" Weekend festivities on Old Fisherman's Wharf in Monterey, California featuring great holiday entertainment, a dazzling array of beautiful holiday lights and decorations, a majestic lit 23-foot Christmas tree, free sweet treats, free Santa "meet and greet" visits, photo ops with Santa, lovely holiday princesses and much more!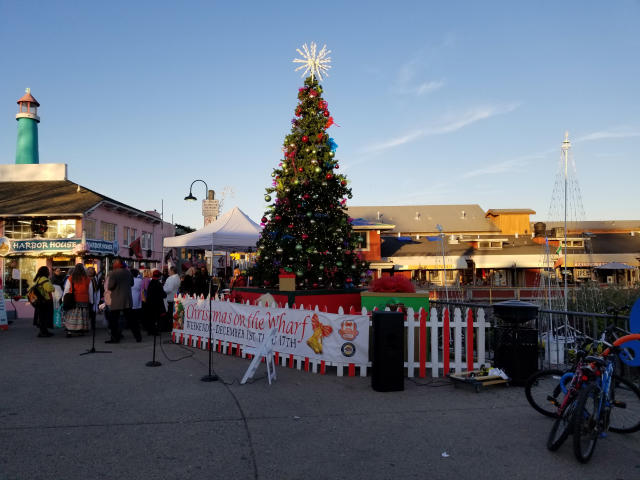 Beginning Friday, November 30th Sunday, December 16th, on Friday evenings from 5:00 p.m. – 9:00 p.m., Saturdays from 11:00 a.m. – 9:00 p.m. and Sundays from 1:00 p.m.  – 6:00 p.m., families are encouraged to come meet Santa and create wonderful memories with free Santa visits at his "house" and have a photo op for kids and family.  There will also be a toy drop at Santa's house for Salvation Army.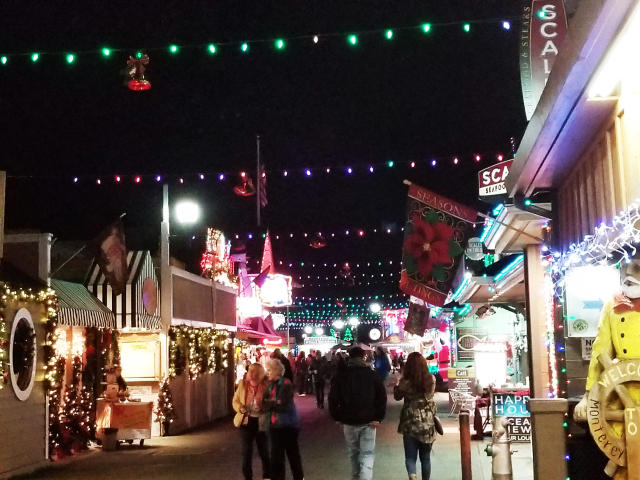 Each weekend, there will be complimentary hot chocolate, coffee, hot apple cider and yummy holiday cookies (Friday, Saturday and Sunday) at the Wharf Tent courtesy of Fisherman's Wharf Association.   There will also be free drawings for a dinner for two and more. There will be great Christmas shopping, dining, whale watching, fishing, watching marine life and more fun this holiday season on the Wharf. More details will be on the Wharf website at www.montereywharf.com. 
Talented performers of holiday music will perform and the schedule will be posted on the event page on www.montereywharf.com.
Performers include:
Community Choir with John Nash
The Dance Center's Musical Theater
Janice and Miranda Perl
Peninsula Harmony Company
Pipe Major/Bagpiper Michel d'Avenas
Santa Catalina School – Lower Middle School Choir
And more!
On December 7th and 8th, the Wharf will be a stop off during the Christmas in the Adobes tours in downtown Monterey. There will also be Ice Skating By The Bay from November 21-January 6, 2018.
Many of the restaurants, stores and other businesses are open 365-days a year and you can celebrate your special holidays at the Wharf. There will also be many Christmas specials provided by Wharf merchants.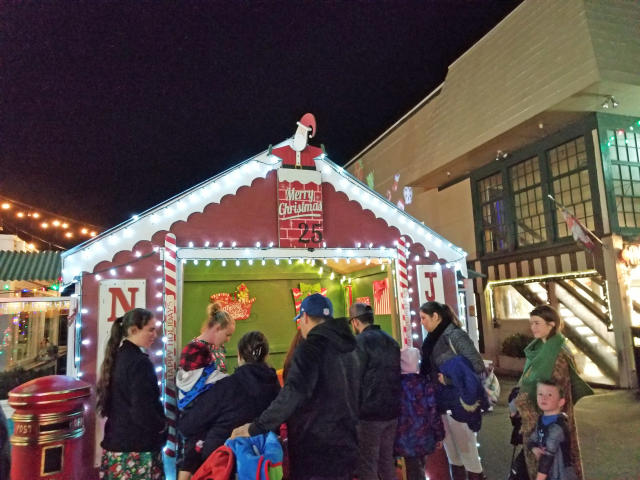 Local Monterey County Residents with ID will receive 2 hours free parking from November 23– December 24, 2018, courtesy of the City of Monterey.
More details on the website: www.montereywharf.com or call 831-238-0777.