All Weekend
Christmas just not feeling the same without a little snow? The Custom House Plaza in Monterey may not have snow but they do have plenty of ice! Ice Skating by the Bay stays open throughout the holiday weekend for some family fun. Friday and Saturday 11am-10pm and Sunday noon-8pm, Custom House Plaza, Monterey. $12 for adults, $10 for children 12 and under and $3 skate rental fee. Gather those final Christmas gifts and then hit the ice rink! The ice rink at the Northridge Shopping Mall in Salinas stays open for those last-minute shoppers and ice skaters. Open Friday 8am-11pm, Saturday 7am-6pm, closed on Sunday, 796 Northridge Mall, Salinas. $15 for adults, $12 for children.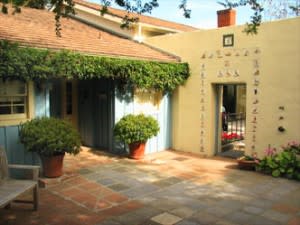 Be sure to stop by the Monterey Museum of Art this weekend. Why? Because it's free! The Monterey Museum of Art is giving the gift of free museum admission to everyone until December 31, 2011. Don't miss this opportunity to check out the museum's "Pop Icons" exhibition and other works from Gottardo Piazonni and John Haley. Friday 11am-5pm, Saturday 11am-3pm, closed on Sunday, 559 Pacific Street and 720 Via Mirada, Monterey. Free admission.
Friday
The Del Monte Center makes your Christmas shopping a little more festive today with carols from the Merry Carolers. Plan your shopping schedule accordingly; they will be making the rounds from 2pm-4pm today. 1410 Del Monte Center, Monterey. Free admission. The Mucky Duck hosts A Band of Ninjas tonight. Be sure to catch their fantastic covers from a variety of genres like classic rock, '80s, pop, metal and more. 6pm, 479 Alvarado Street, Monterey. Free admission. Take the kids out for a wild night at Wild Things! The scene is set for Christmas and the animals are ready for their debut in the holiday show "The Magic Telephone." The animal kingdom will be aglow with Christmas lights and Santa might even stop by for a visit. 6:30pm, 400 River Road, Salinas. $20 for adults and $14 for children 14 and under. London Bridge Pub hosts acoustic guitarist Rex Wheeler tonight. Bring your friends and catch up before the holiday weekend. 9pm, 256 Figueroa St., Wharf #2, Monterey. No cover.
Saturday
Attention procrastinators! The Del Monte Center is open until 6pm tonight for your Christmas shopping needs. Mark Russo and Sax for Season perform from 11am-1pm while the Merry Carolers make their rounds at 2pm-4pm today. 1410 Del Monte Center, Monterey. Free admission.
Sunday
Merry Christmas! Still in need of Christmas dinner plans? Look no further! Check out our list of restaurants and hotels staying open on Christmas day to serve up fantastic holiday meals. Eateries in Big Sur, Carmel, Carmel Valley, Marina, Monterey and Pacific Grove spread their Christmas cheer with delicious seasonal comfort foods and great service as usual.