These events took place in 2011. For 2012 Labor Day events click here.
All Weekend
The 75th Monterey County Fair will be in full gear this weekend for family fun entertainment! Horsin' Around is the theme for 2011's fair. The fair will celebrate Monterey County's unique history and heritage with carnival rides, games, livestock exhibitions and Fair food! Marquee performers at this year's event include country music star Lee Brice, funk band WAR and rock group Blue Oyster Cult. For an extensive schedule of events click here. 12pm-10pm, August 31-September 5, 2004 Fairground Road, Monterey. Advance admission is $7 for adults and $3 for children 6-12 years old. The lovable story of orphan Annie plays at the Outdoor Forest Theatre this weekend. Don't miss this classic musical and its memorable characters including Miss Hannigan and Daddy Warbucks. 7:30pm on Friday and Saturday and 2 pm on Sunday. Santa Rita Avenue, Carmel.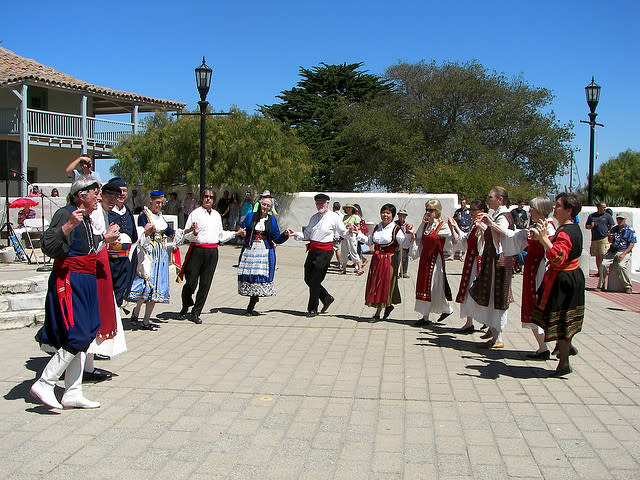 Be a Greek for the 3-day Labor Day weekend! The Custom House Plaza in downtown Monterey will transform into a Mediterranean paradise for the Monterey Bay Greek Festival. Fellow Grecians can indulge in delicious treats from food vendors serving up gyros and baklava. Don't forget the fabulous entertainment including dancing and live music. Saturday-Monday. 20 Custom House Plaza, Monterey. Free admission.
Friday
Head over to Carmel-by-the-Sea this evening for Concerts in Carmel. Carmel Plaza will be hoppin' as Red Beans and Rice take the stage. The popular Central Coast band plays an eclectic blend of danceable blues tunes. For those who purchase a food/beverage ticket, the event will be paired with wine tastings from Ventana Vineyards and food will be provided by Bistro Beaujolais. 5pm-7pm, Ocean Avenue & Mission Street, Carmel. Free admission, $15 for food and beverage ticket. Monterey Plaza Hotel & Spa has gone country, at least for tonight. Fred McCarty plays hits from the past and mixes in a few of his own original masterpieces. Don't like country? No worries, he will throw in a few oldies and rock songs as well. 5pm-9pm, 400 Cannery Row, Monterey. How about a free show at Big Sur's Fernwood Tavern? Big Sur favorite Honeymoon performs their original indie rock songs. Sparrow's Gate will also be on deck to entertain with rock and folk inspirations. 10pm, 47200 Highway One, Big Sur. No cover.
Saturday
The city of Marina celebrates Labor Day weekend with a parade through Reservation Road and a festival in the park. There will also be plenty of live local entertainment and a BBQ serving up chicken, ribs, taquitos and more! 11am, Reservation Road, Marina. Free admission. Don't miss the last weekend to catch "Evenings the Bay" series at the Monterey Bay Aquarium. Tonight the Monterey Jazz Festival student musicians will perform to gear up for the upcoming Monterey Jazz Festival, September 16-18. 6pm-8pm, 886 Cannery Row, Monterey. Free with aquarium admission. Fernwood Tavern hosts Jonah and the Whalewatchers tonight. The Monterey Bay reggae band uses inspirations from Caribbean, jazz, ska, blues and soul to create their unique style. 9pm, 47200 Highway One, Big Sur. No cover.
Sunday
The Big Sur River Inn will host the Hands on Fire Band this afternoon out on the patio. The jazz and Afro-beat band features James Henry. 1pm-5pm, Highway One at Pheneger Creek, Big Sur. No cover. Sadly the time has come when we will have to say goodbye to another season of "Evenings by the Bay". The finale to the popular jazz music series will feature the Monterey Bay Jazz Orchestra tonight at the Monterey Bay Aquarium. 6pm-8pm, 886 Cannery Row, Monterey. Free with aquarium admission.
Monday
Celebrate Labor Day in Big Sur at the Henry Miller Library for a concert from Explosions in the Sky. This post-rock group has been together for the past 10 years and show no signs of slowing down. You might recognize some of their music from the 2004 film Friday Night Lights. 7pm, Highway One, Big Sur. $45.