In 1893, an engineer at Thomas Edison's Edison Laboratories released the first practical film camera. Just four years later, the first moving pictures were shot of Monterey, California. These historic first two films were recently placed online by the Library of Congress.
The Hotel Del Monte
The Hotel Del Monte was the forerunner to today's Pebble Beach Corporation. Pebble Beach was originally a hunting and outdoor recreation area for guests of the Hotel Del Monte. In many ways, the Hotel Del Monte pioneered the entire resort concept, and it was considered the elite resort of its day. This film was shot the same year the Hotel Del Monte opened the Del Monte Golf Course opened. It's the oldest course in continual operation west of the Mississippi and paved the way for the world-famous Pebble Beach Golf Links, which opened 22 years later. The building shown in the film above is actually the second Hotel Del Monte. The first one (shown below) burnt to the ground on May 1, 1887. The one shown in the film above was damaged in the 1906 earthquake but repaired. On October 28, 1924 it once again burnt to the ground. A new and very different building was constructed in 1926. In 1943, the Navy took over the property and used it to train soldiers for World War II. It is now the Naval Postgraduate School.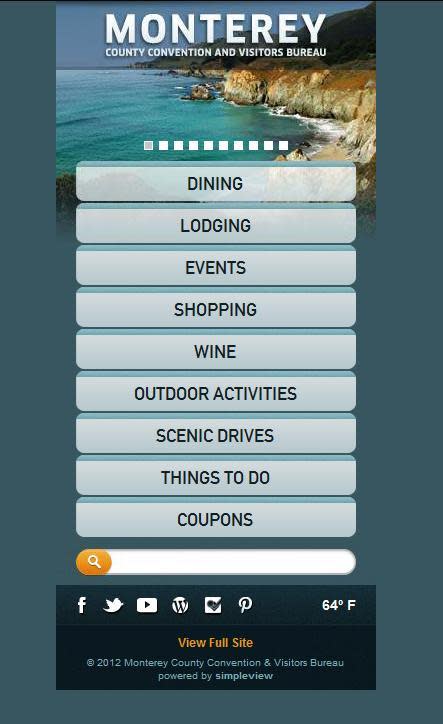 Photo of the original Hotel Del Monte, circa 1885. For a larger version, see Wikimedia Commons. Surf at Monterey
If you search on YouTube for "Monterey waves," you'll see that while the technology has improved, Monterey's surf is still a popular subject for both amateur and professional filmmakers.
Since 1897, Monterey County has been featured in almost 200 movies. Sometimes, like in "Cannery Row," "East of Eden" or "Play Misty For Me," that's because the story is set in the area. Often, however, filmmakers take advantage of Monterey County's diverse scenery to have it stand in for far-flung locales like England, Hawaii or even Vietnam. In fact, one of cinema's most legendary scenes ever, the kissing scene on the beach in "From Here to Eternity," was filmed on Big Sur's Pfeiffer Beach. Take a look at our article "Monterey County on the Silver Screen" for more interesting trivia, as well as video clips from movies shot in Monterey County.