Every year, new ideas and trends catch the eyes of prospective brides and grooms, with wedding planners, floral designers, fashion mavens, wedding vendors and wedding venues all giving input into what's the latest and most popular.
Trends come and go, of course, what's hot this year may be out next year, and vice-versa. But that's why they're the pros, their job is to stay on top of trends and styles.
"Couples today want their guests to really notice the effort gone into planning the wedding," said Beth Bernstein of SQN Events in Chicago, to weddingwire.com. "It's not just about personalizing the wedding to the couple. It's about who their guests are and what they mean to them."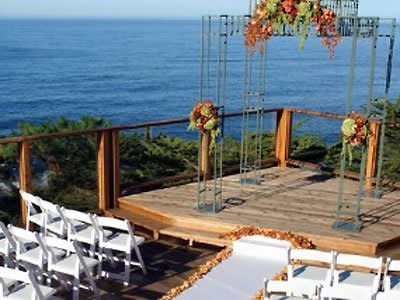 When a woman tells her family and friends she's getting married she invariably gets two questions: "When?" and "Where?"
While almost everything else about a wedding is optional (cake or no cake? Band or DJ?), the one thing that isn't optional is the venue. You have to have a place where your guests can gather to celebrate, there's no getting around that.
As to the answer to where the wedding takes place, you have to refer to the real estate agents' mantra: location, location, location.
The Hyatt Carmel Highlands has been one of the Monterey Peninsula's most desirous locations for weddings. With its prime location, breathtaking views, choice of venues small to large, exceptional food, first-class amenities, and choice of wedding packages, from the basic to the all-the-details plans, the Hyatt Carmel Highlands may be the perfect choice for the bride and groom looking for a special venue.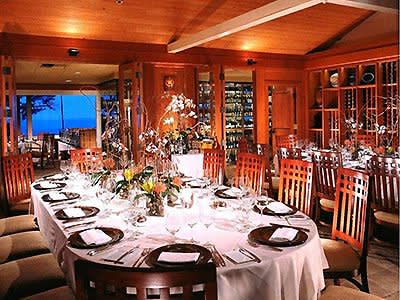 Couples polled recently have expressed what they'd like in a venue, including:
Spectacular or scenic backdrop to the wedding. Couples are looking for venues that their guests will be talking about for years. The Hyatt Carmel Highlands fits that bill with its cliffside location with spectacular views of the rugged Big Sur coast.
Couples are willing to spend more than usual for a customized wedding, and that applies to the venue as well. A unique venue also means a unique wedding, especially one that they can add their own personal touches to. The Hyatt's wedding planners can help couples every step of the way, from the smallest detail to the big picture.
Having the flexibility and options in customizing the space, such as choice of decor, floor arrangement, dance floor, seating etc., is high on the list for couples considering a venue. The also includes the bar. From a simple beer-and-wine situation to a full-bar with customized cocktails curated by the bride and groom offers flexibility and uniqueness.
Also on top of the venue must-have list? Use of indoor and outdoor spaces. At the Hyatt Carmel Highlands it starts with the outdoor redwood Gazebo with sweeping views of the Pacific and the coastline. Up to 120 guests can mingle comfortably on the redwood deck, which is surrounded by lush gardens and cool ocean breezes. Indoors, couples can choose the Surf Room, which has a private balcony; the Yankee Point Room, which features a wood-burning fireplace, for smaller groups; and even the newly remodeled California Market at Pacific's Edge restaurant.
Couples need to be able to see it to believe it, and the best way to do that is with tons of photos and even videos from happy couples who have tied the knot at the venue.
Weddingwire contacted a number of wedding planners, floral designers, fashion mavens, wedding vendors and wedding venues and asked these talented folks to look in their crystal balls and see what's hot for weddings in 2018.
Here are some of their predictions:
Navy is the new black. As an alternative to formal black, brides and grooms are opting for dark blue as the neutral shade in their wedding's color palette, including midnight blue, which is now the color of choice for formal weddings.
Silver and chrome = the metallics of the moment. Metallics have always been popular, but instead of gold, brass and rose gold, which have been popular for the past few years, couples are bringing silver and chrome into the mix for 2018 wedding trends.
A return to formality. According to many wedding planners, couples are going back to formal weddings, including cleaner florals, classic tuxedos, and a hint of sparkle, formal but not stuffy.
Hanging flowers are the floral decor of the moment. Suspended arrangements are in for 2018, with couples keeping their guest tables simple and focusing more on ceiling treatments. One idea that will be popular for 2018 wedding reception tables is a small cluster of vases with just one or two types of flowers.
Couples are finding new ways to entertain guests. Couples are incorporating interactive elements into their wedding to entertain their guests with creative food ideas, music, and photo booths .
Bring on the texture! Enhancing the guests' experience includes the details that they interact with such as wax seals on menus, assorted linens on each table, and even three different tabletops for the reception tables.
Unique food is a priority. Couples want to present their guests with new food experiences or one that resonates with their personal style, including interactive appetizer stations, including a raw bar or roll your own sushi, using family recipes, farm-to-table dinners, and creative desserts.
Go all-out with the desserts. Creative desserts such as popsicles, custards and ice cream sandwiches are what couples are serving at the end of the night. But wedding cakes are back, and the cake cutting ceremony is coming back too.
Don't call it "rustic," it's all about "woodsy." The rustic look will trend more to a "woodsy" look, including a lot of greenery in the florals and green as the wedding's main color. Burlap will make way for more wooden details, such as on the invitation, table numbers, seating cards, tags, chargers, signage, chairs and tables.