California offers so many diverse environments and activities, but only Monterey offers it all in one place. It's time to write your family a permission slip and head over for the perfect weekend in Monterey county. Here you'll find tide pooling, whale watching, diverse hiking, famous scenic drives, a golfing paradise, wine tasting and so much more. Whether you're looking for the perfect family hikes in Monterey or the best place to have a family dinner — this blog will help you plan the perfect weekend in Monterey for families. So, grab a pen and your calendar - it's time to schedule your next family adventure.
Monterey County was one of the first counties to be established in California. It spreads across 3,771 square miles, making it 1.5 times bigger than the state of Delaware. The population hoovers around 420,000 with most of that lying in the coastal areas and in the city of Salinas. The county is rich in culture with a vast amount of agricultural land and historical coastal features such as Cannery Row and Old Fisherman's Warf on the Monterey Bay. However, one of the most iconic spots in the county is the drive along Highway 1 in Big Sur.
No matter what your family is interested in, Monterey County is the perfect destination for families.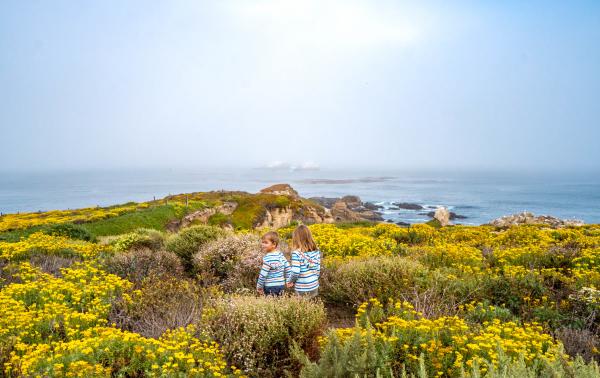 GARRAPATTA STAKE PARK IS GREAT FOR FAMILY HIKES ALONG THE ROCKY SEA
How to Get to Monterey, California
There are two airports that service the Monterey area.   The first is the Monterey Regional Airport (MRY) which is located in the heart of Monterey.  The San Jose International Airport (SJC) is approximately 75 minutes driving to Monterey.  Driving-wise, Highway 1 is the most scenic way to get to Monterey.  This highway provides access to Monterey from both the South and North.
Monterey is only 2 hours from San Francisco and only 5 hours from Los Angeles.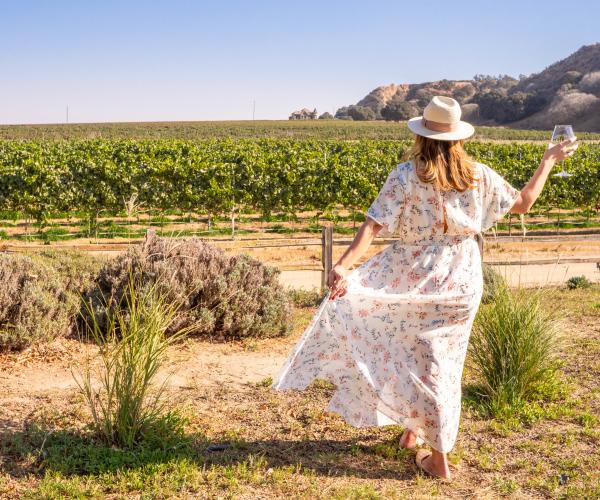 ONCE YOU GET TO MONTEREY, YOU WON'T WANT TO LEAVE. HERE IS WHERE THE RELAXATION SPREADS FROM THE COAST TO THE VINEYARDS.
The Best Places to Stay in Monterey
Monterey Plaza Hotel and Spa: Perched dramatically on historic beachfront property above the crashing surf of the Pacific, Monterey Plaza Hotel & Spa offers the classic California coastal experience. Here you'll be welcomed with warm hospitality and elegantly-appointed guest rooms with thoughtful extras and luxury touches. Monterey Plaza is home to an oceanfront restaurant, award-winning rooftop luxury spa, and prime location steps from charming Cannery Row. This elegant oceanfront hotel is the centerpiece of Monterey Bay. 
Monterey Plaza offers an incredible educational program called the Plaza Explorers Program. This school year, make Monterey your break from distance or virtual learning. Children staying at the Plaza receive complimentary enrollment in our Plaza Explorers Program. Each kid receives their very own discovery kit, equipped with an educational tide pool bingo card, binoculars, and exploration gear!
If you're looking for a place to reconnect with your family, unplug from technology and find pure relaxation – this is it!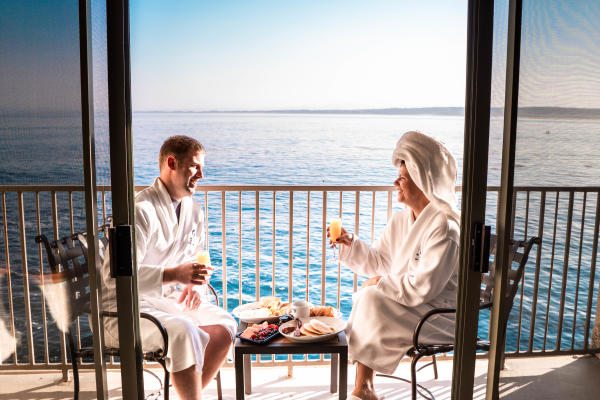 WHERE TO STAY IN MONTEREY? THIS IS MONTEREY PLAZA HOTEL AND SPA
Quail Lodge and Golf Club: This Carmel Valley, California hotel is the perfect place to indulge yourself with good times and leisurely outdoor exploration while spending the day experiencing all that Quail and the world-renowned Monterey Peninsula has to offer and the evenings winding down in the comforts of one of their large, naturally appealing guestrooms or suites! Quail Lodge & Golf Club offers a wide variety of recreational activities on-property. Whether it's a round of golf on their recently renovated championship golf course, a tennis match, an off-road driving lesson, a scenic hike, or to experience the best of the area, this Carmel Valley, California hotel and golf club can assist you in maximizing your experience. The only thing they don't offer is a few more hours to the day. Fortunately, there is always tomorrow.
The Best Places to Eat in Monterey
THERE ARE SO MANY WONDERFUL PLACES TO EAT IN MONTEREY - THESE ARE SOME OF THE COCKTAILS FROM THE FISH HOPPER IN THE FISHERMAN'S WHARF
There are way too many restaurants in Monterey to list them all, so here are my absolute favorites.
Fish Hopper: This ocean view restaurant is sure to please everyone in the family. It's been in business since 1950 and is committed to providing guests with fresh ingredients, exciting culinary experiences, and unmatched views of the bay. Fish Hopper is a proud member of Monterey Bay Aquariums Seafood Watch program; serving only sustainable, environmentally responsible seafood. My absolute favorite dish is a tie between the 22 ounce ribeye or the Ahi Tuna Nachos. Also - don't miss their Watermelon Refresher drink!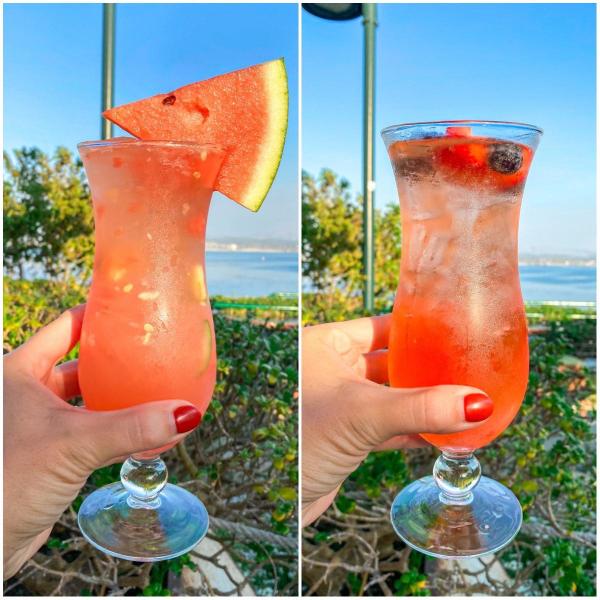 WATERMELON REFRESHER & BERRY ROSE DRINK FROM FISH HOPPER
Il Vecchio: If you're looking for the best Italian food outside of Italy, head to Il Vecchio. You will thank me. The creator of il vecchio, Carl Alasko, lived in Rome between 1963 and 1974. During those eleven years Carl absorbed Italian culture and a taste for great Italian food. Before opening il vecchio, Carl's Italian daughter, Saroja, convinced the owner of Maccheroni to send his head chef to Pacific Grove to teach the staff at il vecchio how to achieve the precise timing and blending of ingredients that's at the core of traditional recipes. Every single dish is as authentic as eating in Italy.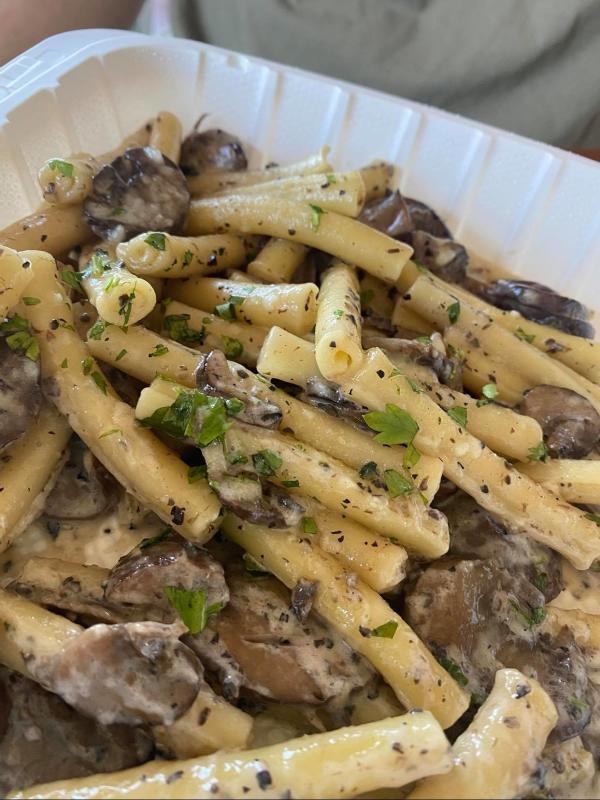 HANDS DOWN THE MUSHROOM TRUFFLE PASTA FROM IL VECCHIO IS THE BEST THING ON THE MENU
Tidal Coffee: Tidal Coffee offers a cozy, communal space to get together over iced lattes, cappuccinos, and small bites. This popular spot serves artisanal crafted fare and thoughtfully sourced brews all while enjoying views of the majestic Monterey Bay. Take a moment to kick back, relax and indulge in one of their delicious fresh pastries paired with a warm cup of coffee. (The cappuccinos are delicious) Each dish and drink salutes the history and character of Cannery Row. For breakfast, don't miss their massive and delicious breakfast burritos!
Compagnos Market: Compagnos is a true hidden gem inside of Monterey. It's tucked away inside of a neighborhood and they are so low-key, they don't even have a website. While you're in Monterey, you can not miss a stop here. We stopped in and ordered 2 of their signature sandwiches and were blown away at how huge they are! Each sandwich could feed 2-3 people. Compagnos is a long-time friend of the military and their quirky shop is full of regalia. Don't forget to add a piece of their massive cakes to your order! These sandwiches are life changing, so take the time to make your way to Compagnos! This is the perfect place to grab food to take on a hike or a family beach trip!
Casa Sorrento Pizzeria: While you're exploring the historic downtown Salinas, make lunch plans at Casa Sorrento Pizzeria. This locally owned shop offers delicious pizza and so many other options, such as their gorgeous antipasta platter. The large cheese pizza fed 2 adults and 3 kids with some to spare, so be sure to go hungry!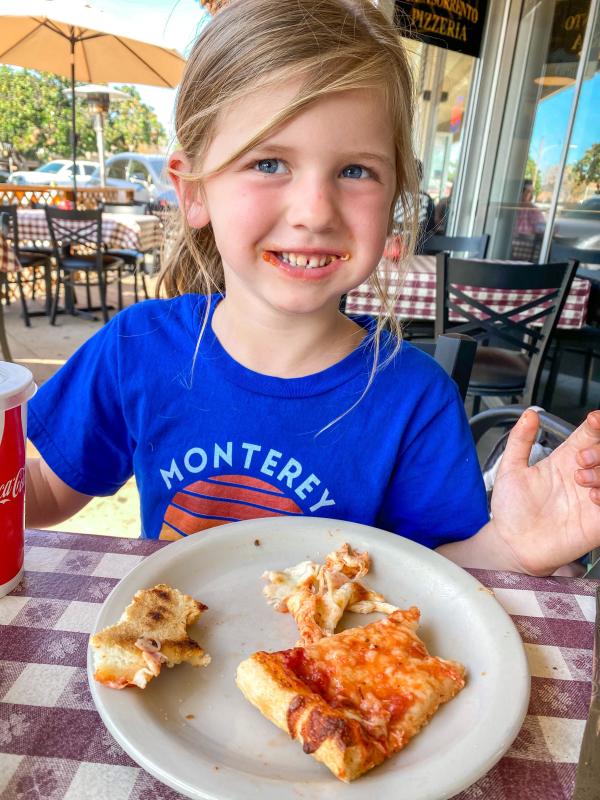 THE PIZZA FROM CASA SORRENTO IS ABSOLUTELY HUGE AND DELICIOUS
Earthbound Farm Stand: There is nothing better than eating food fresh from the farm. Nestled in California's Carmel Valley, just down the road from Earthbound Farm's original 2½-acre farm, is the Earthbound Farm Stand. A cherished destination for organic food and gardens by locals and out-of-town visitors alike, the Farm Stand is a living celebration of Earthbound Farm's mission to bring the benefits of organic to as many people as possible, in a most delicious and inspiring way. Don't miss their Curry Cauliflower or the Organic Chicken Salad. Oh and their iced coffee is absolutely delicious!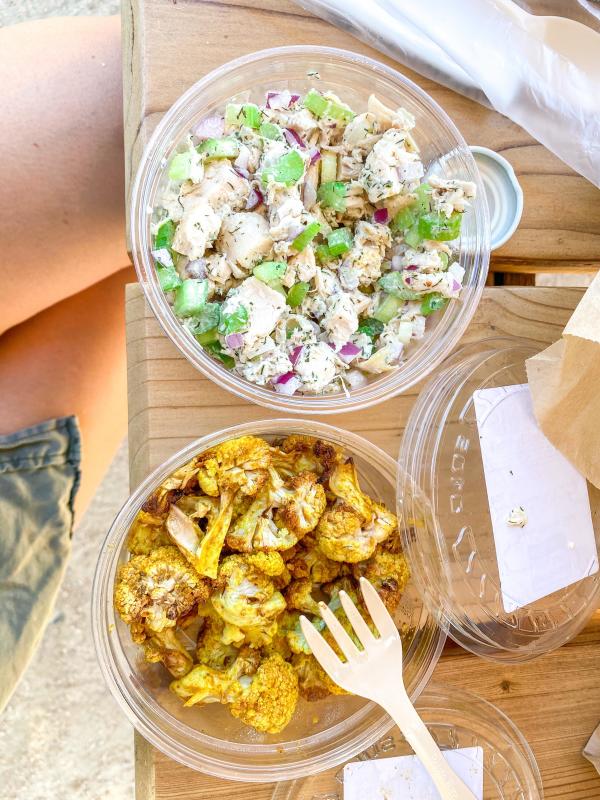 EARTHBOUND FARMS OFFERS THE PERFECT ORGANIC CHOICES FOR A TO-GO LUNCH
Ready to plan your field trip? Check out this itinerary for a Monterey field trip and get planning!