What is chamber music? Simply put is classical music played by small ensembles, mostly trios and quartets but can include 10-12 musicians, so named because these small groups could play in smaller palace chambers in the 18th century when it became popular.
But there's more to chamber music than just its dictionary definition. Yes, it's a small number of musicians playing music from the Baroque era to contemporary and living composers, one musician per part, unlike orchestras where several musicians play each part.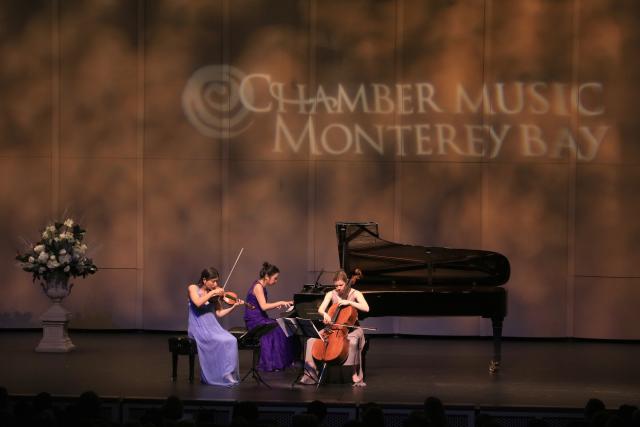 Chamber music is called the most intimate of classical music performances, allowing musicians more control over the music, more give and take between musicians and selection of more modern and challenging (for both musicians and audience) compositions.
Many have likened chamber music to a "conversation between friends" because of its intimate, almost informal nature and the close rapport between musicians. Some even use words such as "magic" to describe the experience.
"It just has a magical quality about it," says classical pianist Anne-Marie McDermott. "For many people it's like watching magic," adds David Finkel, Co-Artistic Director of the Chamber Music Society of Lincoln Center.
One of the premier organizations presenting chamber music on the Monterey Peninsula is Chamber Music Monterey Bay, which has been presenting small ensembles since 1966, 52 years ago.
CMMB presents five concerts in a nine-month annual season that runs from October-May, featuring world-renowned artists performing at the Sunset Cultural Center — a world-class 718-seat destination venue in Carmel-by-the-Sea.
CMMB features exciting and innovative programming — from the best-loved masterworks to lesser-known gems and brand-new compositions. This is what distinguishes CMMB from other local presenters. The ensembles CMMB brings to the area love to present unusual, provocative programs to their listeners. And CMMB's audiences — appreciated by the guest musicians for their uniquely engaged attentiveness — love to hear them.
CMMB's 2018-2019 season opens Oct. 6 with the up-and-coming French ensemble Van Kuijk Quartet. The season continues Nov. 3, 2018 with keepers of the Aaron Copland flame, Music from Copland House, followed by the multiple award-winning Borromeo String Quartet with acclaimed clarinetist Richard Stoltzman on Jan. 19, 2019. On February 23, 2019 the Catalyst Quartet, comprised of top laureates and alumni of the internationally acclaimed Sphinx Competition will perform, and the Montrose Trio, a collaboration of pianist Jon Kimura Parker and the Tokyo String Quartet, conclude the season on April 6, 2019.
"There are a lot of classical music presenters in the area, Carmel Music Society, Bach Festival, the Symphony, Ensemble Monterey and so forth, but I think we occupy a unique niche," said Andy Sudol, who became Executive Director of CMMB in December 2017. "We present a balance of contemporary composers and traditional composers. In fact, I think we present more living composers than any other local organization. When you attend one of our concerts you'll definitely hear new things or things you haven't heard before."
Sudol also hopes to build on CMMB's educational outreach program, which already offers musician visits to local schools, Kids Up Front & Free! (a programin which children grades 3-12 are invited to sit in the center-front three rows for an "up-close-and-personal" concert experience)master classes for student musicians and special ticket pricing for students ages 17-30.
Founded in 1966, Chamber Music Monterey Bay has its roots in an organization begun by Hazel Watrous and Dene Denny — two pioneers of early California history who brought music performances to the Monterey Peninsula in the mid-1920s — who co-founded the Carmel Bach Festival and the Carmel Music Society, which also features new works by local composers. Chamber Music Monterey Bay was an offshoot of the Carmel Music Society.
This season, CMMB is offering bonuses for new subscribers and those who renew their subscriptions. New season subscribers will be able to get five concerts for the price of four, while both new and returning subscribers will receive two additional tickets to Van Kuijk Quartet's Oct. 6 season-opening concert at the Sunset Center in Carmel, in addition to the season tickets they purchase.
This may be the best chance for classical music fans to experience the magic of chamber music.
For more information on Chamber Music Monterey Bay, go to chambermusicmontereybay.org.