CACFP Roundtable 34th Annual Conference Site Visit
Welcome to Monterey County! We look forward to having you with us!  Thank you for making time to visit and get acquainted with our properties and destination.  We invite you to use this microsite not only as a resource for your site inspection, but also as a resource for your future attendees. Let our Strategic Client Services team create a fully custom microsite for your program to help attendees learn about the destination, browse dining and activity listings, as well as access special offers prior to their arrival and while they are here.
Top Reasons to Meet in Monterey County
Stunning natural landscape
Mild weather
Award-winning food and wine
Lodging variety 200+ lodging facilities, 12,000+ rooms
Wide open spaces and places
Local Weather: 
The weather forecast for Monday, August 28 to Tuesday, August 29 will be mostly sunny with some cloud coverage and in the upper 60's. We recommend that you bring layers as the temperature throughout the day will change. 
To view the daily forecast for the week, please click here.   
Lodging Information:
Hotel Property

Hyatt Regency Monterey Hotel & Spa

Date(s) of Stay

Check-in Monday, August 28th

Check-out, Tuesday August 29th

Hotel Address

1 Old Golf Course Rd., Monterey, CA, 93940

Room Type

2 King Rooms

Confirmation Numbers

Elyse V. – Confirmation # 43192094

Chelsea D. – Confirmation # 39932437
Site Visit Itinerary:
MONDAY, AUGUST 28  

Afternoon/Evening

Arrive in Monterey & Check-in to Hyatt Regency

Elyse will land at MRY at 7:04 pm and the Hyatt Regency shuttle will be on-site to provide transportation to the hotel.  

Chelsea will be driving.

TUESDAY, AUGUST 29

9:00 AM - Breakfast 

10:00 AM - Tour

 

 

Breakfast & Tour of the Hyatt Regency Monterey

Breakfast hosted at Sea Root Restaurant by the Hyatt. Martyna Butterfield will join for breakfast and provide tour of the Hyatt.

 

11:00 AM-2:30 PM

Lauren to meet Elyse and Chelsea at Hyatt lobby.  Optional destination tours and lunch.  Lauren can bring Elyse to the airport for her departing flight.

3:00 PM

Departure.

*Please note – Elyse must be at MRY Airport by 3PM for 4:22 boarding time.

Flight Information: AA 3473 MRY (4:22 PM) – SAN (5:44 PM)  
Participating Partners:
Hyatt Regency Monterey Hotel & Spa    

Martyna Butterfield, Senior Sales Manager

1 Old Golf Course Road, Monterey, CA, 93940    

Office: (831) 657 – 6575   

Cell: (415) 235 – 4021
I look forward to having you in our destination and showcase all that beautiful Monterey has to offer.
Warm regards,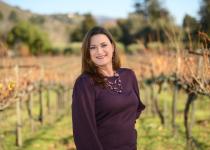 Lauren Siring, CMP, CGMP
Monterey County Convention & Visitors Bureau
Senior Business Development Executive
Lauren@SeeMonterey.com
831.915.3167
By continuing to browse this site you permit us and our partners to place identification cookies on your browser and agree to our use of cookies for marketing. To learn more view our Privacy Policy