WELCOME TO THE COMMUNITY CONNECTION
Brought to you by the Monterey County Convention & Visitors Bureau
MONTEREY COUNTY: A GREAT PLACE TO LIVE AND VISIT!
---
End to capacity limits at restaurants, bars, indoor attractions and concert venues

Conventions will be allowed but until October 1, those with 5,000 or more participants require proof of vaccination or negative COVID test

International convention attendees will be allowed only if fully vaccinated

Until then...
FOLLOW THE YELLOW TIERED ROAD
We are almost there! Monterey County is officially in the yellow tier and not to far from a full reopening in accordance to State guidelines. Until then, here are the most recent changes that have gone into effect with the move from orange to yellow: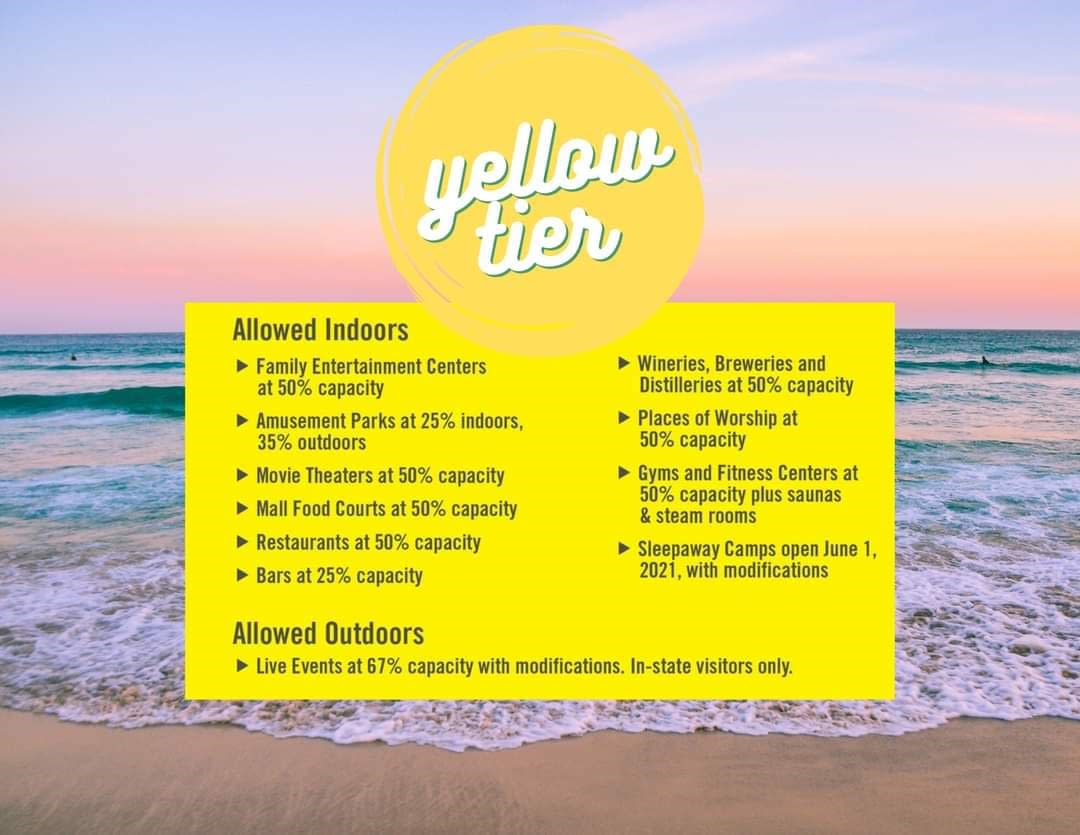 GUIDANCE FOR FACE COVERINGS
Wear a mask indoors in public places (unless you're eating or drinking).

Wear a mask at all times on public transportation.

Wear a mask in indoor and outdoor crowded places such as concerts, parades, sporting events, fairs, etc.
If you can maintain physical distance from others, you may go unmasked outdoors. Read more here. 
THE HOSPITALITY COMMUNITY NEEDS YOU!
Many local hotels and restaurants are hiring and are looking for amazing people like you. Check out a few below. If you are an employer and would like to have your openings posted here, please contact our Director of Community Relations, Jeniffer Kocher at: jkocher@seemonterey.com.
SANCTUARY BEACH RESORT
Sanctuary Beach Resort is looking for motivated, enthusiastic, and service oriented individuals to join their team and is holding a job fair on June 11, 2021. (Click here for more info.)
HYATT REGENCY MONTEREY
Hyatt Regency has reimagined their restaurant and is looking for cooks, servers, greeters and more to add to their team! (Click here for more info.)
PALUCCA TRATTORIA
Enjoy your summer on the wharf! Palucca Trattoria is looking to build their summer team. High school and college students are encouraged to apply. Interested? Text: (831) 970-5611.
HIGHLIGHTING MONTEREY COUNTY
To help propel more film business here, a new "sizzle reel" aimed at the film industry was just created.  The "Monterey County…You Won't Believe Your Eyes" locations video can now be seen at FilmMonterey.org. The three minute, 22-second reel is a fast-paced, professionally done, visual showcase of the dramatic and diverse film locations available in all parts of the county.
WHO'S THAT GIRL?
As a native to Monterey County and third generation hospitality worker, I am proud to be in an industry that plays such a great role in the community.  The vision of the Monterey County Convention and Visitors Bureau is to inspire the world to experience our extraordinary destination responsibly, and in a way that maximizes the benefits of tourism to our vast array of communities. 
Please feel free to contact me with any industry related questions or concerns: jkocher@seemonterey.com. 
We appreciate your partnership and support.  We couldn't do what we do without you. 
Stay well and take good care.
-Jeniffer
---
Miss an issue of the Community Connection?  See below for past issues:
By continuing to browse this site you permit us and our partners to place identification cookies on your browser and agree to our use of cookies for marketing. To learn more view our Privacy Policy