CSL Summer Retreat: SOAR 2023
Welcome to Monterey County!
Please accept our warmest welcome to Monterey County and SOAR 2023 to the wonderful Asilomar Conference Grounds!
Visitors from all over the world have come to appreciate our natural beauty, historical sites, and mild climate. We hope you become a fan of Monterey County personally and return many times over, or perhaps extend your stay to make the most of being in this amazing destination.
We invite you to explore this distinctive and diverse region. Experience the world-renowned attractions like the Monterey Bay Aquarium, galleries and shops of charming Carmel-by-the-Sea, our multitude of wine tasting rooms, Fisherman's Wharf and Historic Downtown Monterey, plus enjoy the many wonderful restaurants and scenic diversions found throughout the county.

Warm regards,
Rob O'Keefe
President & CEO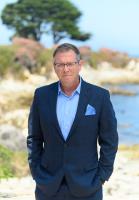 Food & Wine in Monterey County.
An abundance of locally procured ingredients and a year-round growing season set the stage for truly unforgettable dining experience in Monterey County. And wherever you find amazing food, you're bound to find great wine here. The viticulture in the area is world-renowned and makes every meal an opportunity to challenge even the most refined olfactory skills and palates. Bon appetit!
Monterey County Shopping
Monterey County's shopping scene is full of great deals and extraordinary surprises, from fine art to locally owned boutiques and everything in between.
In addition to personal attention and unique, affordable goods, shoppers in Monterey County enjoy variety. The region's stores, studios and retail centers are as diverse as its beach, mountain and vineyard landscapes. That means the perfect purchase is never hard to find.
Stay and Play in Monterey.
There is plenty to see and do in Monterey County outside of meeting room walls. Whether it's sipping your way through Carmel Valley's boutique wine tasting rooms or hopping on an unforgettable whale watching excursion, Monterey County provides meeting attendees with a variety of extracurricular activities.
Within its 12 towns, there's so much to discover in Monterey County! Explore more than 60 restaurants in downtown Monterey, numerous vineyards and tasting rooms, ten major museums, and wide array of attractions—from the renowned Monterey Bay Aquarium to 17-Mile Drive in Pebble Beach. Scroll through some local activities below!
By continuing to browse this site you permit us and our partners to place identification cookies on your browser and agree to our use of cookies for marketing. To learn more view our Privacy Policy