Big Sur Is Open for Business
Travel Responsibly
Big Sur is one of the most breathtaking destinations on the central coast. It's a magical place, etched with a stunning coastline and towering redwoods. It's where the river meets the sea. While a portion of Highway 1 was damaged in southern unincorporated Monterey County at Mile Marker 30, south of Esalen Institute, the majority of Highway 1 and Big Sur businesses remain open and accessible. So you can still take your trip to Big Sur and Monterey County to explore the iconic attractions and businesses along The Original Road Trip - just via a new route - which means new things to see and do along the way! 
Travelers to the area can still engage in the natural wonder, wildlife and beautiful vistas. Big Sur remains open and accessible including hotels, restaurants and shops north of Esalen Institute (including Big Sur Village) and south of Big Creek Vista Point (just north of Lucia).
The impacted portion of Highway 1 is anticipated to reopen by early summer 2021. Check back for updates.
Take Route 101 To Monterey County
America's top road trip calls for a detour at the moment - but that only means more to explore on your journey to Monterey County. Depending on where you are coming from there are a plethora of of places to explore just off the U.S. 101. This road trip will take you through Monterey Wine Country, where you can stop off (and maybe stay a night or two) to sip and savor the award-winning wines of our region.
*Turnaround points are in place at the end of each closure. Check Caltrans website for updates on access points heading Northbound on HWY 1.
Accessible Big Sur Businesses & Attractions
Click Here for Details on each Business & Attraction
Accessible Big Sur Businesses & Attractions
From The South Via HWY 1
Lucia - Best known for its starring role in HBO's hit series, Ratchet, the town of Lucia is a real town in Monterey County, named after the Santa Lucia Mountains that surround it. Though the show takes place in the 1940s, Lucia hasn't changed much today—you'll find the cliffside Lucia Lodge, Lucia Lodge Restaurant, a charming gas station and endless views of the Pacific.

Gorda Coast -  A small town with big personality, Gorda is located just off of Highway 1. It is known for its fresh springs, filling station, restaurants and motels.

Treebones Resort - Treebones Resort offers glamping at its best. Sleep under the stars in a yurt, wake up to spectacular panoramic views of the ocean and enjoy award-winning cuisine from their onsite restaurant, Wild Coast Restaurant and Sushi Bar.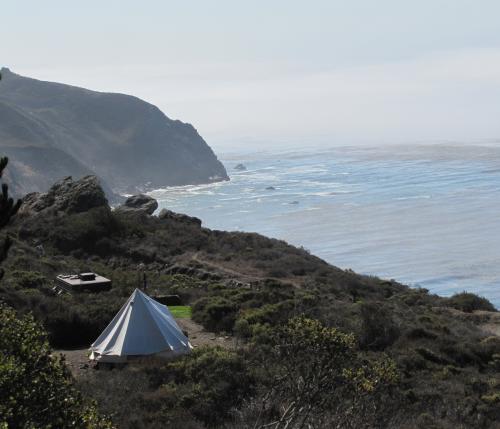 Sand Dollar Beach - The biggest unbroken stretch of beach in Big Sur, Sand Dollar Beach is known for its jade, fabulous hikes and breathtaking bluffs.

Plaskett Creek Campground - Plaskett Creek Campground is just minutes from Sand Dollar Beach. Plaskett Creek Campground offers family campsites in a country park-like setting under a scattered canopy of large Monterey Pines and Monterey Cypress.

Jade Cove - Named after the smooth jade stone that is frequently found on its rocky beaches after storms, Jade Cove is just south of Sand Dollar Beach on the southern Big Sur Coast. Jade Cove is a popular spot for hiking and scuba diving - to this day, people continue to find jade washed up on the beach or scattered along the ocean floor.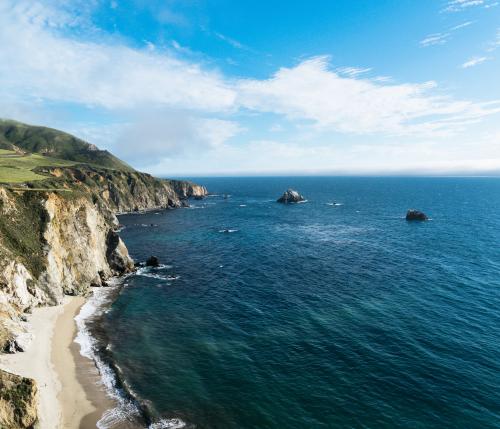 Please, Travel Responsibly
- Wear a Mask & Follow CDC guidelines
- Stay at least 6 feet apart
- Stay home if you show signs of illness
- Leave no trace behind
By continuing to browse this site you permit us and our partners to place identification cookies on your browser and agree to our use of cookies for marketing. To learn more view our Privacy Policy